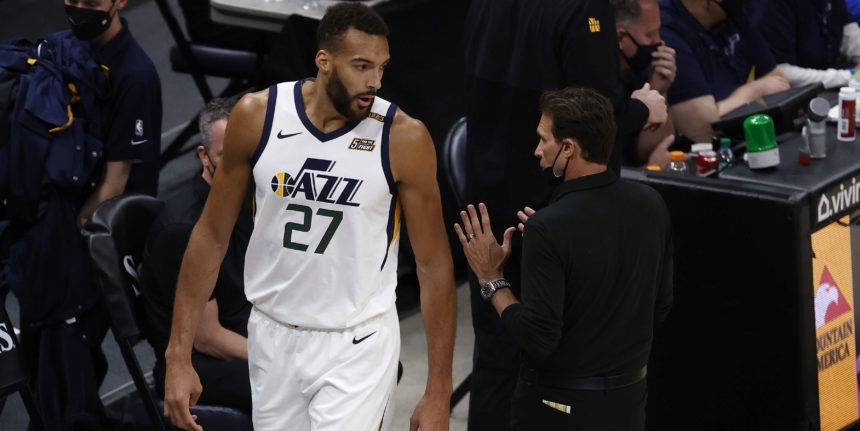 The NBA Playoffs: Where hot takes and overreactions happen
NBA discourse has shifted with the growth of social media. Sports shows are all about debates, and the louder you are, the more persuasive your argument seems. The only way to win is by going viral on Twitter and the only losers are those of us in search of nuance.
With virality being the goal, sports takes have become akin to hit TikTok songs. Substance is lost in favor of something attention-grabbing, memorable and not too complicated (otherwise it's no longer memeable on Instagram).
This form of media taints the discourse as we're left with polarizing, hyperbolic takes devoid of any nuance. Intricate analysis is hard to come by in favor of snappy nicknames like Pandemic P or obviously outrageous takes like Max Kellerman of ESPN saying that with the fate of the universe on the line, he'd pick Andre Iguodala (a career-33% three-point shooter!) to take the shot over the likes of Stephen Curry, the greatest three-point shooter in NBA history.
Hot takes like these are especially prevalent in the NBA Playoffs.
We're an audience that's been fed a narrative (meant to draw in views) that the NBA Playoffs are where amazing happens, where we weed out the greats from the very-goods and not-good-enoughs. And we don't take kindly to losing.
Though entertaining, this is a flawed way to analyze the playoffs. The playoffs are about matchups, with a dash of luck for shooting variance. Teams that fare well are versatile, making them difficult to scheme for and affording them the ability to go toe-to-toe with just about any squad.
When a team lacks versatility, what should be a criticism on the roster becomes a critique of the superstar, especially ones who have just won regular-season awards (like Nikola Jokic).
Jokic, the NBA's 2021 Most Valuable Player, was more than deserving of his regular-season award after averaging 26.4 points, 10.8 rebounds and 8.3 assists per game. His team losing was not an indictment on his performance, but a result of the injuries the Nuggets sustained, losing playmaking and shot creation, leaving them with little offensive firepower to combat the Phoenix Suns.
The attacks on Jokic are about how he was destroyed defensively. And I'm not going to try and defend Jokic's defense; instead, I'll drop back, and let you fire away. Lord knows, that's what he did.
My argument is that we knew that Jokic in drop coverage against the best pick-and-roll guard in the league was going to be a struggle for the Nuggets defensively, so why fault him for it now?
There are arguments to be made that Nuggets head coach Michael Malone should have adjusted, or that Jokic should not have continuously fallen so deep in the drop, affording Chris Paul the luxury of taking every mid-range shot available or kicking it out for three. And though those arguments are valid, and rich debate can be had, the internet so often widdles it down to catchy and easily repeatable slogans like, "Is This Your MVP?" or, "#NotMyMVP", discrediting how spectacular Jokic was offensively throughout the series and all year long.
In our (very online) modern era, everyone has space to voice their opinions and only the hottest takes survive. Our attention spans have gotten shorter and our memories rival that of goldfish. We only hold space for the most polarizing and outrageous takes… or slander. Slander lives forever.
Nba fans don't like anything about the nba and it's weird

— Kevin Durant (@KDTrey5) March 28, 2021
The internet can be a vicious place, with many NBA players saying they have to log off throughout the playoffs.
Log on to Twitter and you'd think most people tuned in to berate and defame the league's biggest stars, and not because they actually wanted to enjoy the show.
Jokic seems unperturbed by it. However, Rudy Gobert has been going back and forth with trolls online as people question the validity of his 2021 Defensive Player of the Year award.
3 of em and they all real, more to come also. https://t.co/HEDrRR6sQn

— Rudy Gobert (@rudygobert27) June 21, 2021
Gobert struggled against the Los Angeles Clippers, not because he's a fraud undeserving of his award, but because the Clippers posed a unique matchup problem for him when they go small with Marcus Morris Sr. and Nicolas Batum at the 5.
The playoffs are about matchups and beating the team in front of you. It's about solving your opponent before they can solve you. The Clippers' small-ball, five-out lineup proved to be unsolvable for a team that's built their entire defense on the back of the best rim protector in the league, a defense that routinely forces teams into the shots the Clippers will gladly take.
Kristaps Porzingis, nicknamed the Unicorn for his unique skill set as a big man, was tasked with facing a team whose own unique skill set perfectly exploits said big man. Once again, we're talking about the small-ball Clippers.
Completely unfazed by his size, they attacked Porzingis on defense and often ignored him on offense, as he struggled to effectively post-up smaller guys. They rendered Porzingis invisible on defense and he was relegated to the corners on offense (for spacing purposes), which is a far cry from the role your second option and highest-paid player should have.
And while it's fair to criticize players like Porzingis for underperforming, it's important to not lose the context with which these series happen. The playoffs do not exist in a vacuum; 82 games are played beforehand in which we learn each team's (and each player's) strengths and weaknesses. It's unfair to everyone involved to pretend as though the regular season does not matter.
Whether it's praise like ESPN's Stephen A. Smith calling Devin Booker "Kobe Bryant" on First Take because of 11 playoff games against teams missing Anthony Davis, Jamal Murray and Kawhi Leonard or criticism levied at Gobert for his failure to contain Terance Mann, reactionary takes will always take precedence over long-form analysis.
I didn't write this to be the "old-man-yells-at-cloud" meme. I take part in slandering players as much as anyone, but there needs to be a clear demarcation where we understand what's a joke and what's a measured take. And when talking heads blur the lines, it muddies the waters for everyone.
Takes then become facts, soundbites become referendums and suddenly, like a watered-down TikTok dance, you're left with a take devoid of the substance the originator intended.
Welcome to the modern NBA.
NIKOLA JOKIC DID TIKTOK pic.twitter.com/4i3UwOl0vj

— Ali (@hanafire_) February 17, 2020