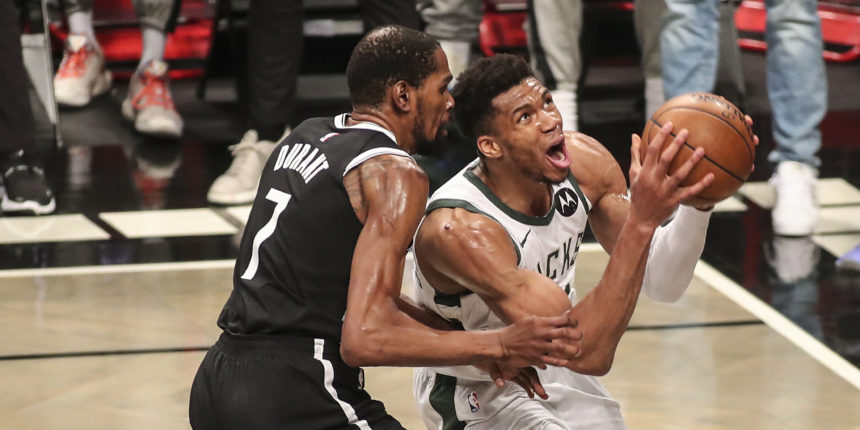 The Brooklyn Nets fell short, and the NBA is better off because of it
With Kyrie Irving, Kevin Durant and James Harden, the Brooklyn Nets and their embarrassment of riches may one day rule not only New York City, but the NBA.
That day, however, is not today. And believe it or not, the NBA is better for it.
For as long as we can remember — whether it was the Los Angeles Lakers, Boston Celtics, Chicago Bulls or Golden State Warriors — the NBA has been ruled by a super-team. Generally good for business, the super-teams were viewed as villains by many, but everyone watched with glazed-over eyes.
We wanted to see how long a dynastic team's reign could last.
Indeed, for the NBA, the existence of the super-team is nothing new, only the way they've been constructed.
From the time LeBron James got ESPN to follow St. Vincent-St. Mary — from the time he was driving around in a 2003 Hummer H2 — he understood his power. In 2010, he used it to his advantage.
On July 8 of that year, the young king summoned everyone he could to Connecticut to reveal that he was opting for a secondment in Florida. He rocked the boat, and since then, the NBA's owners have been struggling to not capsize.
James willfully sacrificed money, opted for short-term contracts and did all he could to apply pressure to the front offices for which he worked. In 2010, he flexed his muscles, grabbed his future and used his mighty size 15 Nikes to kick down the door that fellow stars such as Carmelo Anthony, Dwight Howard and Anthony Davis would later use to make daring escapes.
About 11 years later, James Harden would follow.
Contract be damned, after eight years in Houston, Harden saw the world around him change yet again and decided he no longer wanted to continue the good fight without Daryl Morey and Mike D'Antoni. Yet another sidekick in Russell Westbrook came and went, so Harden decided he would, too.
All things considered, it's easy to understand why Harden would want out.
It's also easy to understand why, given the circumstances behind his exit, the Basketball Gods couldn't in good conscience reward the Nets with a championship. Not in Year 1, anyway.
---
When Sean Marks took residence in Brooklyn in 2016, the franchise was coming off of a 21-win campaign. Future draft picks were still owed to the Boston Celtics for the Kevin Garnett-Paul Pierce trade and the Nets were deemed to have no future.
Marks changed that almost immediately.
He turned over every stone, using some to lay a foundation and others to build walls. D'Angelo Russell, Caris LeVert, Jarrett Allen, Spencer Dinwiddie, Joe Harris, Rodions Kurucs — Marks found players, harnessed their talents and eventually watched Kenny Atkinson push his misfits to 42 wins. It took three seasons for the Nets to go from a laughingstock to the team that Irving and Durant wanted.
What was always sad about the acquisitions of Irving and Durant, though, was the fact that sacrifices had to be made.
Russell — a player who had come into his own in Brooklyn, growing and maturing into a franchise player — had to be let go to clear cap space. Wanting to do right by him, the Nets were just as motivated as the Warriors and Russell were to get a double sign-and-trade done for Durant, and that was that.
Irving is a superstar and a champion. He's an obvious upgrade over Russell, but the lefty grew in Brooklyn, and seeing him jettisoned hurt.
And that was just the beginning.
Irving didn't necessarily endear himself to his teammates in his first year in Brooklyn, and after an 11-point loss to the Philadelphia 76ers, he famously opined that the players that comprised the team's roster simply weren't good enough to win. Not even two months later, Coach Atkinson was fired. And in the not-too-distant future, for Harden, the Nets sacrificed most of the remaining players who built the culture that seemed to attract Irving and Durant in the first place.
Seeing Caris LeVert and Jarrett Allen traded to bring in Harden, again, made sense from a basketball-talent standpoint. But there's no denying that along with Coach Atkinson, Russell, LeVert and Allen were the three players who the gave the team's fans the most pride. They were Brooklyn's own.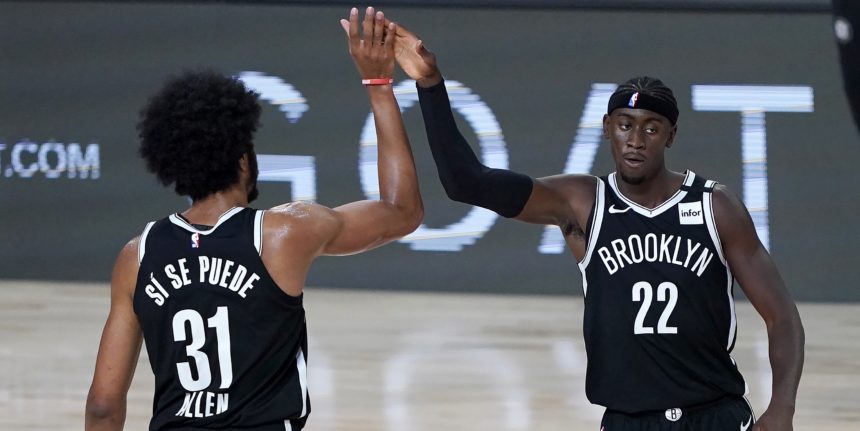 In no time at all, it seemed, the Nets went from a young core with pure intentions to one ruled by three superstars, each with their own baggage, each motivated to win a championship not for the franchise or the city, but for their individual legacies. The Nets happened to be a convenient place to accomplish their individuals goals.
And when Brooklyn was presented with a proposition from a supermodel, it dumped its high school sweetheart that stuck with it through thick and thin.
All the while, Giannis Antetokounmpo, secretly, was shopping for engagement rings.
With admirable humility, those who know Giannis well and have watched him grow will tell you that deep down inside, he believes he owes Milwaukee for giving him a shot. He could've opted to chase a championship anywhere — Los Angeles, San Francisco, Miami — but he seemingly learned from Durant's experience. No matter where he went, a championship wouldn't have felt the same if he was wearing a different jersey and celebrating with a new fan base.
Along the way, Antetokounmpo came to realize that he was a part of something — a team, an organization, a fraternity… A community. So with no promise and no guarantee, he doubled-down on his commitment and decided that he would dedicate himself to not only winning a championship, but winning one in Milwaukee.
So when his Bucks trailed by two points in Game 7, after they'd gone the first four minutes of overtime without a basket, Giannis received a pass in the pinch-post and felt Durant on his hip. The Greek Freak had longed for an opportunity for redemption, and it came in the form of a soft sky hook that slowly fell through the net after meekly bouncing on the rim three times.
"It was definitely exhausting, but it was worth it," Giannis said after Khris Middleton's game-winner helped the Bucks walk out of Barclays Center with their heads held high.
"It's gonna hurt a little bit if you want to be great," he said. "And I know that."
Now the Nets do, too.
---
Brooklyn will be back. One year from now, they'll be wiser, they'll have better chemistry and, we can assume, they'll be healthier. They'll also be an attractive destination for ring-chasing veterans. Collectively, they'll now have this painful experience to fuel them, and they'll be better for it.
And that's the way it's supposed to be.
Whether you believe in the Basketball Gods or not, winning a championship shouldn't be something that players can just show up and be able to do. It should require trials and tribulations. It should require painful growth and adversity. It should require sweat, sacrifice and tears.
As a unit, the Bucks have paid those dues, as have scores of other teams. The Nets got caught trying to jump the line.
For the league's teams that are not in sexy markets — the Portlands, the Denvers and, yes, the Milwaukees — forming a perceived super-team is largely unrealistic. Outside of places like Los Angeles, Boston, Miami and New York, it's difficult to imagine a team assembling a roster with as much star power as Brooklyn did this past season.
With its core playing just eight games together and its head coach having zero experience, seeing the Nets win this season would've hurt the morale of the dreamers. Seeing them fall short in their first year together, as harsh as it may sound, will be viewed as a just outcome for the 29 other teams. That's true, regardless of whether they admit it.
In the end, competition is what professional sports are all about. No matter how mighty Goliath appears to be, David has to pick up his slingshot.
The Bucks, in defeating the undermanned Nets, have provided Damian Lillard, Donovan Mitchell and their ilk with some hope. Under the right set of circumstances, it's still possible to slew a giant.
Perhaps the Bucks only delayed the inevitable. It's hard to imagine Irving, Durant and Harden not finding a way to succeed together in Brooklyn.
But before a team has earned the right to be called champions, they're supposed to traverse a road that's littered with the bones of dashed hopes and painful heartbreak. The journey that a team takes together is just as meaningful and important as the final stop atop the podium in June.
Had the Nets managed to put it all together this season, especially had they defeated the Bucks and the Phoenix Suns along the way, we may have forgotten that. We may have lost sight of what truly makes success at the highest level glorifying.
Thankfully, the Basketball Gods made sure we were reminded.