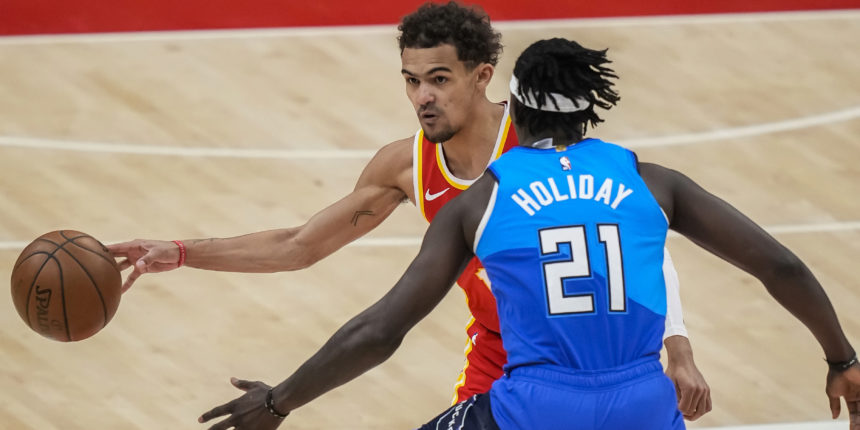 Flipping the switch: How the Bucks slowed the Hawks in Game 3
The Milwaukee Bucks snagged a crucial win on Sunday night, defeating the Atlanta Hawks 113-102 to take a 2-1 series lead. The Bucks were able to get big nights from Giannis Antetokounmpo (33-11-4-2-1) and Khris Middleton (38-11-7), while Trae Young (35 points) led the dance for the Hawks.
Young didn't just drop 35 points on the Bucks in Game 3, he did so efficiently. His 65.2 effective field goal percentage was his highest of the postseason. His 68.3 True Shooting (TS) percentage was his second-most efficient outing of the playoffs, slightly trailing the 68.9 clip he hit in Game 2 of his first-round series against the New York Knicks.
The Hawks star bombed away from three, tying his postseason-career-high in threes attempted (14) and drilling six of them, which was also a postseason-career-high. The rub is that he only complemented that three-point volume (and efficiency) with nine two-point attempts and three trips to the free throw line (six free-throw attempts overall).
This might've been Young's coolest highlight of the night, a one-on-one battle against Giannis.
What stands out to me is the setup. It's a high-ball screen with Young and Clint Capela, with Jrue Holiday and Giannis slated to defend it. Instead of dropping, the Bucks switched the action. Young knocking down shots from the logo is dope and well within his wheelhouse; building the boat out of those shots, and doing so late in the shot clock, is a tough diet to live on.
The Bucks switched with their small-ish ball unit toward the end of Game 1. They became more intentional about switching 1-through-4 in Game 2. In Game 3, the switching ramped up, period.
Per Second Spectrum, the Bucks switched nearly 45% of the Hawks' ball screens in Game 3. That's up from their 32.2% rate in Game 2, and way up from their 27.6% rate in Game 1.
There were a few miscues. This do-your-taxes-before-you-shoot triple from Young was a blatant example of wires being crossed.
That didn't deter the Bucks from committing to the game plan. They wanted to muck things up by switching.
For Young, that meant showing off his shot-creator chops. It also meant another low-assist game. It's hard to pick out statistical trends in low-sample settings -- and the playoffs are inherently small-sample theater -- but this is becoming something to keep an eye on.
Trae's scoring was critical for the Hawks last night, but limiting him as a playmaker has been crucial the past two games. Games 2/3 (7 assists, 13 turnovers combined) were the first time since March 2020 that he's been held to 4 or fewer assists in consecutive games.

— Frank Madden (@fmaddenNBA) June 28, 2021
Young can boogie in a switch-heavy, isolation-centric setting. He just dropped an efficient 35, after all. The rest of the roster... let's just say they aren't Young.
There were flashes on Sunday night. Danilo Gallinari was Atlanta's second-leading scorer with 18 points. He was able to get busy on in the mid-post area, particularly against Holiday on switches. John Collins had a couple of nice post possessions, including this post assist that showcased some of his improved processing speed on kick-outs.
But on balance, this isn't the way the Hawks want to win. Look at these shots and tell me if you feel good about these possessions.
Per InStat tracking, the Hawks' isolation and post-up rate (percentage of possessions ending in an isolation or post-up) has risen in each game this series. In terms of pace, Game 3 was their second-slowest game of their postseason (93.00), only trailing their close-out win against the Knicks (92.00).
Playing slow isn't out of their wheelhouse; playing slow without the automatic reads afforded to them by drop coverage is probably out of their ministry.
Looming large is the injury to Young, suffered after stepping on a referee's foot during the second half of Game 3. The Hawks announced that Young is questionable for Game 4 with a bone bruise. Assuming he does get treatment and tries to suit up, he certainly won't be 100%.
"When I came back in, it was kind of sore," Young said after the game on Sunday. "It made me mad I couldn't really go as fast as I wanted to, and when I did, it hurt. So I've just got to get treatment and hopefully get it better for the next game."
Young not being able to explode on drives will make it even more difficult for him to get downhill and create chaos. That might make the Bucks even more likely to switch, further grinding the Hawks' offense down to a halt.
That will put pressure on the Hawks' other creators. Gallinari has been game in this series, but it's a lot to ask for him to turn into the mid-2010s version of himself. It's hard to ask for more from Kevin Huerter, but they may need it. Bogdan Bogdanovic, who's been a key shotmaker and secondary playmaker throughout this season, is also playing well below 100% capacity because of a knee injury.
While the injuries add an unfortunate incentive for the Bucks to ramp up their switching, it's fair to note that their regular-season tinkering was for this type of series. The Hawks showed in Game 1 that a vanilla drop scheme wouldn't cut it. Since then, the Bucks have tightened things up on that front while showing even more willingness to switch guys on the perimeter.
That gamble has paid off in the past two games. Without a boost of shot-making and/or health from the Hawks, it's hard to see that success ending.