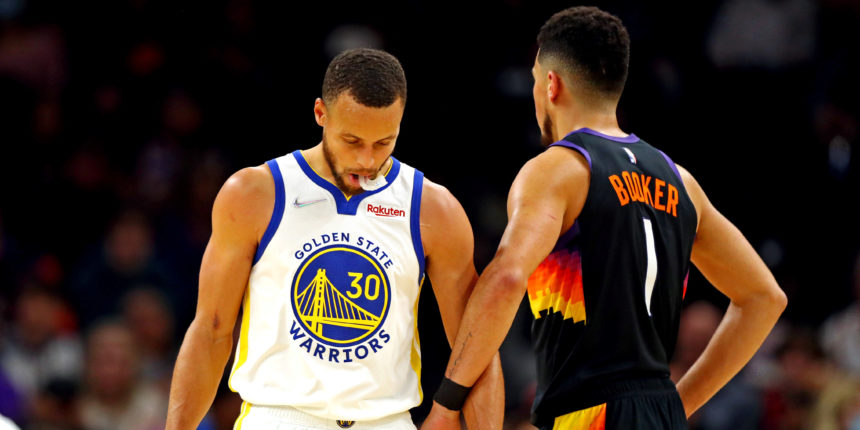 Suns, Warriors already creating considerable distance in West
Can we please skip to May already and press play on a seven-game series between the Phoenix Suns and Golden State Warriors in the Western Conference Finals?
Even without two of the most important players on both sides Tuesday night — Klay Thompson is scheduled to make his season debut later this month, potentially against Phoenix on Christmas Day; Devin Booker left the game early with a hamstring injury — these two well-run organizations put on a masterclass showcase of how to play high-level basketball on both ends of the court.
With the world witnessing basketball nirvana firsthand, the clash more than lived up to the high hopes placed upon this showdown before tip-off. Back-and-forth, Phoenix and Golden State continuously traded haymakers early on. Beautiful movement to find an open shot. Counters on defense to counteract the counters from the offense. An excellent chess match ensued between head coaches Monty Williams and Steve Kerr. Mikal Bridges put the clamps on Stephen Curry, further stamping his case as a legitimate Defensive Player of the Year Candidate.
Ending in a 104-96 victory for the Suns, tying a franchise record for consecutive wins with 17 (and Thursday's win over the Detroit Pistons broke that mark and set a new record at 18), it had me leaving the Footprint Center wanting more of this matchup.
This first battle between two titans in the NBA ending in this manner shouldn't come as a surprise. Throughout November, both were firing on all cylinders. Golden State and Phoenix finished with the best net ratings (Warriors as a plus-14.6; Suns as a plus-11.6). Also, each side finished in the top-four in offensive and defensive efficiency (Warriors were No. 1 in Offensive Rating and Defensive Rating; Suns were No. 4 in ORTG, and No. 2 in DRTG).
Luckily for us, these two teams face off again Friday night, this time in San Francisco on the Warriors' home court. Even without Thompson and Booker for Friday's showdown, it's still going to be another must-watch prize fight.
When looking through the current West's hierarchy, there's no argument to be made against Phoenix and Golden State as the clear top-two. Already, there's a four-game gap atop the conference between the Suns and Warriors compared to everyone else. Currently in the No. 3 slot are the Utah Jazz with a 14-7 record, then a big cluster of teams only within one-and-a-half games of each other. No surprise, but the West is a bloodbath right now, as the Suns and Warriors create their own tier of separation:
Phoenix Suns - 19-3
Golden State Warriors - 18-3
Utah Jazz - 14-7
Dallas Mavericks - 11-9
Memphis Grizzlies - 12-10
Los Angeles Lakers - 12-11
Los Angeles Clippers - 11-11
Minnesota Timberwolves - 11-11
Portland Trail Blazers - 11-12
Denver Nuggets - 10-11
Maybe the regular-season machine, a.k.a. Utah, begins to knock at the door of Phoenix and Golden State soon once it gathers more momentum, but the Jazz's inconsistencies are much more prominent compared to the top two seeds. Luka Doncic or LeBron James could push their teams up another level, but can either be trusted in a seven-game series right now deep in the playoffs? That's doubtful a quarter of the way through the season.
After that, it's fair to wonder who else could challenge the Suns and Warriors atop the West. It's a huge credit to the two best clubs in the conference, continuing to create distance with sheer force and dominance rarely seen simultaneously.
(Beneath those 10 teams are the bottom-feeders creating distance in the opposite direction, which shouldn't be a surprise based off preseason expectations: Sacramento Kings (9-14), San Antonio Spurs (7-13), Oklahoma City Thunder (6-16), New Orleans Pelicans (6-18), Houston Rockets (5-16).)
Right now, the West is a two-team race for conference supremacy between Phoenix and Golden State. And who can't wait for them to square off, once each side is healthy (presumably), headlining the Christmas slate?
What we saw on Tuesday night in the desert was a showcase of the two best teams in basketball. It was elite play on both ends of the floor with a beautiful pizazz of notching together dominant performances. I'm still wanting more, but I, and the world, won't have to wait long.
We'll probably see a repeat of that in Round 2 at the Chase Center, and an encore on Christmas Day in Phoenix during Round 3.
One-fourth of the season is over, and if the current Western Conference shuffle through the season is any indication, basketball fans are going to get what they deserve on the biggest stage: a long series between Phoenix and Golden State with a Finals berth at stake.