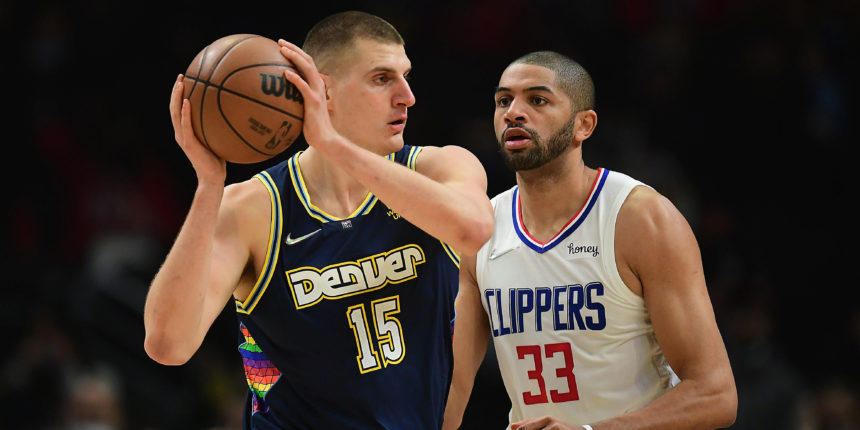 Stats Notebook: How often do players have the ball in their hands?
This week's Stats Notebook is inspired by a recent article from USA Today's Bryan Kalbrosky. The story focused on Franz Wagner's Rookie of the Year campaign, but it brought up an interesting statistic: Wagner has seen his average time holding the ball per touch (I'm calling it touch time, for brevity) increase by over a full second in recent games, more than anyone else in the NBA.
That's already cool on its own, but the note got me thinking: What else can touch time stats tell us about roles in the NBA? Is this a different way to measure ball-dominant players and see who is earning a larger role?
The NBA, through Second Spectrum, tracks a bunch of measurables related to how many times a player touches the ball on offense, where they do it and for how long. Below are the top-five leaders to date in touches per game:
Nikola Jokic - 100.3
James Harden - 93.7
Luka Doncic - 90.7
LeBron James - 89.1
Trae Young - 86.1
Jokic being atop this list is extremely significant. He has led the NBA in touches per game in each of the last four years, and is the only center in the data record to do so (dating back to 2013-14). He's also the only player ever to clear 100 touches per game, which he also did last season.
Even crazier: Jokic is crushing every other center in this category. Domantas Sabonis sits second among centers, possessing the ball 76.9 times per game at 22nd overall. That 24-point difference between Jokic and Sabonis is almost equal to the gap between Sabonis and 20th-ranked center Montrezl Harrell!
We'll return to the Jokic love in a moment. By looking at per-game time of possession (how many minutes someone actually has possession of the ball) we get a more traditional sense of the league's most ball-dominant players. Many of them are your high-usage guards:
1. (tie) James Harden, Luka Doncic - 9.2 minutes per game
3. Trae Young - 8.7 minutes
4. (tie) Ja Morant, Shai Gilgeous-Alexander - 7.5 minutes
In fact, the first non-guard to appear on the list is LeBron James (6.3 minutes) in 15th. After him, it's DeMar DeRozan and Paul George together at 5.3 minutes.
Similar names appear when looking at average seconds per touch (led by Doncic), and average dribbles per touch (led by Young). Jokic is among the leading centers in those categories, but is nowhere near the overall leaders. He holds the ball for 4.1 minutes per game (less than half of the leader) and 2.46 seconds per touch (less than half of the leader), and dribbles it about 1.14 times per touch (less than a quarter of the leader). Yet, Jokic's production is among tops in the league and his impact is undeniable.
Essentially, Jokic is like a prism for the Denver Nuggets. The ball comes to him more than anyone else in the NBA, and he's immediately rifling it back out with all sorts of flavors of flair and purpose, either to the basket or to a teammate. He's one of the most unique offensive engines basketball has ever seen.
There are so many angles to comb through these stats with. But I'll end by circling back to Kalbrosky's emphasis on Wagner and rookie progression. Wagner isn't the only one seeing a significant jump in his touches and touch time.
Between November and the December-to-now stretch, Josh Giddey has seen his touches increase by over 8.5 per game. But his touch time and dribbles per touch numbers have actually slightly decreased. It seems Giddey has adapted to his increased presence while maintaining the trademark quick passing decisions that characterize his game. He's also, perhaps surprisingly, the rookie leader in frontcourt touches per game.
Cade Cunningham, Herb Jones and Jeremiah Robinson-Earl have also seen their touches increase by at least six per game, as has the aforementioned Wagner. Davion Mitchell and Jalen Green have actually seen their touches decrease noticeably despite similar minute loads. Here's the rookie top-10 in touches per game, specifically from Dec. 1 to today (minimum of five games played):
Cade Cunningham - 82.1
Josh Giddey - 81.3
Scottie Barnes - 66.7
Evan Mobley - 60.9
Franz Wagner - 55.7
Kiefer Sykes - 54.0
Chris Duarte - 45.6
Jalen Green - 45.0
Hassani Gravett - 41.8
Jeremiah Robinson-Earl - 41.1
These are still some small samples, and the data should be interesting to track as the season wears on and teams commit to, or concede, a playoff push. Either way, the bottom line is: Appreciate Nikola Jokic.
THE OUTLIERS (a.k.a. other random interesting numbers I find in the void):
The Timberwolves snapped a brutal losing streak against, specifically, Reggie Jackson. The Clippers guard had won 19 straight games against Minnesota, which was the longest active streak for any NBA player. But it's over after a 122-104 Wolves win on Monday.
Who are the fastest teams in the NBA in terms of average speed by their players? The Spurs are tops at 4.38 miles per hour, with the Hornets (4.32 mph) in second. The slowest squads are the Lakers (4.02 mph) and Celtics (4.05 mph).
Six players this season have logged steal percentages and block percentages of at least 2.0% in at least 500 minutes, per Cleaning the Glass. It's an interesting list: Robert Covington, Andre Drummond, Draymond Green, Herb Jones, Alperen Sengun and Matisse Thybulle.