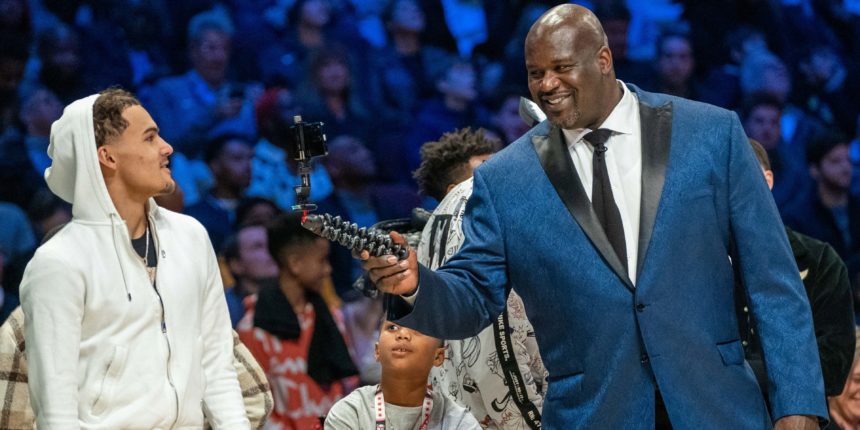 Shaquille O'Neal admits he's 'jealous' of today's lucrative NBA salaries
This season, Shaquille O'Neal has caught some flack for disrespecting a number of current NBA players and criticizing how much certain individuals are being paid (such as Rudy Gobert). One theory about why Shaq's analysis has skewed so negative is that he's salty about the lucrative contracts being handed out.
Well, when Shaq was a guest on "The Rex Chapman Show," he confirmed that's 100% accurate.
"I'm jealous, but I'm happy [for them]," Shaq said. "I'm jealous because I always thought that you had to have Michael-Jordan, superb-type numbers to get that type of money. That's what it was in my era, but I'm happy for the kids. The reason why I bring up Rudy Gobert, people think I'm hating, it's not. He's a good big man, but I'm used to dealing with great big men. When I was coming up in high school, I already knew I couldn't compete with the Patrick Ewings and the [David] Robinsons, they were great and they weren't even making that much money. Then, my father came in the house one day, hit me with a paper and said, 'We're going to watch a game.' This is no disrespect to Jon [Koncak] -- Jon was a great NBA player, he did what he did. But he signs a contract for $15 [million] for three, so my father makes me watch the game. Now, I have confidence. I know I'm not David Robinson, but I'm like, 'Jon is averaging only 9-10 points, I can do that! I know I can do that. So, shoot, if he's averaging 10 points and making $5 [million] a year, just think if I average 20 points what I could make!' Now, I got the confidence.
"I go to LSU and I go against Stanley Roberts; he's killing me, but the only thing on my mind is, 'Jon makes $15 [million] for three.' [I'm thinking], 'Stanley is better than me, so he'll probably make $20 [million], but shoot, at least I could get $12 [million].' That's the only thing on my mind. And then Stan leaves. Larry Johnson, Derrick Coleman came before me and they were making $15-20 [million]. So when I was leaving [school], my guy was like, 'You have the potential to make $50 million.' That's what he tells me. I'm like, 'Excuse me?' I think it was Larry Johnson or Derrick Coleman, they asked for $30 [million] so, he says, 'Inflation! I'm going to ask for $50 million if you decide to come out this year.' And I was like, 'Wow.'
"Rudy Gobert is not the average-type, big-guy NBA player anymore. The average big they're looking for now is a guy that can pick-and-pop and do whatever. Rudy Gobert is big, tall, plays hard, plays great defense, a Defensive Player of the Year, and he's making $200 million. So, all you big guys out there, look at him. Follow him. You're not going to be LeBron, you're not going to be Kobe, you're not going to be Shaq, you're not going to be Garnett, but I think there's a lot of big guys even today that can do the things that he can do. When I tell the story, people think, 'Oh you're just jealous!' Yeah, I am jealous that he's making $250 [million]. Yeah, I'll say I'm jealous. However, for this game of ours, it can motivate a young kid today… All these guys that are watching, this is what motivates them."
Over the course of his 19-year NBA career, O'Neal made $292,198,327 from his NBA contracts alone, according to HoopsHype's salary data. That's roughly $412,027,500 when adjusted for inflation.
There were nine seasons in which Shaq made at least $20 million, and he was the highest-paid player in the league in 1999-00, 2004-05 and 2005-06. He's also made a ton of money from his lucrative endorsements and successful investments, plus his salary from Turner Sports.
O'Neal's largest NBA salary came in 2004-05, when he made a league-high $27,696,430 from the Miami Heat. This season, that salary would be 38th among all players. But, again, this doesn't factor in inflation. When adjusted for inflation, that salary would be $37,638,674, which would be sixth-highest in the NBA today.
O'Neal sees Gobert sign a five-year, $205 million contract and gets frustrated because Gobert will likely surpass his career earnings, but he's not factoring in inflation.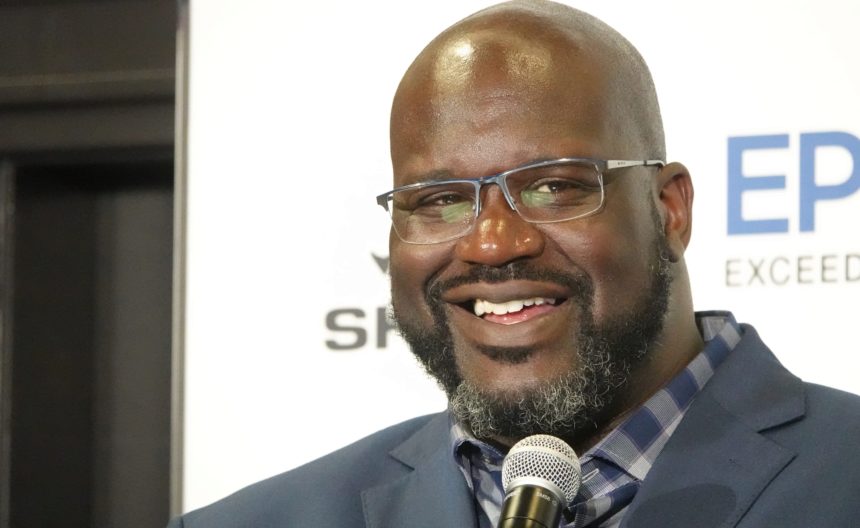 And, again, O'Neal is doing just fine financially. Not only did he make a ton of money from his NBA contracts and endorsement deals, he's been very smart with his investments. Shaq was an early investor in companies such as Google, Lyft, Uber and GE, which he also discussed on "The Rex Chapman Show."
"I don't ever want to sound like I'm an expert. One thing I'm good at is respecting people; one thing I'm good at is being humble. A lot of these deals just fell into my lap," O'Neal explained. "For example, the Google deal: I'm at the Ritz-Carlton, having breakfast by myself in L.A. and there's a bunch of big-time gentlemen eating next to me with their children. It's a Saturday around brunch time, so I just started playing with one of the guys' kids. I'm being nice to them, recognizing them, playing with them and doing things. Then, the guy goes, 'Man, I've always loved you and always wanted to meet you. I want to give you an opportunity to invest in something that's going to change the future.' He started talking about the Google search engine, and I knew nothing about it. I said, 'You know what? I'm going to have you call my guy on Monday and then we'll talk about it.' And we talked about it and we did it. That's how that one came about.
"The other things just, again, [came from] being nice. I'm always taking pictures with people and doing this and doing that. The Lyft [investment], it was the same thing. I'm at a conference with a friend of mine named Al Palagonia, who owns Apollo Jets. So, we're there looking at planes and this guy is like, 'Hey, I got something for you, Shaq!' 'What do you got?' 'It's called Lyft.' 'Okay, I like it. Call my guy, he knows a little bit more about it.' And then we did it. Another good thing is I've always been smart enough to hire people smarter than me. A lot of guys come with these big terms, these big names, and they have no idea what they're talking about. But if it sounds good and I like it, I'll give it to my guy who speaks that language. So, a lot of these deals have been just by being nice to people and being respectful. I would like to sit here and say, 'I'm an expert, do this and do that,' but that's not really the case with me. Thank God my mother and father always taught me how to respect all people."
Shaq's stepfather, Phillip "Sarge" Harrison, was an Army drill sergeant who had a profound impact on the NBA legend. When asked how he learned to save money, O'Neal credited Harrison as well as the book "Starting & Running a Business for Dummies."
"A lot of people don't know this but Sarge, my father, loved the NBA so much that every time an NBA player made a mistake, those were his sons, so he'd come to his other son and punish me," Shaq said. "The biggest ass whooping I got was when Len Bias passed away. My father came in one night and kicked the door open. He was crying and he was like, 'If you ever do coke, I'll kill you!' My dumbass was like, 'Dad, I don't drink Coke, I drink Pepsi!' I didn't know; I think I was like 12 or 13 at the time. But, brother, when I tell you his uniform was open and he was crying like it was his son that made a mistake. And he would just grab me, 'If you ever do coke, I'll kill you!' I'm like, 'I drink Pepsi!' 'Motherfucker, I'm talking about the drug!' That's why I never do drugs. That's why I never did weed, I never did anything because of that. So, whenever an athlete would do something crazy, he'd bring it to my attention. I could be sitting there [and he'd say], 'This dude had $5 million and now he's broke.' He was just putting it in my head. I wanted to get rid of that first check because I got tired of seeing them struggle. Like, brother, 'You never had a new car. You never had an expensive car, so get it.' Or, 'You never had a big house in a private gated community, so we're going to take care of that.' I know I got some money coming in, so just let me take care of this -- $150K, $150K, and $850K for the house; that's a million. I know I got some other stuff coming in, but I want to get this million out the way. But then I said to myself, 'They were right… so now I gotta know how to [save money].'
"The best book I read was the 'Dummies Guide to Starting Your Own Business.' The first thing I did was start a subchapter S corporation. I made my mom an employee, made my dad an employee, gave them cell phones, and got some of that money back; I wrote it off. Then, I said, 'Okay, now I really gotta start thinking about it.' I bought a quote book one day because I always wanted to sound smart, and Dwight D. Eisenhower once said, 'The greatest leaders are the ones smart enough to hire people smarter than them.' So I got a guy that was in this business and he would guide me like, 'Hey man, you should do this.' And the people that are around me, they don't just tell me what I want to hear. Like, the other day I wanted to buy a Rolls-Royce for $570K and they talked me out of it. I don't need it, but I was in the Rolls-Royce and it just looked so pretty. I was like, 'Damn… What if I trade this in, trade this in, and trade this in?!' 'Well, you can trade those in, but you'll still need $300,000 and I don't think you need it.' I'm just glad I got good people around me."
Check out the full interview between Shaquille O'Neal and Rex Chapman here.