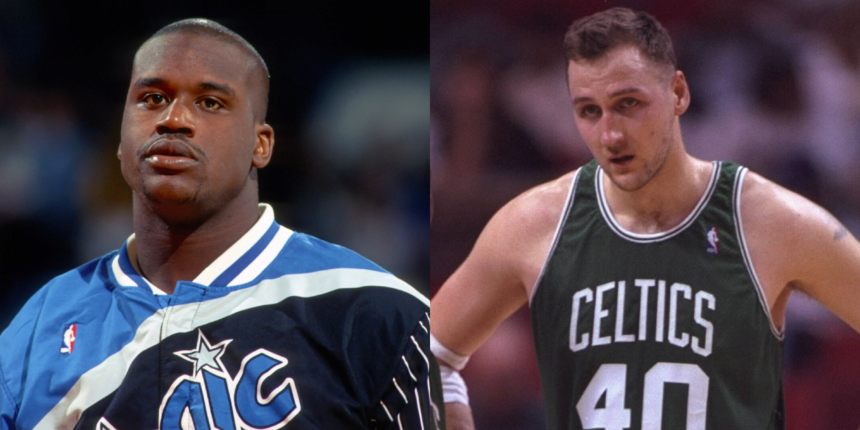 Shaq's 'toughest white guy' matchup Dino Radja on the two facing off
The following article first appeared on BasketballNetwork.net:
After he debunked the myth of white players not being tough during the episode of "The Big Podcast," Shaquille O'Neal singled out Hall-of-Famer Dino Radja as the "toughest white guy" he went up against.
Shaq faced off against Radja in 12 regular-season games and one playoff series, and ended up on the winning side 10 times – seven in the regular season and three in the postseason. O'Neal put up better individual numbers than the 6-foot-11 Croatian, who only spent four years in the NBA, but these match-ups weren't as one-sided as many of Shaq's big-man battles. Instead, Radja typically put up a good fight.
Shaq averaged 30.3 points, 11.8 rebounds, and 3.1 assists on 62.7% shooting from the field in the regular-season games that the two played against each other. Meanwhile, Dino averaged 21.8 points, 8.0 rebounds and 1.8 assists on 54.1% from the field.
The one time that Radja made the postseason with the Boston Celtics, he put up 15.0 points and 7.0 rebounds against Shaq's Orlando Magic, but O'Neal's 22.5 points and 13.5 rebounds proved to be the difference-maker, as he led his team to the second round of the 1995 NBA Playoffs.
However, their head-to-head matchups during the 1994-95 regular season paint the perfect picture of why Radja was "the toughest white guy" Shaq ever faced. Across their five match-ups that season, Radja averaged 27.2 points and 9.0 rebounds on 56.6% shooting from the field.
"He couldn't stop me," Radja said on an episode of 1-ON-1 with Basketball Network. "My third year, we had like five games against them and I averaged like 27 against Orlando. He definitely remembers that."
While Radja only had a brief stint in the NBA, he had an incredible overseas career. He was a two-time FIBA European Cup champion, two-time Greek League champion, three-time Yugoslav League champion, two-time Croatian League champion and a FIBA Korac Cup champion. Radja was named one of FIBA's 50 Greatest Players, and he was selected as one of the 50 Greatest EuroLeague Contributors too. Also, he led Yugoslavia to two silver medals in the Olympics (in 1988 and 1992).
What made him such a difficult opponent for O'Neal? Radja realized that he could never match Shaq's strength and raw power, so he utilized his quickness and basketball IQ to hold his own against the much-bigger O'Neal (who had two inches and 100 pounds on Radja). Dino made their matchups about skills instead of letting Shaq dominate with his physical attributes.
Thus, Radja became O'Neal's "toughest white-guy matchup" — an achievement that the Hall-of-Fame Croat is most proud of when looking back at his four-year run in the NBA.
Check out more articles from BasketballNetwork.net here.