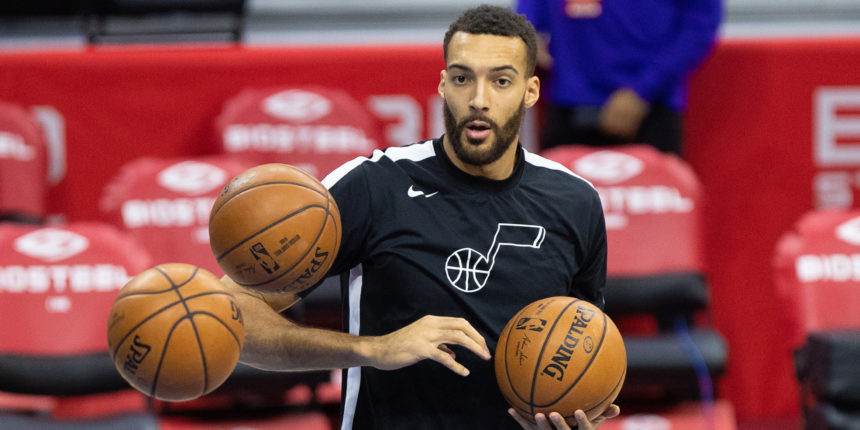 Rudy Gobert Q&A: Jazz's title hopes, NBA Top Shot, more
Last week, Utah Jazz center Rudy Gobert joined us on "NBA Top Shot Weekly." Gobert is a two-time All-Star and two-time Defensive Player of the Year, and he's a key contributor for the 38-12 Jazz, who have the best record in the NBA.
In this wide-ranging interview, he talks about Utah's success, how the team uses the lack of attention for motivation, what the Jazz need to do to win a championship this year, last week's scary emergency landing and more. He also answers some questions about his love for NBA Top Shot, how he first heard about it and what he's been collecting.
You can watch the interview above or read a Q&A version below (with NBA-related questions in the first section and non-basketball questions in the second section).
NBA QUESTIONS
Recently, you were on a flight to Memphis when the team plane had to make an emergency landing after hitting a flock of birds. It sounds like it was pretty scary, with the whole plane shaking. We're glad you're okay. What happened?
Rudy Gobert: "It was scary. It's something that I've never experienced before, and I've flown on a lot of planes. I think there was about 10-15 minutes where we didn't really know what was going on. The pilots were trying to figure it out and we didn't have much information, so it was pretty scary, for sure."
It feels like everyone is talking about the Brooklyn Nets and the Los Angeles Lakers as championship favorites, even though your Utah Jazz have the NBA's best record. It's kind of getting ridiculous. Do you guys talk about that or use that as motivation?
Gobert: "I mean, for us, our mindset is to just keep getting better. We know that at the end of the day, we haven't really accomplished nothing yet. It's really going to come down to the playoffs. It definitely motivates us. We think we have an opportunity to do some great things. We have a great group of guys, a great coaching staff and a great organization. I think everything that's being said about us is just noise, at the end of the day, and we control our own destiny. It's on us to keep getting better and, once it's playoff time, lock in and make history."
Night-in and night-out, this Jazz team has had different contributors step up. Is there a certain player who makes a big impact but doesn't get the credit he deserves? Is there someone who brings more value than fans and media realize?
Gobert: "We have a great group of guys and it's true what you say: every night, we can have somebody [different] step up and they really help us big time -- whether it's scoring-wise or anything else. But if there's one guy that doesn't get a lot of credit, I would say Joe Ingles. He's been really consistent for us this year, and in some games he does score a lot, but even if he doesn't score a lot, he's someone who really sacrifices a lot for the team. He's always trying to make the right play. We're always trying to tell him to shoot the ball more, and he's been doing that very well over the last few weeks. But yeah, Joe has been a key part of our second unit and he's someone who, when he's on the floor, is always trying to make his teammates better. Obviously, we have a lot of great players who can impact the game in a lot of ways, but Joe is the one who doesn't get talked about a lot."
This year, your goal as a team is to win a title. What does this Jazz team need to do in order to win a championship this season?
Gobert: "I think, for us, it's really about getting better until the playoffs. And then during the playoffs, stick together -- we're going to have some ups, we're going to have some downs. And then, keep defending at a high level. Offensively, when we share the ball, we have so many offensive weapons that it's really hard to game-plan to stop us. So I think our team chemistry is huge, and staying together. I think we have a great group of guys that are willing to sacrifice for one another, and that's what makes us a really great team. But yeah, just keep getting better, stay healthy and it's going to be a fun end to the season and the playoffs, hopefully."
I feel like your chemistry is such a big advantage. Teams like the Lakers and Nets have brought in a lot of new faces, whereas you guys have the continuity and chemistry. I think that's very underrated.
Gobert: "Definitely. When you look at all of the teams that have been winning championships, most of the time, they have a bond that's been created. I think we've been through a lot as a team, and when you go through stuff on and off the court, it either destroys you or makes you closer. And I think, for us, it helps us and it got us to understand one another. Right now, I think we have a group of guys that can go through pretty much anything. It's going to be exciting to see how we finish this season, and then when the playoffs start, we're going to be hungry to win games -- and hopefully we can raise that trophy at the end of the season. We know it's going to be a long journey, but it's going to be a fun challenge for us."
Someone in the chat just asked: Who's the toughest player for you to defend? You're a two-time Defensive Player of the Year and you've made four All-Defensive Teams, but who gives you the most trouble?
Gobert: "It's a good question. I think for my position, you have Joel [Embiid] and Nikola Jokic who are the two most offensively dominant bigs in the league right now. They are different players, but they can both impact the game by their dominance. I know that I have to be locked in when I play those guys. The way they're able to draw fouls [is tough]. With Jokic, he's a great passer, so he's able to make the people around him better too. With Joel, he's a more-aggressive type of player and he's more of a scorer. But with both of those guys, I know that I have to be locked in and try to give them the hardest time possible."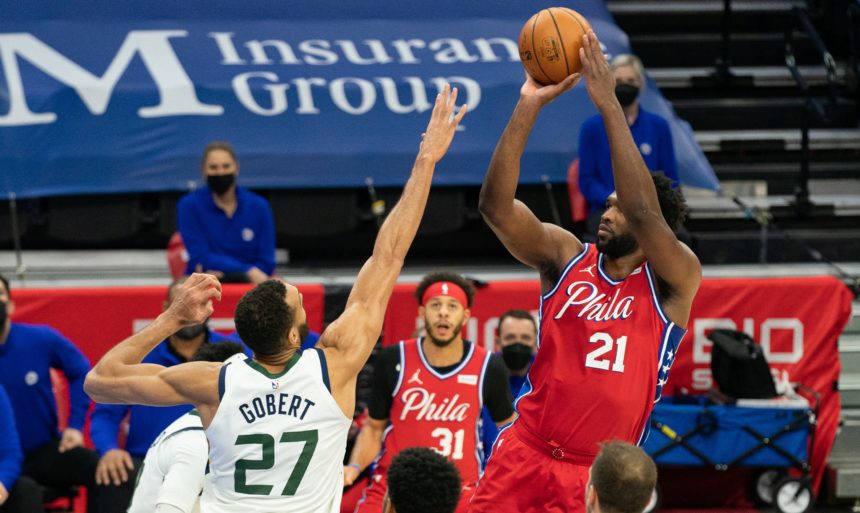 I've talked to several trainers who have said that it takes longer for centers to get acclimated in the NBA and reach their prime. They have to bulk up and develop lower-body strength, so young centers are essentially boys among men. Would you agree that it takes longer for centers to develop and start making a big impact?
Gobert: "I think everyone's journey is different. Obviously, the physical aspect of the game is really important and when you're a big man, you need to be able to box guys out and [so on]. And then you have some guys who are stretch-5s -- everyone's game is different. For me...in my first year when I first got here, I remember being in practice against Derrick Favors and Enes Kanter, and I knew I was going to have to get stronger because those guys were pushing me around. I was fighting back because I had some heart, but I needed more than that! (laughs) I really spent a lot of extra time in the weight room every single year, and my body became an emphasis; every year, I tried to get stronger. And it only helped me increase my impact on the court, but also to stay healthy. The stronger you are -- if you work the right way -- you're able to lower the chances of getting hurt."
[While opening a pack, Alex pulls a Deandre Ayton moment]
What is it like defending Deandre Ayton? What are your thoughts on his game?
Gobert: "He's getting better every year. He's a very talented player. He has a very good mid-range [game] and he's a very good finisher around the rim, so you have to try to be as physical as you can and make him earn it. That's the best thing to do -- make him earn it and try to make him take the toughest shot possible. But he's having a really good year, and he's gotten better every single year. He's definitely exciting to watch."
NON-NBA QUESTIONS
How did you first hear about NBA Top Shot?
Gobert: "I think I saw it on Twitter. I was already into cryptocurrencies and NFTs and all of that stuff, so when I found out about it, I thought it was a great idea. I think it adds value to what's happening on the court -- all of the great plays happening every day, and all of the great plays that happened in the past. I think it's a cool way of capturing those moments. Collectibles are [fun] -- we collect cards and other stuff. Well, now we have a new way of collecting. It's pretty new to a lot of people, and it was new to me a few months ago, but it's cool to be part of it."
What kind of moments have you been collecting recently? I saw your tweet about the Mike Conley reward where he narrates the play.
Gobert: "I actually did the challenge a few weeks ago. I was in San Francisco when we were playing the Warriors, and I saw the challenge and the moment, and I was like, 'I need to get this one!' In one day, I bought all five or six moments that I needed to beat the challenge. And I think it's pretty cool that [in the moment], Mike was able to speak and narrate it and tell his point of view of what happened on the floor. That's what makes Top Shot so valuable. It's still evolving and there's a lot of cool stuff to do, and I think the team behind it -- Dapper Labs -- is doing a great job of coming up with new stuff and new ideas to make the product even more authentic."
I'm excited to make @nbatopshot history: I narrated my own Challenge Reward Moment! Congrats to the collectors who snagged it - you done good. 🏔🏔🏔 https://t.co/Iq9j6KZ1Cx pic.twitter.com/7XRb7eRdqp

— Mike Conley (@MCONLEY10) April 1, 2021
What is a moment from your career that isn't currently on NBA Top Shot that you'd like to see added?
Gobert: "For me, I had a game-winner in Sacramento in, I think [from] 2016 or 2017, that would be great. Obviously, we want nice dunks and stuff, but everything that is kind of clutch -- any clutch block, any clutch bucket -- I think would be great. The story behind the moment is great. Then, I had a few nice plays [that I'd like to see]. The block against Dallas is already on there, but there are so many plays that they could add. They can't add them all, but there's a lot of options, for sure!"
We talked to Mark Cuban about how the NBA will continue to expand the relationship with Top Shot, and how that will benefit both parties. Eventually, we could even see special moments for season-ticket holders and things like that. Are you excited to see what kind of creative things Top Shot and the NBA will do together?
Gobert: "The potential is unlimited. To be able to interact with the fans and create some unique tokens and unique moments, I think they've only scratched [the surface] of the potential with this. I'm really excited to see how it's going to grow over the years. Obviously, the content and everything we can do to help make it more exciting and make it more valuable is really big. I'm watching closely and I know it's going to be a fun ride."
You were responsible for the first Top-Shot-related trash talk, which we have to ask about. Michael Scotto from HoopsHype wrote a great story about NBA Top Shot, and he included that anecdote about how you were talking trash to Josh Hart and mentioned Top Shot. You have to tell us that story.
Gobert: "So, I dunked on him -- by the way (laughs). I remember running back on defense and telling him, 'That's definitely going to be a cool Top Shot moment!'"
We need that moment on Top Shot, with you narrating it!
Gobert: "You can probably see me running back on defense and telling it to him, so that has to be part of the moment."
You're a big soccer fan. Growing up, what was your sport of choice?
Gobert: "During school breaks, we were always playing soccer (or futbol). But basketball has always been big too, especially in the city I grew up in. It's a small town, but it's a basketball town. We have a second-division professional team, Saint-Quentin. So, all kinds of sports, but for me, it was really futbol and basketball. I was playing futbol every day with my friends; I wasn't playing for a club. But it's kind of like how you grow up playing a sport and then when you get older, you do whatever you want to do [and stop playing as often]. I did many sports and then I got into basketball, but futbol was definitely the most popular."
I know you're into gaming, so we have to ask about Call of Duty. Have you been playing a lot? What are you using?
Gobert: "I've been playing. I haven't been on streams a lot, but I've been playing with the guys -- we have a lot of gamers on the team. Guys like Mike [Conley], Royce [O'Neale], Donovan [Mitchell], Jordan [Clarkson] -- we have a team of gamers, so we've been getting some dubs on the low (laughs). Right now, I've been playing with shotguns, like the JAK-12. I like the shotguns. And I play with the Krig. But I mix it up a lot. I can snipe, too. I enjoy myself."
Who's the best Call of Duty player on the Jazz?
Gobert: "I think Mike Conley. He has the edge, he has the edge. He plays on the mouse and keyboard [instead of] the controller and I don't want to make any excuses but... it helps a lot (laughs)."