We have even more fireworks, folks!
The Utah Jazz, following a disjointed and disappointing 2021-22 campaign, ripped off the proverbial band-aid in regards to their star duo. Donovan Mitchell is still in Utah; Rudy Gobert is on the move.
Gobert has been shipped to the Minnesota Timberwolves for quite the haul: Jarred Vanderbilt, Patrick Beverley, Malik Beasley, Leandro Balmaro, 2022 draftee Walker Kessler, three unprotected first-round picks (2023, 2025, 2027), a first-round pick swap in 2026 and a top-five protected first-round pick in 2029.
Whew. Got all that?
It was part two of the Pick Acquisition Plan for the Jazz, following Royce O'Neale being sent to the Brooklyn Nets for a 2023 first-rounder. The Jazz are equipped with all kinds of pick flexibility to go trade shopping in an effort to build around Mitchell. Or, if they really want to tear the sucker down, they can push the big red button with Mitchell too. We know teams like Miami would be interested in that.
For the Wolves, this represents their first player swing of the offseason. They made waves earlier in the offseason cycle, hiring Tim Connelly away from the Denver Nuggets for a hefty bag and equity. Adding Gobert to the roster comes with the forfeiture of draft control for the forseeable future, but it's a trade-off the Wolves were willing to make for one of the NBA's best centers — and to acquire him without giving up any of their core pieces aside from Vanderbilt.
WHAT HE BRINGS
It starts on the non-glamour end of the floor.
To be frank, there isn't an interior defender in the league like Rudy Gobert. He's a three-time Defensive Player of the Year winner, and he put together a campaign worthy of consideration for a fourth award last season. The blocks are nice; he's averaged at least 2.0 blocks per game in every season of his career aside from his rookie campaign. He's able to swat shots without getting himself into foul trouble; including the playoffs, Gobert has fouled out just four times in the last three seasons.
Beyond the blocks and strong contests, Gobert's presence alone shifts an opponent's shot profile. Per Cleaning The Glass, enemy offenses have seen their rim frequency drop by at least five percentage points with Gobert on the floor in five of the last six seasons. It's been especially absurd over the last two seasons: a 7.6% dip in 2021, and a 7.8% dip last season.
In other words: teams are typically afraid of challenging Gobert in the paint.
(Anthony Edwards looms as a pretty loud example, as he claimed Gobert doesn't put fear in his heart last season. Now, he doesn't have to! They're teammates!)
Gobert's ability to protect the paint should make life easier on everyone else. If the Wolves continue to dial it up with Karl-Anthony Towns showing high in ball screens, they'll have Gobert behind the action to clean things up. Vanderbilt was a borderline All-Defensive team candidate in my eyes, in part because of his work as a weakside rim protector. Swapping him out for Gobert is quite the enhancement.
On the other end, Gobert is a prolific screener and lob threat. Only Nikola Vucevic set more on-ball screens (3,429) than Gobert did last season (3,165), and his partnership with Mike Conley was one of the NBA's best, per Second Spectrum.
D'Angelo Russell, provided he isn't moved, could create a similar partnership. Remember, he hasn't played with a roller like this since his time with Jarrett Allen. Edwards simply hasn't had this kind of target. Spread pick-and-rolls with Gobert as the screener and Towns spaced at the wing should put defenses in a bind.
When he isn't directly involved in action, Gobert doesn't just bide his time. He's a willing pin-in screener off the ball, effective for occupying help defenders and giving his ball-handler an extra kick-out option when necessary. If nothing else, Gobert will make himself available at the dunker spot for dump-offs.
The Jazz averaged a little over one point per possession when running a ball screen while having a player occupy the dunker spot, a top-three mark in the NBA, per Second Spectrum. The Wolves were in the middle of the pack (0.94 PPP, 16th). Swapping out Vanderbilt for Gobert could provide a bump in that area — if not for the buckets, then for the foul drawing when rising up. How many non-Jazz fans knew that Gobert ranked just outside the top 10 in free throw attempts per game (6.7) last season?
Even zooming out from the particulars, having Gobert and Towns means having an elite big on the floor at all times with some staggering. They will have some sense of stability up front versus the variance of Naz Reid (still a fan!) trying to hold down the fort with Towns on the bench.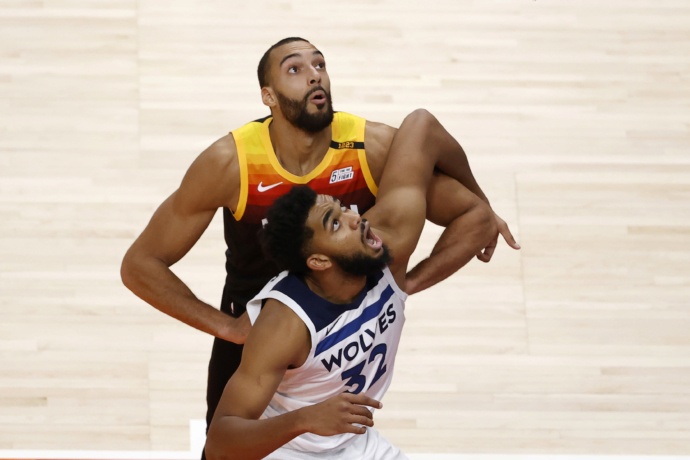 QUESTION MARKS
The big question surrounding this trade concerns the amount of picks that Minnesota sent to Utah, but we're going to keep this one on the basketball court.
Gobert still has to prove himself as a self-creator. He's seen his on-ball picks switched at a higher rate in each of the past three seasons: from 5.2 per 100 possessions in 2019-20, to 8.5 in 2020-21, to 8.7 last season, per Second Spectrum. A lot of that is due to the lack of respect Gobert garners as a post-up threat.
There's room for a "he-didn't-get-the-ball-enough-on-deep-seals" argument; but, as my The Dunker Spot cohost Steve Jones Jr. has pointed out, Gobert doesn't always seal mismatches with oomph. He's shown that he can abuse smaller players on the glass, but he's gotta put the ball in the hoop.
Defensively, it's fair to question what it's going to look like in crunch time. While I'd respect Chris Finch for closing games with Kyle Anderson and Gobert up front for maximum aptitude, Towns is going to be on the floor. That could get a little dicey if teams decide to go small.
The hope is that the Towns-Gobert pairing becomes a juiced version of the Al Horford-Robert Williams III duo in Boston. But with all due respect, Towns isn't Horford as a switch defender — or an in-space defender at that.
And what helps that particular pairing work is the personnel around them. Marcus Smart and/or Derrick White at the point of attack; Jaylen Brown and Jayson Tatum are stout on-ball defenders. We've seen what a guy like Grant Williams can do. Looking at what the Wolves have on the perimeter... it ain't that, either.
Vanderbilt and Beverley are gone. Jaden McDaniels has stud potential on the defensive end, but it's fair to question everyone else. Russell is a more reliable off-ball defender and half-court direction-giver than he is at the point of attack. There's a lot of variance to what Edwards provides on defense right now; he'll have to grow up fast, but it's encouraging that he seems to want to.
But even with those question marks, it's hard to argue against the Wolves making themselves a better team with this deal. Gobert is a defense unto himself, and his screening prowess should pry some things open on the other end.
There's plenty of time for the Wolves to make free-agent or trade moves to solidify the rotation. They'll need to in order to make this work.