Eventually, the Houston Rockets are going to get a win. The timing of that eventuality is what is concerning, because if the same old, same old keeps happening, a dubious NBA record may be in jeopardy of falling.
The Rockets have lost 20 games in a row, while the rest of the basketball universe focuses on the NCAA Tournament and NBA teams that are more competitive. And while Rockets head coach Stephen Silas will try to get his team to focus on positives, there aren't many to cite.
Houston has not had a victory since February 4, and they are currently 11-30 on the season.
While the Rockets could not get a victory against the Oklahoma City Thunder on Sunday, they will have several chances in the week ahead. The schedule brings games against the Toronto Raptors (who have lost nine of their last 10 games, including seven-straight), the Charlotte Hornets and then a back-to-back with the Minnesota Timberwolves (who are the only NBA team with a worse record than Houston at 10-32).
But if they lose 'em all, their losing streak will have reached 24 games, and the NBA record of 26 consecutive defeats in a single season will be within reach. The current record-holders are the 2010-11 Cleveland Cavaliers and 2013-14 Philadelphia 76ers.
If Houston continues losing, they will tie the NBA record on March 31 at Brooklyn and break the record on April 2 at Boston.
"Whether it's a losing streak, family stuff or [any] kind of negative thing going on in your life regardless of whether you are an NBA basketball player or a doctor or a lawyer or someone in health care, if you have kind of a negative experience, no matter what it is, it definitely weighs on you – the decisions you make and your ability to perform your best," Coach Silas said on Saturday.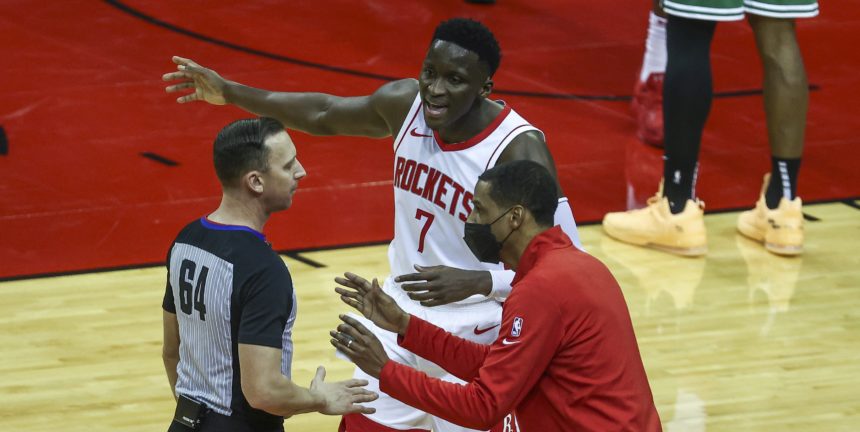 Unfortunately for the Rockets, Christian Wood is on a minutes restriction as he works himself back into shape after returning from an ankle injury. He is Houston's third player who is on a minutes restriction, joining John Wall and Danuel House. Wood had a double-double of 21 points and 11 rebounds in a loss to Detroit on Friday night, and Silas said he will work within the various minutes restrictions to play Victor Oladipo, Wall and Wood on the court together at the same time as much as possible.
Against the Thunder, Houston was limiting the minutes of Kevin Porter Jr. (ankle), who has been one of the few positives for the Rockets ever since general manager Rafael Stone acquired him from Cleveland for a top-55 protected second-round pick (also known as next-to-nothing). Prior to injuring his ankle against Detroit, Porter Jr. was averaging 19.6 points, 8.0 assists, 1.8 steals and 1.0 block through five games with the Rockets.
Many around the league expect the Rockets to trade Oladipo after he turned down a contract extension. Houston risks losing him as an unrestricted free agent after the season. That means Silas could be without another very good player after Thursday's trade deadline, as the roster overhaul continues. The Rockets are just starting to incorporate recently acquired D.J. Augustin and D.J. Wilson into their rotation, and the team has now had 23 different players on the team this season.
If things go extra bad, Houston could eclipse the all-time record of 28-consecutive losses set by Sam Hinkie's Sixers across the end of the 2014-15 season and the start of the 2015-16 season. In 2015-16, the Sixers went through 27 different players on their roster, including current NBA players Robert Covington, Jerami Grant, Ish Smith, Nerlens Noel, T.J. McConnell and Richaun Holmes.
Many of those players eventually became successful elsewhere, and there's no telling how many of the current Rockets will be around in three years to talk about the lost season that followed the trade of James Harden to Houston. They will eventually try to forget it, but making the record books will only make it harder to wipe this from their memory banks.
"I've never been a part of something like this," Wood admitted. "It's really frustrating."
The pressure will only grow as the Rockets try to keep themselves out of the record books. If they lose their next four contests to the Raptors, Hornets and the back-to-back against the Timberwolves, the losing streak will be at 24. After that comes a stretch in which 10 of their 11 games will be against likely playoff teams. The exception is an April 4 game against the New Orleans Pelicans, another team that figures to have its roster shaken up around the trade deadline.
"There's no pressure. You just try to lock in," House said. "Basketball is a grind."
Nobody wants to go down in history for a negative achievement, but the Rockets are getting there.
One of the crazier things about this streak is that it was preceded by a six-game winning streak comprised of victories over the Pistons, Mavs, Wizards, Blazers, Pelicans and Thunder. But in their 20-consecutive losses, only four have been by single-digit margins. More often than not, they have been blown out.
"At some levels, I think it makes people feel sorry for themselves, and it's just a hard thing to go through," Silas said. "I do believe that the streak weighs on all of us, and we've just got to break through it."