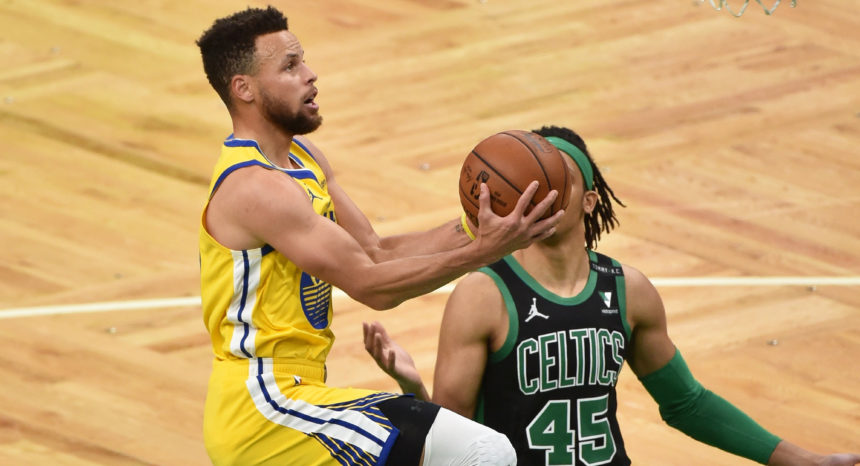 Roaming the Baseline: Stephen Curry, Rajon Rondo, Trevor Ariza, more
Hi, hello, and welcome to yet another edition of Roaming The Baseline! This will be a weekly endeavor where I point out some things that caught my eye: a hot or cold streak from a player, a developmental flash, a well-run play, a funny tweet, who knows? There will be film -- it's me, so of course there will be film -- but this will also be a bit looser. It's an extension of my Twitter feed, if you will.
With that said, let's roam the baseline.
STEPHEN CURRY IS UNCONSCIOUS
40.8 points, 6.2 rebounds, 4.4 assists.
56-of-90 (62.2%) from two, 72-of-143 (50.3%) from three, 80-of-88 (90.9%) from the free throw line.
43-of-83 (51.8%) on threes off the dribble, per Synergy. 124 points on 75 shots out of pick-and-roll, per Synergy.
This is Stephen Curry's April, and it. is. glorious.
It is easy to get lost in the flamethrowing, the inevitible nature of his deep shotmaking. But to watch Curry in action is witness not just outlier skill on display, but a level of detail -- footwork, body positioning, body reading -- that is nearly unrivaled in NBA history.
It's not enough to say Curry only needs a sliver of space. The fun is in watching Curry create that sliver.
Blink, and you'll miss the goodness. Curry runs Marcus Smart (elite defender, by the way) off the screen from Kevon Looney. He then begins to dart inside with Smart trailing him, before abruptly (and subtly) branching off from Smart to fly outside of another screen from Andrew Wiggins. In a vacuum, Smart puts together a B+ possession; you need "A+" and a little luck to bother Curry, much less force a miss.
The win column dictates that we stop short of calling this the best version of Curry we've seen. 73 wins and a unanimous MVP in 2015-16; more flamethrowing and a title during his 2017-18 campaign. I get it.
It's hogwash, though.
This man isn't riding a heater; he is a heater. The three-point shot has never been hotter; beyond that, he's leveraging it to score at an efficient clip in the other two levels of the floor. He's doing this with, well, let's say "suboptimal" circumstances around him. He has managed to be an offense unto himself without being anywhere near a liability on defense, which is something we can't say for... other guards.
Curry may be the purest definition of MVP, even if he won't win the award. And Curry agrees.
On "The Rex Chapman Show," @RexChapman asked @StephenCurry30 if he's this year's MVP.

"I gotta be," Curry said.

Watch the full exclusive interview with Steph Curry tomorrow on YouTube. Subscribe: https://t.co/3SiHwo86MB pic.twitter.com/t75b6kf7A1

— BasketballNews.com (@basketbllnews) April 21, 2021
REGULAR SEASON RAJON RONDO
Well, hey, I might've been wrong about this one.
As the student marshall of Rondo's Bad, Man, University (RBMU), I was baffled when the Clippers gave up Lou Williams, second-round pick capital, and cash to bring Rondo into the fray.
Why would a team that needs rim pressure trade away a (historically) high free throw rate guy for a guard that teams don't defend as a scorer?
Why would you give up a better player and assets for this guy?
Why are we still making lemon pepper wing jokes?
I can't answer the third question, but the first two can be (and have been) answered by plays like this.
Rondo may not be bringing the funk as a scorer, but he's boosting the Clippers' rim volume by virtue of his passing ability. It introduces a level of randomness that the Clippers just didn't have. Instead of designed plays or gentle nudging to get their jumper-centric (super)stars downhill, players can simply cut into space. Tight-window throws that risk-averse humans wouldn't make are pretty routine to Rondo.
To drive the point home (heh): the Clippers are plus-85 in Rondo's 167 minutes while winning eight of their nine games with him. Seems good!
TREVOR ARIZA HAS SOME JUICE
Stop me if you've heard this one before: the Heat have been searching for a Jae Crowder repla-
Ah, good!
The acquisition of Trevor Ariza was made to do just that: give the Heat a 4 man to knock down threes and defend up a position if needed. The unexpected development is that Ariza hasn't looked out of place. guarding down a position.
He's spent plenty of time switching onto bigs -- Karl-Anthony Towns, Deandre Ayton and others are on the list. He's defended both forward spots. Him getting point-of-attack reps -- like, "your assignment is Kyrie Irving" reps -- wasn't something I expected. The results have been promising, though.
Ariza has allowed the Heat to go multiple. His switchability allows the Heat to keep actions in front. His length helps him bother bigs, or puts pressure on ball-handlers when they opt to blitz pick-and-rolls. Add in the 37% clip Ariza is firing from deep, and you have yourself a much needed two-way contributor.
THINGS THAT MAKE YOU GO "HMMMM"
The games have been spread out due to injury, but Lu Dort has drilled 41% of his threes on nearly seven attempts over his last 15 games. He already has some "oomph" as a driver, using a surprisingly effective crossover to get where he wants to go. If he makes enough threes to where teams defend him tighter, there will be more close-outs to attack. Fun dude to watch.
Josh Jackson. He makes me go "hmmmm." He drives like he's fleeing the defense instead of attacking it, attempts passes that are way above his pay grade, and the Pistons are ... plus-40 in his minutes this month, while he's averaging nearly 17 points (47/47/77) per contest. I don't know, man.
RJ Barrett is still doing it, y'all. And by doing it, I mean he's shooting 44% from deep on 4.6 attempts since the All-Star break. He isn't that as a shooter, but becoming a good one should be enough to unlock more passing reads and driving lanes for him. How open those lanes will be due to his supporting cast is another question entirely.
We were all wondering where Denver's guard play would come from once Jamal Murray was injured. One player who has stepped up: PJ Dozier, quietly averaging 12-4-4 over the past three games. He's feasting from the corner, either shooting threes, cutting for twos, or flying in to crash the offensive glass.
The Wizards are doing that thing where they're winning a bunch of games. They're 7-1 in their last eight, with a bunch of triple-doubles from Russell Westbrook. Bradley Beal still can't be guarded; Davis Bertans is firing again, and, as off-the-cuff as it is, I am really enjoying the violence that Daniel Gafford is playing with on both ends. Keep an eye on 'em.
PLAYS I LIKED
Phoenix Goes to Spain
If you've followed my work for any amount of time, you know my affinity for Spain (or Stack) pick-and-rolls. High-ball screen to start, back-pick on the screener's man with a flare following. It's a pretty common action throughout the league, though there are teams -- Phoenix, Charlotte, Utah -- that run it more than others.
I love the way the Suns stretched this one out against the Milwaukee Bucks on Monday night. Chris Paul receiving the screen at darn-near half-court allows for more room to operate. Devin Booker gets an easy one here.
And a quick shoutout to Mike Vigil (very good Suns follow, if you're into that sort of thing) for posting this one from the Suns-Kings game last Friday. Instead of the back-pick, Jevon Carter "ghosts" the screen and gets an open triple out of it.
Fun stuff.
The Upside Down
Inverted pick-and-rolls -- wings or bigs running pick-and-rolls with small guards as the screener -- have been a staple of the Point Zion experience. The premise is simple enough: force an unfavorable switch, or draw two to the ball to create a numbers game. Sprucing up that dynamic with an empty corner is flat-out cruel.
The clear-out allows Zion and Kira Lewis to work in tandem without a third defender shading down. Lewis using Kyrie's face-guard against him to take Blake Griffin out of the play is some vet stuff. And of course, all Zion needs is a step to get to the rim.
What are you supposed to do about that as a defense?
Spurs Go Empty
Keeping with the empty-corner theme, peep the Spurs flowing out of Double Drag.
Well, it's a Double-Drag alignment, but it's pretty fake. No real screen from Lonnie Walker as he pops out, and Drew Eubanks doesn't dive just yet. Instead, Devin Vassell clears the right corner before Derrick White and Eubanks start their two-man dance. There's no help available on the roll, leading to the open window for the lob.