The process of selecting the NBA's Most Valuable Player is inherently subjective. Circumstance factors into the equation, as does recent history. Big picture, the MVP award is not meant to celebrate the best player. Instead, it attempts to reward the player with the biggest impact – meaning that winning plays a major role.
There are a few blatant examples in the past 30 seasons where the general consensus is that the wrong player was crowned MVP, many of which involve Michael Jordan losing the award during certain years in his prime. However, those aren't the only controversial recent MVP awardees.
Considering all the debate around this award, it's worth examining recent MVPs as scientifically as possible. Let's take a look back at the 10 most recent MVP races to explore what the voters were thinking and whether they got it right:
2020-21 Nikola Jokic, Denver Nuggets
Team's record: 47-25 (3rd in Western Conference)
Stats: 26.4 points, 10.8 rebounds and 8.3 assists per game
Jokic's all-around ability was on full display in 2020-21. He dragged the Denver Nuggets to the third seed in a tough Western Conference despite losing his running mate, Jamal Murray, with nearly 20 games remaining in the regular season.
Admittedly, Jokic didn't have a peak LeBron James or a healthy Steph Curry or Kawhi Leonard to compete with, but each of those stars were playing alongside another star, making it less likely for them to win.
From a voting standpoint, the 2020-21 MVP was over before it started. Jokic collected 91 of 101 first-place votes.
Verdict: Correct
2019-20 Giannis Antetokounmpo, Milwaukee Bucks
Team's record: 56-17 (1st in Eastern Conference)
Stats: 29.6 points, 13.7 rebounds and 5.8 assists per game
Prior to leading the Bucks to a championship in 2021, Antetokounmpo was a polarizing player. The narrative around him was that his shooting limitations would hold him back from realizing his potential – but this was clearly wrong. That didn't stop MVP voters from falling in line behind him either.
Antetokounmpo received 85 of 101 first-place votes. James was the only other player to receive a first-place vote (16.) In the post-Jordan era, James is also the most complicated player to gauge for MVPs. He's received four MVPs thus far and was widely seen as the final word in the "best player on the planet" debate until around 2019-20.
An argument can be made against Antetokounmpo due to the rarity of back-to-back winners (Antetokounmpo is just the 11th player to win back-to-back MVPs in NBA history), the perception around his limitations and the assumption that the Bucks were inherently capped in how far they could go. But if we're being honest, Antetokounmpo's 2019-20 season was even more impressive and deserving of an MVP than his first – save for the fact that he had the lowest win shares (11.1) of any MVP since Karl Malone in 1998-99 (and the fourth-lowest ever.)
Verdict: Correct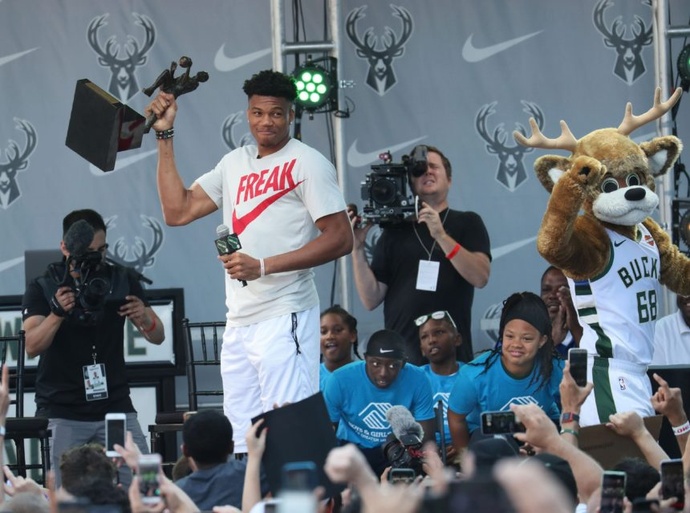 2018-19 Giannis Antetokounmpo, Milwaukee Bucks
Team's record: 60-22 (1st in Eastern Conference)
Stats: 27.7 points, 12.5 rebounds and 5.9 assists per game
Antetokounmpo's 2018-19 season was incredibly impressive. He won the MVP at just 24 years old, making him the ninth-youngest player to win. Still, this one may have been a reach for the voters, who favored a very good season by a breakout superstar over a great season by an established one.
Antetokounmpo received 78 first-place votes, compared to James Harden's 23. That was the final season in Houston for Harden and Chris Paul, and it was one in which Harden led the Rockets to a 53-29 record (including a 12-5 record without Paul). But the perception of Harden among the media was complicated. MVP voters seemed apprehensive to name Harden a back-to-back winner, despite his averaging more points per game (36.1) in a single season than anyone not named Wilt Chamberlain or Michael Jordan. His scoring average was the seventh-best in NBA/ABA history.
Harden's 2018-19 season was far from a sure thing as far as MVPs are concerned, but objectively, Harden's season was more impressive than Antetokounmpo's.
Verdict: Incorrect
2017-18 James Harden, Houston Rockets
Team's record: 47-25 (3rd in Western Conference)
Stats: 30.4 points, 8.8 assists and 5.4 rebounds per game
Harden may have frustrated basketball purists, but at his pre-COVID best, he was as impactful a regular-season player as we've seen. The 2017-18 season may not represent his best statistical output, but it was still pretty darn impressive.
Harden earned 86 of the 101 first-place votes, and rightfully so. At his best, Harden ranks among the most infuriating players to game-plan against. He put defenders on skates, got to the line at will and connected on an obscene percentage of difficult shots.
Verdict: Correct
2016-17 Russell Westbrook, Oklahoma State Thunder
Team's record: 47-35 (6th in Western Conference)
Stats: 31.6 points, 10.7 rebounds and 10.4 assists per game
Westbrook's style of play, much like Harden's, was (and is) polarizing among basketball purists. Still, Westbrook couldn't be denied this MVP award after averaging a triple-double for an entire season for just the second time in NBA history. Sure, Westbrook did so in each of the next two seasons too, but a.) the first time is always the most impressive, and b.) Westbrook was rewarded in 2017 for keeping the Thunder afloat after Kevin Durant fled to Golden State in hopes of finding a greener pasture (which he did).
While voters were never smitten with Westbrook, he secured enough support in 2016-17 to take home the award. Westbrook secured 69 of the 101 first-place votes, significantly more than Harden (22).
Verdict: Correct