Most NBA teams have a young core of some sort, but some are better than others.
Each year, teams try to add to their young nucleus through the draft. The 2023 NBA Draft just featured the most highly-anticipated prospect since LeBron James in Victor Wembanyama, plus a number of other talented rookies like Scoot Henderson, Brandon Miller and the Thompson twins.
Entering the 2023-24 season, which team has the best young core? Today, we'll rank the five best cores from around the league. The criteria is simple: players must be age-25 or younger to be considered.
5. Orlando Magic
The Magic landed young star Paolo Banchero with the No. 1 overall pick last season, pairing him with 2021 lottery pick Franz Wagner to form a nice one-two punch. Cole Anthony had high expectations entering the league, but he hasn't quite become the player that fans wanted him to be. One player who has exceeded expectations is Wendell Carter Jr. After a shaky start to his career with the Chicago Bulls, Carter has found his place on the Magic and is considered one of the better young starting centers in the NBA. He isn't the only player who turned his career around after landing in Orlando, as Markelle Fultz is playing his best basketball and has a nice redemption story of his own. Other young players who have an opportunity to make an impact going forward are Orlando's recent lottery picks Anthony Black and Jett Howard, both of whom are 19 years old. Orlando has consistently been one of the worst teams in the league for several years now and while their rebuilding roster is solid, it isn't quite as good or enticing as some of the other teams on our list.
Notable Players: Paolo Banchero (20), Franz Wagner (23), Wendell Carter Jr. (24), Anthony Black (19), Jett Howard (19), Markelle Fultz (25), Cole Anthony (23), Jalen Suggs (21), Jonathan Isaac (25), Caleb Houstan (20)
4. New Orleans Pelicans
The Pelicans are the only young core on this list with postseason experience, as they made the playoffs in 2021-22 and made the play-in tournament last season. Their young core is largely carried by four players: Brandon Ingram, Zion Williamson, Trey Murphy III and Herb Jones. Ingram has become a terrific scorer, and he's coming off a season in which he averaged career-highs in points (24.7) and assists (5.8). While Williamson has been one of the best players in the NBA when healthy, we haven't seen him on the court very much since he was drafted in 2019. Murphy is a terrific shooter and Jones has had a very solid start to his career as well, making a name for himself as a lockdown perimeter defender. New Orleans has a few other young players with potential including Dyson Daniels, Jordan Hawkins and Kira Lewis Jr., but they have yet to prove themselves. Ingram, Williamson, Murphy and Jones are the main reason why the Pelicans are ranked here.
Notable Players: Brandon Ingram (25), Zion Williamson (23), Trey Murphy III (23), Herb Jones (24), Dyson Daniels (20), Jordan Hawkins (21), Kira Lewis Jr. (22)
3. Houston Rockets
The Rockets have one of the more underrated young cores in the NBA, as their lack of success has prevented them from getting much recognition. Fortunately for the Rockets, their main issue has been lack of experience, and the team addressed it this offseason. They had money to spend and they brought in some veterans to help lead the team, most notably Fred VanVleet. That said, their young core is still extremely talented and got even better through this year's draft. The key for this Rockets team to succeed is to make sure these young players continue to develop at a high rate, which is where new head coach Ime Udoka and his staff come in. They have multiple players on their roster with All-Star potential, and it's possible they'll compete for a play-in spot by the end of the season.
Notable Players: Jalen Green (21), Jabari Smith (20), Alperen Sengun (21), Amen Thompson (20), Tari Eason (22), Kevin Porter Jr. (23), Cam Whitmore (19)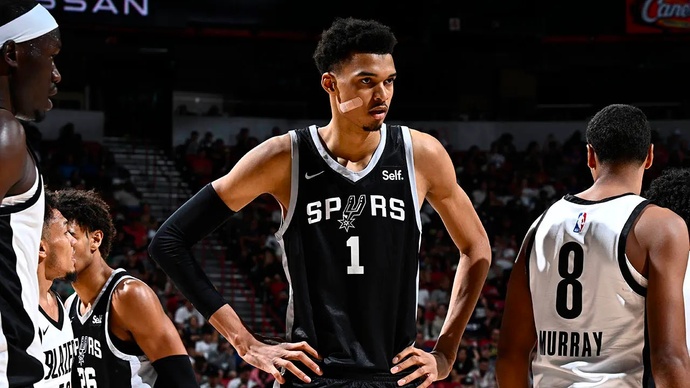 2. San Antonio Spurs
The Spurs undoubtedly have one of the NBA's best young cores. No. 1 overall pick Victor Wembanyama has made San Antonio the team to watch this season. That said, they likely won't be a playoff team for at least another year. While it's possible that they'll shock everyone, it will be difficult for Wembanyama to lead them to the postseason as a rookie. He will likely need at least a year to adjust to the NBA and develop before taking that next leap in his career. Wembanyama isn't the only young star on the Spurs, as they have already started developing fellow cornerstones Devin Vassell and Keldon Johnson, who have made quite an impression. Throw in Tre Jones, Jeremy Sochan, Malaki Branham, Romeo Langford and Blake Wesley, and it's clear why the Spurs are this high. Other young players who have shown promise are Charles Bassey and Julian Champagnie, both of whom came over from the Philadelphia 76ers' organization. These two players have displayed a ton of potential, particularly in the G League and Summer League, and they could be solid contributors for years to come.
Notable Players: Victor Wembanyama (19), Keldon Johnson (23), Tre Jones (23), Devin Vassell (22), Jeremy Sochan (20), Malaki Branham (20), Romeo Langford (23), Zach Collins (25), Blake Wesley (20), Julian Champagnie (22), Charles Bassey (22), Dominick Barlow (20), Sandro Mamukelashvili (24)
1. Oklahoma City Thunder
The Spurs were a hard core to beat but, to nobody's surprise, the Oklahoma City Thunder have the best young core in the NBA. Not only do they have the youngest starting lineup in the league, it is filled with young stars. Shai Gilgeous-Alexander has emerged as one of the best guards in the league, while Josh Giddey and Rookie-of-the-Year runner-up Jalen Williams just had a terrific season. Chet Holmgren, the No. 2 overall pick in last year's draft, hasn't played yet but he will undoubtedly make an immediate impact and could give OKC a Rookie-of-the-Year finalist for the second year in a row. Despite how young the Thunder are, they could make a serious playoff push this season, with Shai at the steering wheel. Perhaps what's scariest about the Thunder is that they have 35 draft picks over the next seven years, including 15 first-rounders, so their already-impressive young core is still a work in progress.
Notable Players: Shai Gilgeous-Alexander (25), Chet Holmgren (21), Josh Giddey (20), Jalen Williams (22), Cason Wallace (19), Luguentz Dort (24), Aleksej Pokusevski (21), Isaiah Joe (24), Tre Mann (22), Jaylin Williams (21), Ousmane Dieng (20), Jeremiah Robinson-Earl (22), Keyontae Johnson (23)