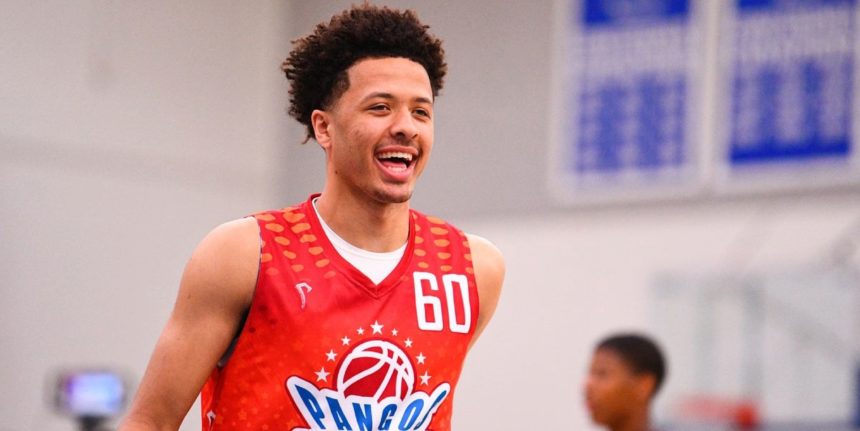 Pangos All-American Camp offers early look at future NBA stars
The Pangos All-American Camp is one of the top high-school basketball events, where the nation's top prospects have an opportunity to showcase their talent in front of NBA scouts and media.
Over the years, many NBA stars have shined at Pangos, including Anthony Davis, James Harden, Russell Westbrook, Bradley Beal, Ben Simmons, Zach LaVine, John Wall, Kyle Lowry, DeMar DeRozan and Jrue Holiday among others.
In 2016, future NBA lottery picks Deandre Ayton, Michael Porter Jr. and Trae Young shined at the camp. In 2019, Cade Cunningham and Evan Mobley were co-winners of the camp's Most Outstanding Player award, and now they're projected to be top picks in the 2021 NBA Draft.
"It is an absolute necessity for my scouting process, as it gives me the opportunity to get an up-close look at the top high-school players in the country," said BasketballNews.com's NBA Draft analyst Matt Babcock.
This year, the 19th-annual Pangos All-American Camp will be held from June 6-8 at Tarkanian Basketball Academy in Las Vegas, NV.
Dinos Trigonis, the director of the event, told BasketballNews.com that he's expecting 26-to-30 NBA teams in attendance. Two years ago, 29 NBA teams were in the building to scout players.
So far, 26 NBA teams have requested a credential for the event including the Los Angeles Lakers, Philadelphia 76ers, Los Angeles Clippers, Golden State Warriors, Brooklyn Nets, Miami Heat, San Antonio Spurs, Chicago Bulls, Dallas Mavericks, Toronto Raptors, Charlotte Hornets, New York Knicks, Houston Rockets, Phoenix Suns, Detroit Pistons, Cleveland Cavaliers, Oklahoma City Thunder, Sacramento Kings, Orlando Magic and Utah Jazz.
"Dinos Trigonis does a terrific job putting together showcase events and he does a ton of them now, with the Pangos All-American Camp being the best of them all," Babcock said. "I'll be in attendance this year in Las Vegas, and I have the event penciled into my schedule every year."
For those who want to watch the action from home, all games will be streamed on BallerTV.