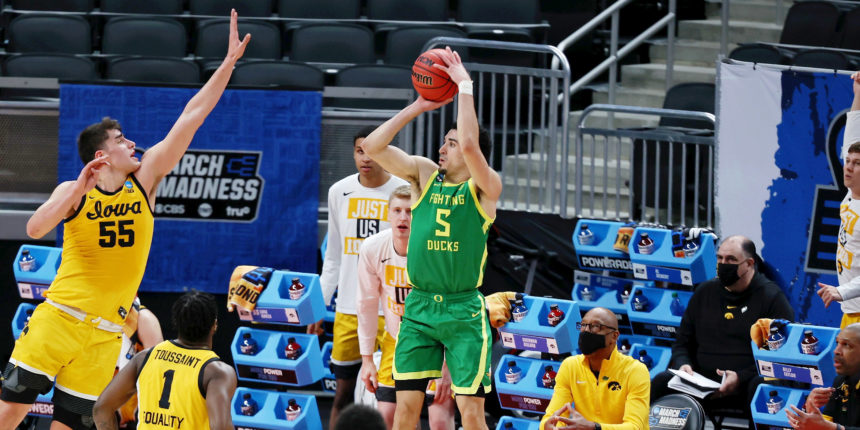 From the Dominican Republic to The Big Dance, Chris Duarte continues to climb
The Dominican Republic is a place that is mostly known as a hotbed for talent on the baseball diamond, and not the hardwood. However, its basketball talent pedigree, although not as credible as some of the other countries in the Caribbean and Latin America, and lineage of players is still impressive.
Current NBA players such as Al Horford and Karl-Anthony Towns (whose mother was Dominican) -- and former NBA players like Francisco Garcia, Felipe Lopez and Charlie Villanueva, along with others -- are among the top talents the nation has produced. As we head into the Sweet 16 of the NCAA Tournament, I recently took a deep dive into Chris Duarte of the Oregon Ducks, who will likely be the next player of Dominican descent to play in the NBA.
Hailing from Puerto Plata, Dominican Republic, then attending high school in Troy, New York and junior college in Niceville, Fla., and now the University of Oregon, in Eugene, Ore., Chris Duarte has not had the typical path of most NBA prospects.
To start, Duarte originally played baseball, and more specifically was a pitcher who threw 90-mile-per-hour fastballs. Of course, being a baseball player by trade is not atypical where he's from. Duarte didn't actually start taking basketball seriously until he was 13 years old, as he sought to emulate his older brother, Michael, whom he noticed had taken a liking to the sport. Despite a late introduction to the game, Chris's talent was apparent even in the early stages of his development.
Once he turned his focus exclusively to hoops, Duarte spent his adolescence dominating his peers in local tournaments, eventually progressing to larger and larger stages. Fortunately for all of the basketball world, Duarte's family moved to New York, in large part because they sought to help cultivate his basketball skills and abilities.
Duarte attended Redemption Christian Academy in Troy for his junior and senior years of high school. He helped lead Redemption to an 8-8 record his junior year and 5-7 record his senior year, while playing a fairly rigorous national schedule featuring teams like Brewster Academy and Victory Rock Prep. On the grassroots scene, Duarte competed in the Nike EYBL (Elite Youth Basketball League) with the NY Lightning. He played a feature role in his lone AAU season with the club, playing alongside mid-to-high major talents like Aundre Hyatt (LSU), Nathan Mensah (San Diego State) and Isaac Kante (Hofstra). Over 18 games, Duarte posted 9.4 points, 4.2 rebounds, and 2.4 assists per game in just under 23 minutes per contest.
Upon his graduation from Redemption Christian Academy, Duarte was selected to play in the Jordan Brand's New York Regional Game. Separate from the more well-known and more prestigious All-American games that most people are familiar with, the regional game still featured a bounty of high-major talents, with guys like Jordan Nwora (Louisville), Collin Gillespie (Villanova), Darryl Morsell (Maryland), and Jose Alvarado (Georgia Tech). Duarte registered 18 points, 5 rebounds and 2 assists for the "City" team in a 170-162 loss to the "Suburban" team.
A month after the Jordan Brand game, Duarte committed to Western Kentucky and joined Rick Stansbury's inaugural recruiting class. He enrolled there in June 2017, but never played a minute for the Hilltoppers. (The crown jewel of that recruiting class, Mitchell Robinson, also did not suit up for WKU).
Duarte failed to qualify academically and was faced with two options: sit out a full-year and try to gain eligibility for the 2018-2019 season, or play at the junior college level, where he could hit the floor right away. Duarte opted for the latter, joining well-known JUCO powerhouse Northwest Florida State College in Niceville, Fla.
At Northwest Florida, Duarte played a crucial role for head coach Steve DeMeo's Raiders in the 2017-18 season. Coming off the bench for all but one game, Duarte registered 12.1 points, 6.7 rebounds, and 1.8 assists per contest, playing next to future Illinois Illini guard Andres Feliz. The NWF Raiders made it to the Elite Eight of the NJCAA National Championship, where they were upset by the No. 10 seed College of Southern Idaho Golden Eagles, 107-93. For his efforts on the season, Duarte was named First-Team All-Panhandle Conference.
Six games into his sophomore season, Duarte signed his letter of intent to play for the Oregon Ducks under Dana Altman. That year, Duarte was the unquestioned leader of the NWF team, starting all 33 games and leading the team in scoring at 19.3 points per game. With the help of fellow March Madness star Javion Hamlet (North Texas), the Raiders registered a 28-5 regular-season record and a No. 1 overall seed in the 2018-19 edition of the NJCAA National Championship bracket. Northwest Florida State again fell in the Elite Eight, to Ranger College (TX), 66-63. Duarte was named the NJCAA National Player of the Year and a First-Team All-American.
"Chris is everything a coach wants in a student-athlete," DeMeo, now an assistant coach at St. John's, said of Duarte on the team website. "He is a great student, great person and a very special basketball player. Chris has really set the bar high here at Northwest Florida for all of our future Raiders, and I look forward to watching him grow and develop at Oregon and even beyond college."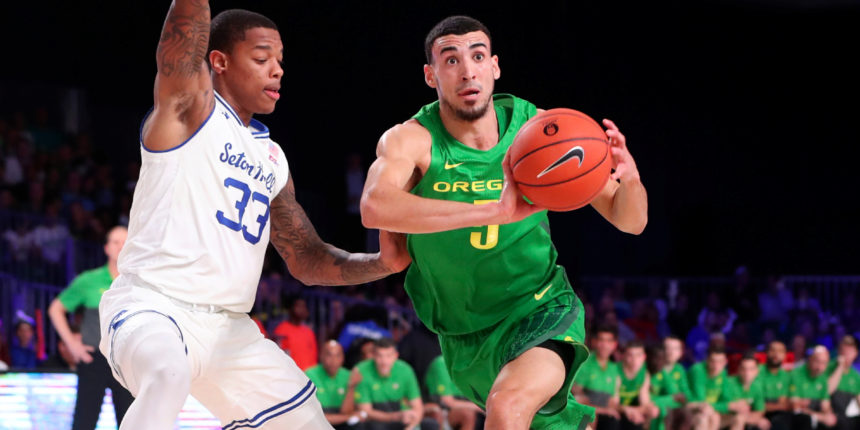 In his first season with Oregon, Duarte immediately settled into a role as the wingman to four-year starter and All-American Payton Pritchard, who is now with the Boston Celtics. Duarte was the second leading scorer, averaging 12.9 points per game while starting all the games he appeared in for the Ducks. He registered three 20-point games on the season, including a 30-point, 11-rebound, and 8-steal eruption in a home win v.s USC.
For most of the final month of that regular season, Duarte battled through a right hand injury, and it was apparent, as his effectiveness dwindled. His points average dipped to 6.2, his field goal percentage plummeted to 30.2% and his three-point percentage slipped to 13.6%. However, his toughness and resilience remained evident consistently. He finally succumbed to his injury, undergoing surgery to repair a broken finger on his shooting hand on Feb. 27, 2020. Altman ruled him out for the Pac-12 Tournament before COVID wiped out the entirety of the NCAA postseason. The pandemic cancellation was especially hard on the Ducks, as they finished 24-7, were the regular-season conference champions and seemed poised to be a potential threat in the big dance.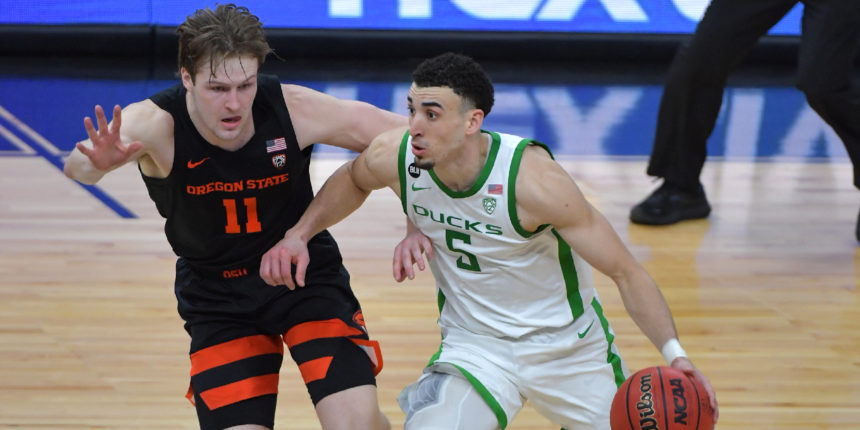 Duarte entered this current season with the spotlight more firmly on him, as he was the Ducks leading returning scorer. He was tasked with being the nucleus of a team, featuring four transfers in Eugene Omoruyi (Rutgers), LJ Figueroa (St. John's), Eric Williams Jr. (Duquesne), and Amauri Hardy (UNLV). To further complicate team chemistry, Will Richardson -- the longest-tenured Duck in the rotation -- underwent thumb surgery prior to Oregon's first game in December against Missouri.
Despite the challenges, Duarte was nothing short of sensational coming out of the gates, as he shouldered a massive scoring load while still excelling on the defensive end. He posted averages of 18.4 points, 2.5 steals and 2.2 assists per game while shooting 45.6% from three-point range. Oregon started the season with a 9-2 record, peaking at No. 17 in the polls in that time frame. The Duarte-led Ducks stormed through Pac-12 conference play, finishing 14-4 and narrowly capturing the regular-season conference title over USC.
Duarte finished the regular season with a strong average of 19.2 points per game, while shooting 52% from three-point range over his last five games.
"The first time that I saw Chris Duarte was his junior year at Oregon. I thought he was a solid player. I noted that he had good size for a wing, played hard, was super competitive, and he could really shoot the ball," added Matt Babcock, BasketballNews.com's Lead NBA Draft Analyst. "My evaluation of him was certainly positive, but I can't say that I was overly confident that he was going to be a sure-fire NBA player.
"However, fast-forward to this season, and Duarte has played on such a high level all season long and has subsequently changed the narrative for me. I watched him play in person in early January this year, and he was incredible. From there, I watched film on him keenly, and I must say that I was left thoroughly impressed with him as a player. I expect some to be critical of his age, as he is older for a draft prospect, but I think he's worthy of being a first-round pick in the 2021 NBA Draft, regardless of his age."
Granted a first-round bye in the Pac-12 Tournament for their regular season performance, the Ducks demolished Arizona State in the quarterfinals by 18 points. In the semifinal game against Oregon State, the team got a nightmarish wake-up call, as the Beavers won by 11 in a wire-to-wire victory that was never in doubt. But this would not be the last we saw of Duarte and the Ducks.
Altman's squad entered the NCAA Tournament as a No. 7 seed, slated to play the No. 10 seed VCU Rams in the first round. Last weekend, over a year after he missed out on his first opportunity at a March Madness debut, Duarte was set to take the biggest stage in a matchup against another NBA prospect in Na'Shon "Bones" Highland. His debut, however, would be delayed another 48 hours, as the Ducks' first-round matchup was deemed a "no contest," as a COVID breakout ensued within the Rams' locker room. The Ducks automatically advanced to the next round of the tournament.
In the second round, the Ducks headed towards a clash with Iowa and consensus All-American Luka Garza. In that game, Duarte wasted no time in making his presence felt, as he scored 23 points and dished out 7 assists against the Hawkeyes. Oregon ultimately ran away with the game, as the team ended the first half strongly and dominated Iowa in the second half.
Sunday night, Chris Duarte and the Oregon Ducks face the USC Trojans, a conference foe they are very familiar with -- and the team they barely edged out for the Pac-12 regular-season title. Another interesting element of this matchup is USC's star freshman, Evan Mobley, a likely top draft pick this summer. This should be a star-studded matchup, and we'll see if Chris Duarte can continue to elevate his stock and perhaps convince the general public to join Matt Babcock in considering him as a worthy first-round pick in the 2021 NBA Draft.