On Monday afternoon, news broke that the Washington Wizards were trading fan favorite Rui Hachimura to the Los Angeles Lakers. It's a move that shocked and disappointed many Wizards fans, who had high hopes for their team's ninth overall draft pick just four years ago.
Hachimura had been averaging 13.0 points and 4.3 rebounds per game this season, just coming off of a season-high 30-point game off the bench in a blowout win over the Orlando Magic this past weekend.
The Wizards did avoid having to take on any long-term salaries in the trade — and didn't give away any of their draft picks — but it failed to tip the scale of disappointment for Wizards fans, who looked at Hachimura as being an integral part of the team's future.
I caught up with Drew Gooden, a 14-year NBA veteran who formerly played for the Washington Wizards and is now an analyst for NBC Sports Washington and Monumental Sports to analyze this trade.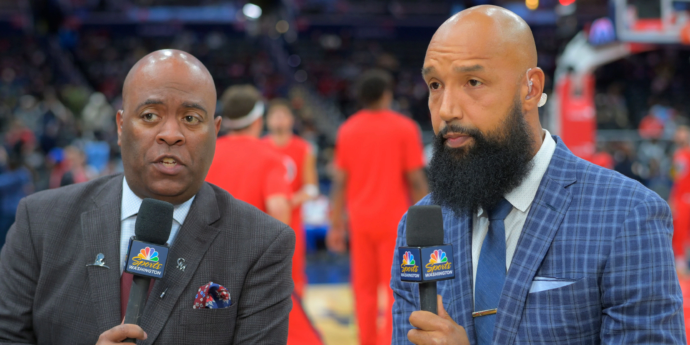 Etan Thomas: What was your reaction to the trade? Rui was really a fan favorite, and a lot of people in the DMV really didn't see this coming and have been voicing their opinions on this, but what was your reaction?
Drew Gooden: "It was strictly business. Like you said, he's a fan favorite and Rui had a window to get better on both sides of the ball both offensively and defensively. He just scored 30 points against the Orlando Magic. So we know what Rui could provide right now and potentially for the future. But I believe this was strictly a business decision the Wizards had to make in order to have the possibility of re-signing Kyle Kuzma in the offseason."
Etan: So, I've heard people say that and do you think that's all it boils down to? The Wizards had to make this move to free up cap space? I saw they made the point clear that they were not entertaining any calls or inquiries for Kuz as we approach this trade deadline.
Gooden: "Absolutely, this wasn't personal at all. But truth be told, I think this is a great opportunity for Rui. Not only from a business standpoint of getting an extension and becoming part of a great organization in the Los Angeles Lakers, but the relationship that his agent has with Rob Pelinka; there is a business relationship already established there. And he gets the chance to play with one of the best players ever to play the game in LeBron James. And he'll be able to learn under LeBron just like Kyle Kuzma was able to learn under LeBron, so I think this is a positive for Rui.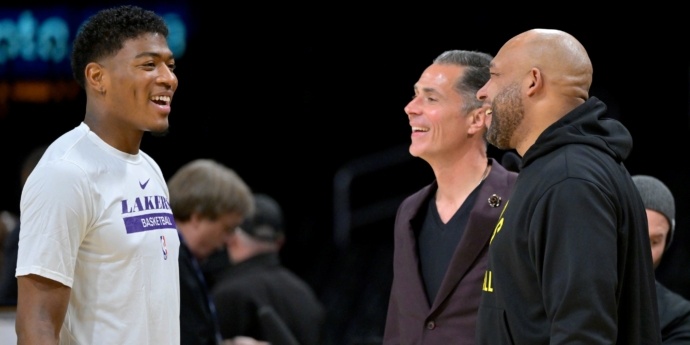 "And there was some pressure for him to sign his extension. Because if you look at the 2019 draft class and you look at all the guys who have received their extensions — and these are different players that I'm going to list off — but you have Zion [Williamson], Ja Morant, RJ Barrett, De'Andre Hunter — the fourth pick — signed his extension, Darius Garland signed his rookie max extension with Cleveland. So these guys are trying to get locked in, and there is peer pressure — and you know this — when you see guys that you got drafted with already getting their extensions, but you haven't gotten yours yet. It's added pressure for you as a player from a business standpoint. And you're looking at your team like, 'Why are these other guys getting paid, but I'm not?' and, 'Why are you not investing in me and showing your faith in me?' And unfortunately, the Washington Wizards just weren't in a position to do that."
Etan: I've heard this in conversation, so let me repeat what the word on the street is. Many people have pointed to the fact that the Wizards have developed almost a pattern of not re-signing their draft picks. In fact, the last Wizards pick to earn an extension was Otto Porter Jr., and he was drafted was a decade ago.
Gooden: "Yeah, I have noticed that. But in this case, Kyle Kuzma just threw a monkey wrench in all of the plans with his play. He has shown that he can actually carry the team when Bradley Beal is out; that's invaluable. And you have another situation in [Kristaps] Porzingis that you may have to be confronted with because he can opt out (in late June before free agency starts) — now, what happens if he opts out? I'm sure the Wizards would love to re-sign both of them, but they have to be in a financial situation where they could possibly do that, and honestly, that's the only reason for this trade. It's a strategic move; not personal, just business."
Etan: Let me ask you this — and of course, it's hard to predict — but how likely would you say it is that Kuzma does re-sign with the Wizards in the offseason? Because that's what's on everybody's mind right now. You've traded this young talent who is a fan favorite, and what happens if Kuzma doesn't re-sign with the Wizards?
Kyle Kuzma's 30 points power the @WashWizards to victory in Dallas! pic.twitter.com/EAyAPAuZgY

— NBA (@NBA) January 25, 2023
Gooden: "It's, 'What's that magical number that could get the job done? What will make Kuzma sign that deal and stay in DC?' Because he will be an unrestricted free agent. I believe he could maximize his earnings staying with the Wizards. They do have his Bird Rights. That's the hope, that's the strategy and the Wizards have to do everything in their power to put themselves in the position to be able to make that happen, and that's all they can control."
Etan: What does Kendrick Nunn bring to the table?
Gooden: "This is an interesting situation. In my years past looking at these trades — and giving up someone like Rui and getting draft picks and a guy with an expiring contract — it's probably another business decision. I'm not sure if there is going to be a future here for him or not. But, maybe he'll get a shot and bring something to the table where he changes people's minds, which is very possible. That's what Kyle Kuzma did. He changed the narrative and made the organization shift their plans. Nunn could do that, even with the packed point guards (room) we currently have.
"But I know for a fact that (Nunn) can put the ball in the hole. His time in Miami, he was a 15-plus-point scorer in this league; I saw him with my own eyes in real time. He can catch waves throughout the course of a game and really take over games. So if he has that opportunity to play and show what he can do, there's no doubt in my mind that he can play at a high level. It's just the clutter of all of the point guards on the roster right now. So we'll see what happens."
Etan: Right. It will definitely be interesting to see. Okay, last question. Where do you think the Wizards end up this year? Of course, they have to stay healthy. That's one of the main things. But what is the ceiling or possibility for them this season?
Gooden: "Well, the Play-In Tournament I believe doesn't allow teams to let go of the rope down the stretch of the season. In the past, some teams may get to that point where they're thinking more of improving their chances in the lottery. This is an interesting window, and someone just asked me this question the other day.
"They asked, 'What is the Wizards identity?' And you know what? They haven't been whole the entire season. You have had small sample sizes where you had Porzingis, Beal and Kuzma all on the floor together, but nothing consistent this entire season. But one thing I know — they have a chance to win every given night no matter who is on the floor. They're a team that won't allow themselves to let go of the rope."