The Philadelphia 76ers played their first preseason game versus the Boston Celtics, which feels like a bit of an insulated feud in the NBA. No one outside of those cities really cares about the origin of the heated matchup, but it seems to always produce entertainment, as well as genuinely high-end offensive play. Considering Ben Simmons was out during the the playoff match-up between the teams in the bubble, two-way renaissance man Jayson Tatum licked his chops and primed his canvas before drawing up his most recent display of side-stepping dominance.
Joel Embiid, when not hampered by injuries to his teammates or himself, enjoys similar -- albeit infrequent -- opportunities to do the same. But unlike Tatum, a scoring wing relaxing within the maximized dimensions his franchise has organized for him (e.g. a nifty point guard like Kemba Walker, a co-wing waiting to convert his gravity into wide open jumpers like Jaylen Brown, screening centers, etc.), Embiid has had to exist within multiple iterations of… the Sixers. Recently, the Cameroonian center found himself starting alongside former Celtic Al Horford and shooting guard Josh Richardson -- both stationed as perimeter spacers even though both boast triggers as slow molasses. The results were suffocating and endlessly frustrating for both viewers and players alike -- the latter of which struggled continuously while being stretched well beyond their typical roles where comforts reside.
Many people interpret the suggestion of trading alt-point guard Ben Simmons as an insult to his skill and potential as a young NBA player. Some would go as far as to suggest that Embiid is the one that should be sent out -- what, with all of his injury proneness and all. The fact of the matter is, Embiid is the generational talent of the two -- at the moment. There isn't a need to read tea leaves, the alignment of the planets or a magic 8-ball in order to conclude that, at peak physical health, he is an MVP-caliber force. With unmatched size combined with grace, Embiid is quickly entering a race timed by the brief prime possessed by traditionalist centers. When a player like James Harden becomes available, why hesitate to pounce? He would be an excellent fit alongside Embiid in Philadelphia.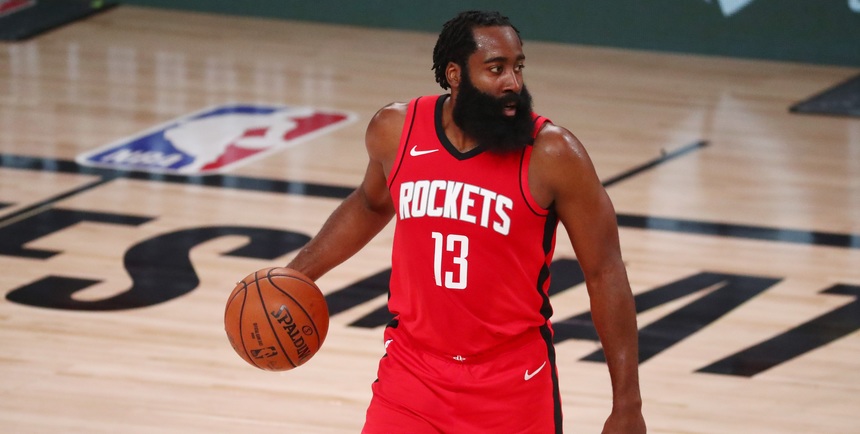 A championship banner has a special way of making years of tanking, team building and failures look as if things happened exactly as planned -- ordained by the basketball Gods themselves. The Sixers would enjoy a two-to-three year championship window with a walking offensive powerhouse. Harden, the pick-and-roll/iso sorcerer, would undoubtedly maximize Embiid -- providing the Philly superstar with ample space to lull heavy footed defenders, and a ball-handling playmaker fluent in the long-range three-ball.
The on-court connection between Embiid and Jimmy Butler throughout the 2018-19 regular season and playoffs made the big man's love for playmaking wing scorers crystal clear (cryptic social media posts and all). It's as though the Sixers' front office has a duty to roll the dice considering the ultimate goal of NBA basketball -- being the last remaining team standing.
No matter how deeply we NBA romantics would like to personally witness Philadelphia's lottery duo skip off into the sunset, banner in hand and nothing but basketball synergy buzzing between them, the fact is that for the modern league, it takes a lot of idealism to envision a championship-caliber offense featuring a star big man flourishing with a point guard who refuses to shoot. Especially so with no other significant puzzle piece on the roster to remedy this reality (as Butler had).
We've witnessed the butterfly effect of Simmons' refusal to shoot with countless cuts of game film showing the guard drawing defenders to the dunker and crowding Embiid's space to operate. It's a testament to the team's resilience that they've enjoyed competitive success in spite of these realities, but it's important to remember that just because something worked before doesn't mean there aren't other, exceedingly potent alternatives.
Whether it seems morbid or not, a Simmons-for-Harden trade would still mean that Simmons' efforts and value would end up directly correlating to any subsequent championships as a result of said transaction. The Rockets would receive the young talent they crave and they could correctly build around the offbeat point guard. Simmons fans could rest assured that he'd be receiving the space, resources and surrounding talent to thrive and discover more about his own game. But right now? Everything tells me it's time to go all-in on the pairing of Joel Embiid and James Harden.
UPDATE: The 76ers have reportedly made Simmons available in trade talks with the Rockets, but Philadelphia's president of basketball operations Daryl Morey told Shams Charania of The Athletic, "We are not trading Ben Simmons — he is an important part of our future."