Fourteen minutes into Game 1 of the Western Conference semifinals, Russell Westbrook sees something — only it hasn't totally happened yet. Standing at the bottom left of the key, watching the Los Angeles Lakers start to work in the halfcourt, Westbrook drops his left hand from his nose and his right arm goes up, signaling like he is hailing a cab down the block.
Kyle Kuzma, drawing away, curves toward Robert Covington. Dwight Howard creeps up from behind and waits to pin against Kuzma's switch, but Westbrook watches him go with the barest of concern, eyes still fixed on something farther out.
Before he vaults forward, maniacally propelled, it's clear what he's fixated on: Alex Caruso, hanging way out past the arc, waiting to shift the ball. Caruso is so focused on the screens he knows are sliding, on Howard beginning to roll toward the basket and the empty passing lane that will set up Markieff Morris for a three that he never bothers to look for Westbrook, who never took his eyes off of Caruso all this time.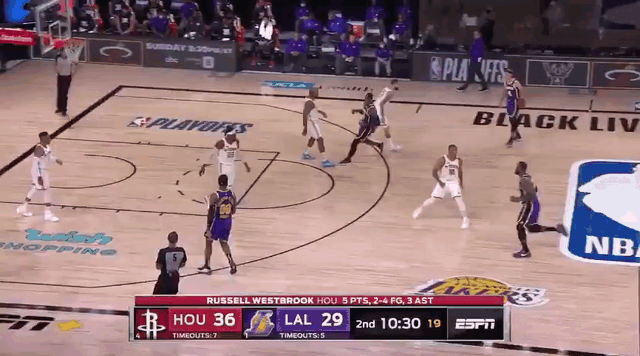 Westbrook left Kuzma to the switch and his eyes on the ball were magnets, pulling him toward the pass. Plus, he was already running, arms up and out to intercept as Caruso's fingertips took their last graze of pebbled leather. When Caruso makes the pass, it's so well-marked that it may as well be infrared; Westbrook intercepts the pass and explodes into transition. By the time Morris realizes what happened, Westbrook is near half-court. For how long it takes the Lakers to recover, no one but Caruso giving chase, it's like Westbrook was a freak wave, unseen until it's rushing away with all your hope on its back.
And then there's the stranger thing, that for an entire possession the Lakers ignored Westbrook, appeared to forget he was out there. Westbrook quickly corrected their mistake but the crux of it, losing track of a top-20 player in steals and deflections, is indicative of a frustration the former MVP has been facing all season: set against the flashy, competitive roil of the NBA landscape, Russell Westbrook is fading.
His move to the Houston Rockets last summer, a deal that had him swapping places with Chris Paul, was one of the biggest trades in a loaded free-agency period. Partially because Paul's tenure with the Rockets had failed to materialize in a title and it felt (a little) like he was about to be stranded on the plains of Oklahoma, whereas Westbrook had never called anywhere but those plains, professionally speaking, home. Add in the happy reunion with his former OKC Thunder teammate James Harden, and the narrative of the trade alone sold itself.
On the technical end, at first glance, the fit made sense. There was urgency for Houston to have a win-now year after three seasons with championship aspirations under head coach Mike D'Antoni, plus the previous four-year wind-up with Kevin McHale. Westbrook's high-voltage style of play could be the boost the more analytical and not entirely rousing Rockets needed. Being so deep in D'Antoni's threes-or-bust system seemed beneficial to Westbrook, too, whose dipping shot percentage the year prior (29 percent from three) meant that while he would be expected to shoot, he didn't necessarily need to be the smoking gun. It also slashed his remaining $171.1 million salary from OKC's already laden books. But much like that summer's other big deal in the Western Conference — Kawhi Leonard and Paul George to the Los Angeles Clippers — the eye-test of it all was shortsighted.
Offensively, Westbrook was boxed-in by D'Antoni's preference to keep Harden way out of the half-court, where he was only required to shoot and wait instead of offering any help off the ball if his shots didn't fall. While Westbrook might be adept at grabbing his own rebounds, he's by no means big enough to box out for all of them or to serve as the team's dominant spacer. With the Thunder, he had Steven Adams, a permanent fixture under the rim and a benevolent slingshot for Westbrook to jettison himself around when rushing downhill into the paint. Houston was too small to give Westbrook the room he needed to offensively cook, even with Clint Capela to start the season, and downright minuscule when Capela was traded to the Atlanta Hawks. While Westbrook never utilized lobs with the same frequency and intuition Paul did, both play well off a traditional center or other multi-dimensional, versatile big (like Kevin Durant). Without one, Westbrook was soon stretched too thin.
But the pressure was subtle because Westbrook's production, on paper, stayed overwhelmingly positive. He contributed double-digit scoring all season, peppering in triple-doubles every handful of games and finishing with a better scoring average than he'd seen since 2016. But his plus/minus had turned practically volatile under the Rockets' incessant three-point shooting mandate, hugely undercutting his efficiency overall. In November, Westbrook posted a -46 against the Miami Heat — the same game that saw Houston shoot a dismal 14-of-48 from three-point range. The very next game he played, Westbrook posted a +40 against the Golden State Warriors, with Houston making about half of their three-pointers (21-of-45). But his biggest contributions in that game came from popping up shots while crammed in the paint (plus eight rebounds and six assists).
In many ways, it's an exercise in futility to trace back examples of where the Rockets showed they were perfectly content to live or die by the three, knowing it's a decision that cost them, once again, a shot at a championship. But in the way this style of play effectively clipped Westbrook's wings when it comes to his offensive versatility, there are lingering clues to how the team could turn things around.
It was D'Antoni who held to the fixed system Houston banked it all on, D'Antoni who wasn't in favor of having Harden play off ball at all, citing that it would only get in Westbrook's way in the paint and, somewhat cloyingly, tire Harden out. But D'Antoni is gone now. In OKC, alongside Harden and when he was the only one of the original Durant-Harden-Serge Ibaka core left, Westbrook was a precise, intuitive pick-and-roll playmaker. His eagle-eye peripheral vision made the sideways lobs he landed Ibaka or Durant (and later Adams) look reflexive, and the sailing passes out to shooters like Harden waiting in the corner intensely casual.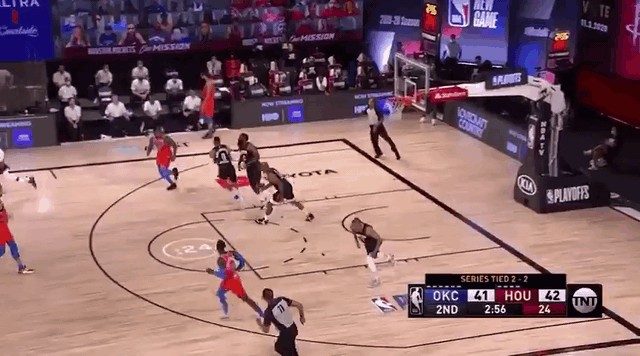 His drive-and-kick velocity, or the additional gears he can still get into when coming downhill in transition, make slowing Westbrook down — like with the yoke of purely outside shooting placed on him this season — seem like the most counterintuitive, unnatural decision, especially when his momentum is so generative of offensive team energy overall. Yes, he shot a career-high 47.2 percent from the field this season, but his assists dropped to an average of 7 per game, the lowest he'd had in six seasons.
Westbrook is a complementary player, best in a group inclusive of a true playmaker, a buffering big with some stretch he can use as a valve for his passing to deftly finish and another give-and-go shooter. Where his energy wanes — spacing out sometimes dreamily on defense, turnovers — he would benefit from a floor general with a tendency to execute without bullying.
A stat trotted out frequently in Houston's postseason, and when the Lakers sent them packing, is that Harden's usage rate sunk to 31 percent with Westbrook on the floor and 41 percent without him. But the same stat is near identical for Westbrook, because rather than show how both are made inefficient by simply being in the other's orbit, they give a glimpse to how the two take less dominant roles when sharing the floor. Where this causes problems is when Westbrook is putting up aimless shots or his propensity to flail away his own deflections, but if Harden were able to reengage with the complementary half-court offensive play he excelled at in OKC, shimmying slips that freed him of defenders in the paint for fadeaway shots, the two could rework the offensive options of a team that's stubborn approach to added versatility didn't streamline so much as outright sink it.
Still, the league trend of a star pairing, after the Clippers' spectacular collapse, could be falling out of favor for building up a roster of complementary, and engaged, players. Regardless of what head coach is going to lead Houston next, the Rockets already have the potential for this on paper. The team's most tenacious players, P.J. Tucker and Robert Covington, convert defensive prowess to offensive mettle; Austin Rivers certainly wants to compete; and Eric Gordon is a vet who's widely respected and can lend tangible insight to an identity shift.
It's Harden who remains the outlier in all of it. For any new look to work, he'll need to become an engaged offensive player again, generous and willing to stop skulking back at center, where his disinterest in getting close will never signal his team to likewise lock in. Westbrook has always thrived in the throng of play, so close he can feel his team's pulse. To lead the Rockets, Harden will have to get in there with him.
"Right now, I'm just running around," Westbrook said after a disconnected Game 2 loss to the Lakers. "I gotta look at film and figure out how to be effective."
But he'd been effective, all season. It was in being asked to deviate from his natural compulsions as a player — his knack for pace, quick cuts, give-and-go generosity, outright manipulation of timing — that Westbrook started to fade, running without a plan and losing focus.
His salary is still an issue, due more than $85 million over the next two seasons with a $47 million player option in 2022. But with a short offseason and most teams going conservative due to the decreased salary cap, Houston should absolutely double down on their investment, realizing the potential for a total systematic rebuild without blowing anything up.
To thrive in Houston, Westbrook has to be granted the floor. Not the restrictions of shooting from where efficiency dictates, not based on what a chart says, but the whole floor and the freedom to show the flash of his game and the fluidity to warp it. He needs to be able to inject some joy, with the trust of a gutsy team behind him. With that kind of liftoff, the Rockets, and Westbrook, will be hard to ignore.