Every few years, several NBA stars come together and form a super-team. Obviously, the most-recent example is the Golden State Warriors. By signing Kevin Durant in 2016, the Warriors immediately became the favorite to hoist the Larry O'Brien trophy (and it was hard to envision a scenario in which they'd lose). When LeBron James, Dwyane Wade and Chris Bosh teamed up on the Miami Heat in 2010, there was the same reaction (which is why their 2010 NBA Finals loss was so surprising).
Which NBA franchise will assemble the next super-team? We asked a number of NBA analysts to share their predictions:
New York Knicks or Phoenix Suns: "That's a really good question. I think you'd have to put New York in the discussion. I know it's laughable; people have been hearing about New York being a potential super-team for 20 years now and they've never been able to execute it. But I still think it's a place where people want to play and someday it'll work out, so I'll put them into the discussion. I think a sleeping giant in the NBA - an absolute sleeping giant - is the Phoenix Suns. But I don't know if they have the ability, with their ownership (Robert Sarver), to pull it off. The Phoenix Suns were good for 20 years because people loved being in Phoenix and there are so many advantages there - from the wonderful weather to the life a player can lead to the no state-income tax, and they have just squandered it. In the last 10 years, they've squandered it. They have a superstar there in residence. When you think about building a super-team, usually you want to start with a star. It's much easier to start with a star, and I think Devin Booker is a mega-star in development. They have a window to do it and they have a coach who people want to play for [in Monty Williams]. There's everything there, but the ownership is so shaky that it's just really hard for me to believe that it can be executed. But I've been saying this for five years: Phoenix is a sleeping giant. I would put those two teams - the Suns and Knicks - on the list for sure, as far as building up from nothing."
- Brian Windhorst, ESPN (on "The Alex Kennedy Podcast")
Miami Heat: "The New York Kn... Nah, just kidding. My early guess is the Miami Heat. They already have two stars in Jimmy Butler and Bam Adebayo. They're slotted to have at least one max slot available, though we're still unsure of the effect the pandemic will have on the cap moving forward. Still, the Heat have stars, intriguing young talent, a great coach, a strong front office and a great location to pitch. They're going to throw their hat in the Giannis Antetokounmpo sweepstakes. And even if that fails, they've been linked to both Bradley Beal and Victor Oladipo. It's hard to believe the Heat will go 0-for-3 on that front."
- Nekias Duncan, BasketballNews.com
Miami Heat: "The franchise that will assemble the next super team is the Miami Heat. Pat Riley showed what he can do with significant cap space when he lured LeBron James and Chris Bosh to join Dwyane Wade in South Beach. It's the league's worst-kept secret that Miami hopes to make a run at MVP Giannis Antetokounmpo next summer. Miami is a potential destination for Victor Oladipo too. When you combine All-Star Jimmy Butler with a proven core of players, the lavish lifestyle of living in Miami and a ton of money to spend, who wouldn't want to sit at the table with Riley for a meeting?"
Miami Heat: "Miami is the odds-on favorite to form a new super-team because they will have a solid amount of cap room."
Brooklyn Nets: "Stephen Curry, Klay Thompson, Draymond Green, Andrew Wiggins and the No. 2 pick the Warriors will have in the 2020 NBA Draft is pretty darn super, but I'm not sure that qualifies as 'assembling' since they technically already possess those pieces. I found myself writing and rewriting my answer several times before eventually landing on the Brooklyn Nets. The team already has Kevin Durant and Kyrie Irving and a slew of young players and draft capital that could be packaged in a deal similar to the one that landed Anthony Davis in Los Angeles alongside LeBron James. Nets general manager Sean Marks has both the know-how and relationships to get something like that done, whether it be for Bradley Beal, Devin Booker or Rudy Gobert (who will be a free agent following the 2020-21 season). It's a tough call, but I vote Brooklyn. They narrowly edge Miami because, at least based on today's standard, I regard a 'super-team' as one that has three bonafide superstars. I think Miami has one in Jimmy Butler. The Lakers obviously have two in James and Davis. Should Giannis Antetokounmpo opt to sign there, they'll be a super-team, but that couldn't occur any earlier than after next season. Brooklyn, I think, is the only team that has two superstars and the capital to trade for another right now."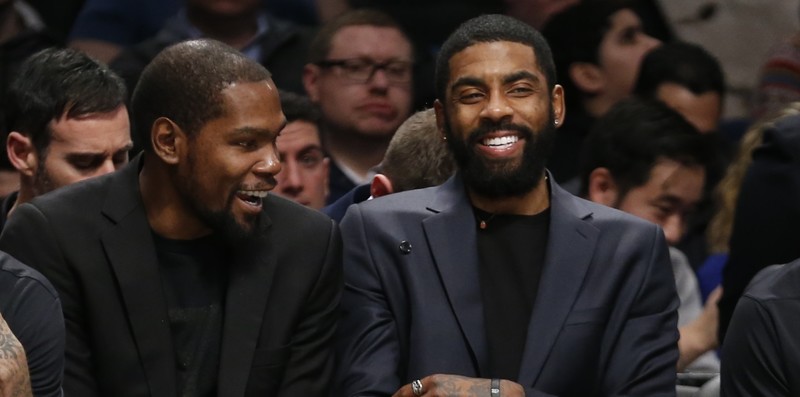 Golden State Warriors: "The next super-team is the previous super-team: the Golden State Warriors. Kevin Durant may be gone, but if they can find good value for their No. 2 overall pick and their trade exception from the Andre Iguodala deal, they could be absolutely loaded again next season. Stephen Curry, Klay Thompson and Draymond Green are a formidable trio, but with the assets at their disposal, the Warriors could very well turn back into a juggernaut with one or two moves."
Dallas Mavericks: "I already mentioned Brooklyn as my team that will make the biggest jump next season, but I'll go with Dallas here. The Mavericks have the ultimate building block in Luka Doncic, a special talent who looks like he's capable of winning multiple MVPs before his career is over. With Kristaps Porzingis' inspiring play in the bubble showing why KD once called him a 'unicorn' and an excellent coach in Rick Carlisle completing the remarkable transition of defensive maven to installing the best offense in NBA history, Dallas is right there. The Mavericks only need to find a third star, but Doncic will attract even more talent with his playmaking skills and limitless potential. With Mark Cuban, they also have an ambitious owner who will spend whatever is necessary to keep his franchise relevant."
Dallas Mavericks: "The Dallas Mavericks have the best building blocks right now. They already have two of the league's best young stars in Kristaps Porzingis and Luka Doncic, but Doncic's rookie-scale contract affords them max cap room in the summer of 2021 to add a third. While no particular team can be called a 'favorite' to assemble a super-team, it's hard to find a better landing spot for Giannis Antetokounmpo than the team that once employed his brother, Kostas."
- Nate Duncan, Dunc'd On Podcast
It's Up to Giannis: "It's difficult to project where the next super-team will form, but the entire NBA hinges on Giannis Antetokounmpo's decision this offseason with the Milwaukee Bucks. Does he accept a super-max extension or choose to wait until he's a free agent in the summer of 2021? If he does, the Bucks may need to consider trading him, which is why the Golden State Warriors are trying to position themselves for another dynasty. It's obviously up to Antetokounmpo, who may choose to stay with the Bucks. But what if he decides to head to Miami to play with Jimmy Butler and the Heat? Or maybe he bolts for Toronto to join Pascal Siakam and Co. on the Raptors? Out in Los Angeles, would LeBron James take a paycut to make room for Giannis on the Lakers? The next superteam is wherever Antetokoumpo chooses to play, if he decides to leave Milwaukee."