The current face of the NBA, LeBron James, will turn 36 years old in December. While he's still playing at an extraordinarily high level (averaging 25.3 points, 10.2 assists, 7.8 rebounds, 2.2 threes and 1.2 steals), it's fair to wonder: Who will take the torch from James and become the NBA's next poster-boy? In this week's Give and Go, our Alex Kennedy and Spencer Davies debated just that.
Alex: As we try to identify the next face of the league, should we just focus on the younger, up-and-coming players? Or do we include the superstars who are currently in their prime too?
Spencer: Okay, so here's how I see it. When we say the "new" face of the league, my mind immediately goes to a player who is in his mid-20s or younger. Maybe that's wrong, but if someone like Kawhi Leonard hasn't been the face of the league to this point in his career, is there really a scenario where that happens going forward?
Alex: Well, I would argue that he couldn't be the face of the league because LeBron James was still performing at a high level, so he never had that opportunity. But let's say LeBron starts to rapidly decline or has an injury in the next year (God forbid), that opens the door for someone like Leonard to step into that role. He's one of the best two-way players in the NBA, he's in his prime and he's on a team that's expected to be a perennial contender. When Leonard led the Toronto Raptors to their first championship last year (and averaged 32.8 points, 10.1 rebounds, 5.2 assists, 2.3 steals and 1.7 threes in the playoffs), there were some people saying that Leonard is the closest thing to Michael Jordan that we've seen because of his well-rounded game, clutch performances and killer mentality. I guess what it comes down to is the timeframe. If we're trying to identify who will be the face of the NBA in three-to-five years, then I agree that it needs to be an up-and-coming player. If the NBA is searching for their new poster-boy one year from now, perhaps someone like Leonard is the perfect fit.
Spencer: Stylistically, that comparison probably isn't that far off the mark. My personal opinion is that we might have to look further down the line because… do you see any signs of LeBron slowing down? The man might be aging, but is he on the decline? I'd lean toward no. Two years ago, I saw The King in robot mode, delivering perhaps the best playoff stretch of his career in Year 15 with a Cleveland Cavaliers team that had little business being in the NBA Finals. Now, he's positioned the Los Angeles Lakers to make a run at a title with a young superstar ready to take the reins in the process. Not to mention his leadership off the floor and the work he does in the community and for social equality and racial justice. Even if he's not the alpha forever, he'll be the face of the league until he retires to me.
Alex: Fair point. Father Time is undefeated, but LeBron is putting up a hell of a fight. Let's assume that James will continue to be the face of the league for several more years, so we're likely narrowing down our options to players who are age-25 or younger. Now, let's discuss our criteria. Obviously, on-court production is the most important thing. If they're winning, that certainly helps their case. Their style of play and personality matter a lot too, since the NBA needs to be able to market them and get fans excited. (There's a reason why Tim Duncan was never the face of the league despite putting together one of the most impressive careers in NBA history and winning five titles). Being in a large market can certainly help a player, but we've seen some superstars can overcome a small market (especially in the social-media era) if they're a big enough name - like LeBron James in Cleveland, Kevin Durant in OKC and Giannis Antetokounmpo in Milwaukee.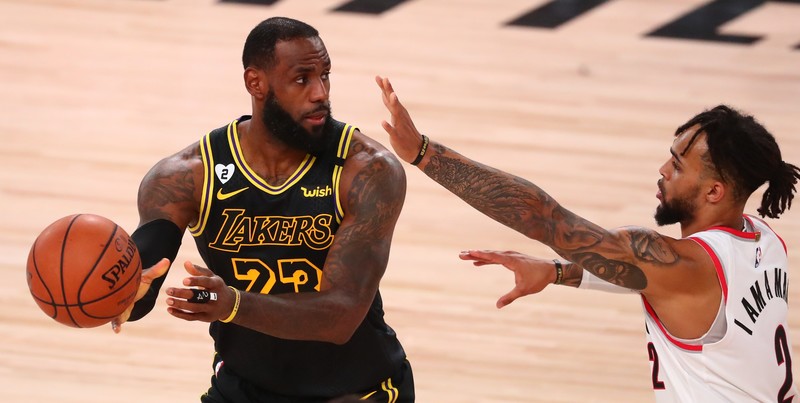 Spencer: I love the point about the social-media era because it definitely improves visibility for a lot of these guys who don't play in the mainstream areas of the country. Look at the attention that Devin Booker and Donovan Mitchell received following their strong play in the bubble, it just shows that a player can absolutely transcend the city he plays in. As somebody who lives in Cleveland, I witnessed LeBron become the face of the NBA while in the league's 17th-ranked market. However, I'm not naive to the fact that a player's market factors into how much coverage he gets. I think a perfect example of that is De'Aaron Fox in Sacramento versus, say, Kyle Kuzma in Los Angeles - who is presented as this "star." Fox is the top option on a fringe playoff team, while Kuzma is the third or fourth option on perhaps the NBA championship favorites. I understand they play two different positions and have different roles, but we should hear more about Fox than Kuzma if it's strictly about talent overall. At least, that's how I feel.
Alex: Yeah, the Lakers just get so much coverage and attention. However, I think it's a little bit different when we're talking about the league's top superstars. Several years ago, Durant had the most endorsement deals of any player in the NBA while playing in Oklahoma City. If a superstar checks all of the other boxes, they can become the face of the league regardless of which market they're in. Don't get me wrong, I do think playing in Dallas helps the argument for Luka Doncic. But I wouldn't rule out guys like Giannis Antetokounmpo or Zion Williamson simply because they're in a smaller market. Switching gears, do you agree that the individual's personality plays a role in this?
Spencer: You do have to think about personality when determining who is "face-of-the-league" material. It's another box that can be checked. You look at someone like Joel Embiid, whose great personality helps his star power. His sense of humor makes it easy to market him (and root for him). At the same time, some players let their performance on the court do the talking. This fits the bill with the Kawhi Leonards and Damian Lillards of the world; even Luka Doncic isn't the most outspoken guy off the floor - but he sure as hell is passionate and vocal on it. There needs to be a good balance of personality on and off the floor, I'd say.
Alex: Alright, so let's get into specific players. The first players who come to mind are Giannis (25 years old), Luka (21) and Zion (20). They should be hitting their prime around the right time and they check a lot of the boxes that we've discussed. I think LeBron will pass the torch to one of these three. Before we start debating Giannis vs. Luka vs. Zion, is there anyone who's missing? Or do we agree that the next face of the NBA will likely be one of these three?
Spencer: Those three are the most likely. But maybe Trae Young? Could Karl-Anthony Towns fit the bill? Jayson Tatum? Heck, Ja Morant?
Alex: I really like Towns and Morant; they are terrific players. With that said, I think they're probably a tier or two lower (for now). Young is interesting because he has the same appeal that Stephen Curry did; he is extremely relatable, he has a really fun style of play, he seems like a great guy with a fun personality and so on. He took his game to another level this season, averaging 29.6 points, 9.3 assists, 4.3 rebounds, 3.4 threes and 1.1 steals. But I think we need to see him continue to develop and elevate the Atlanta Hawks into a playoff team before he enters this conversation. That should help him get more recognition too (which he deserves). I don't think he's on the same level as our other candidates just yet. I know social-media isn't everything, but he has 2.9 million IG followers compared to 8.3 million for Giannis, 5.3 million for Luka and 5.1 for Zion. (By the way, LeBron is at 71.4 million IG followers, just to give you an idea of what they're all chasing.)
Spencer: We might be a little premature on Zion. There's a lot of hype surrounding the rookie, and rightfully so, but the sample size is so small and comparing him to the other two is putting the cart in front of the horse. That is not taking anything away from the impact that he has on the floor at such a young age; I just believe we shouldn't overhype this young man to the point where, if he doesn't meet "the expectations," he's considered a bust. If we're talking about popularity, though, I understand your perspective. Every night, his highlight-reel plays go viral. Who doesn't love watching him receive long passes in transition with a mismatch and leap on the block?
Alex: I see what you're saying; Giannis and Luka are much more proven, whereas Zion's appeal is mainly based on his immense potential. However, I will say this: Zion is the most similar to a young LeBron James. He's the most hyped-up high school prospect since James, the expectations are insane and he was the No. 1 overall pick. Physically and athletically, he's a freak of nature. He's extremely marketable because of his style of play and personality. Zion has the media on his side too, which is big. It seems like the media looks for reasons to talk and write about Zion (similar to LeBron). To your point, we've only seen Williamson play 24 games. But he was exceptional in those contests, averaging 22.5 points, 6.3 rebounds and 2.1 assists while shooting 58.3 percent from the field and 42.9 percent from three. And he did that as the fifth-youngest player in the NBA this season! While I agree that we need to see more before anointing him the next face of the NBA, it does seem like he's on that trajectory and the fact that he's even being mentioned here as a rookie says a lot about his incredible marketability and mainstream appeal. The NBA is going to give him every opportunity to succeed as their poster boy too; they're already pumping resources into marketing him. There were even conspiracy theories that the league intentionally structured the restart to try to sneak Zion into the playoffs! I agree that it's too early to give Zion his crown, but the NBA seems to be sizing it for him.
With all of that said, it sounds like we've narrowed this down to Luka vs. Giannis.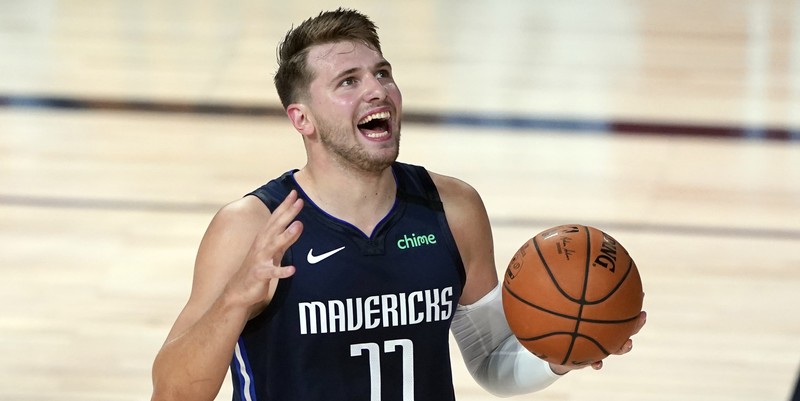 Spencer: How cool is it that we're talking about two international players? One is of Nigerian-Greek descent and the other is Slovenian. Back in March of 2019, Giannis told USA TODAY: "A lot of people say that I can be the face of the league. Lately, people have told me - the closest people, you know, my family, my girlfriend, my mom, my brothers - that I cannot be the face of the league because I'm not American; I don't have the American culture in me. I sat back and thought about that. Should I have a little bit more American swag? Should I come with a suit to the game? Should I be more Americanized? But, man, if I can't be the face of the league being me, I don't want to be the face of the league."
Now, not only is becoming the face of the league a realistic goal for Giannis, his biggest competition is also an international player! It truly is a global league these days.
Alex: That is pretty incredible. Who are you taking?
Spencer: At the risk of sounding like a prisoner of the moment, I've got to go with Luka Doncic. In his first postseason series, he dazzled against two of the best perimeter defenders in the game. Whether it was on the dribble drive to manipulate the Clippers' scheme, finding guys on the outside or taking well-contested stepback threes, he just impacted the game in a way that a second-year player making his playoff debut shouldn't be able to. The craziest part about all this is that he's not the most athletic guy of the bunch; but what Doncic lacks in athleticism, he makes up with smarts. He's probably the best in the league not named James Harden at using his body to draw contact inside and nailing those ridiculous triples (Harden is actually who I compare Doncic to, for the record). Just look at the reactions on social media when Doncic is playing. That walk-off winner at the buzzer in Game 4 was almost Damian Lillard-esque, willing his Mavericks' squad to a win when they needed it most. He was without his right-hand man, Kristaps Porzingis, for half of the series and he was still able to take LA to the brink. He still has a ways to go on the defensive end and needs to improve his agility on that side of the floor to keep up with the league's athleticism, but his offensive talents heavily outweigh any negative element on defense. He is a star who's been playing with grown men in professional leagues internationally since he was 15. Do you see him talking smack to everybody he's on the court with? That's confidence and cockiness, and he's not afraid to back it up on the big stage. Doncic's nickname is "Wonderboy" for a reason, you know!
Alex: I'm torn, to be honest. The NBA will be in great hands either way. Both players are insanely talented and they have a ton of support. All-Star voting is an interesting way to measure mainstream appeal.This year, LeBron led all players in voting (6,275,459), but Doncic (6,111,735) and Antetokounmpo (5,902,286) were right behind him with the second- and third-most votes, respectively. Luka is so much fun to watch and he has a great personality, so it's easy to see why he's beloved. And he's only 21 years old, so who knows how good he'll be in four or five years? Watching him destroy the Clippers was a blast, so I can absolutely see him taking over the NBA.
However, I'm going with Giannis. While Luka is still developing, Giannis is arguably already the best player in the NBA at 25 years old. He's the only player in NBA history to average 29.5 points, 13.6 rebounds, 5.6 assists, 1.0 steal and 1.0 block over a full season. He's on the verge of winning his second Most Valuable Player award and he already has a Defensive Player of the Year award and a Most Improved Player award in his trophy case. He's still getting better and, most importantly, improving as a shooter. This year, he's knocking down 1.3 threes per game on 30.4 percent shooting from deep. And in the playoffs, he's shooting 2.0 threes per game on 38.7 percent from three-point range! He will literally be unstoppable if he adds a consistent three-point shot.
Also, like Luka, Antetokounmpo is likable and has a great sense of humor. His story is incredible too: A naive, innocent kid who falls in love with smoothies slips to No. 15 in the draft; then he works extremely hard, realizes his full potential and transforms into a video-game create-a-player with a killer mentality. NBA teams have been monitoring Giannis' upcoming free agency for years and planning to make a run at him in the summer of 2021. Also, like LeBron, Giannis has stepped up and used his platform to speak out about social issues. Days after Jacob Blake was shot in Kenosha, WI, Antetokounmpo's Bucks refused to play their postseason game against the Orlando Magic. Rather than staying quiet, Giannis has been speaking out about racism in America and how it compares to his experiences in Greece. Doncic is great, but Antetokounmpo checks all of the boxes and just seems to be more of a sure thing given the larger sample size of dominance.
Spencer: And don't take me choosing Luka over Giannis as saying that the latter doesn't scream superstar. Who else can take four strides from half-court to the cup in transition? He's a ferocious finisher whose athleticism brings him to the dance, unlike Doncic. It's not an easy decision, by any means, to choose a second-year player over an NBA MVP and Defensive Player of the Year. My decision simply centers on where the game is heading and shot-making ability. Luka is a play-making savant, and he grabs rebounds and gets to the free-throw line at will. He is absolutely going to improve his consistency from three (though he makes them when it counts) and at the charity stripe. Giannis has the chops to handle the ball, get his teammates involved and earn free throws; his issue is making shots outside of the paint consistently, where Doncic already has the upperhand on him. Obviously, it isn't even close on defense though - Giannis is by far the superior defender.
Alex: Interestingly, the Greek Freak reportedly doesn't feel comfortable accepting that face-of-the-NBA role until he wins a championship.
"Someone close to [Giannis] told me, 'He finds it unseemly to preen as the face of the league before you win a championship," said Kevin Arnovitz on The Lowe Post. "Like, it would be unconscionable for him to do that because it just is so not in his nature - the idea that anybody would preen before they won a title.'"
By the way, it's possible that we're both right. Giannis could become the face of the league for a stretch, and then Luka takes the torch from him. That wouldn't surprise me. Either way, the NBA will be in great hands going forward.