I wanted a Los Angeles Lakers vs. Los Angeles Clippers showdown in the Western Conference Finals.
No offense to the Denver Nuggets; Nikola Jokic is absolutely amazing to watch. He is undoubtedly one of the best (if not the best) passing big men that the NBA has ever seen. His awareness of his teammates on the court at all times is something coaches will start teaching their big men from this point on. But Lakers-Nuggets is not the series I wanted to watch.
Jamal Murray has been phenomenal in the bubble. Game after game, he proves to be virtually unguardable. His 50-point outing against the Utah Jazz to force a Game 7 was incredible. His one-dribble step-back three is so hard to defend, and it reminds me of how James Harden scores at will with his step-back. The way he has used the pick-and-roll and how he and Jokic have played off each other throughout these playoffs has demanded the overall respect of the NBA. But this is not the series I wanted to watch.
I've enjoyed watching the emergence of Jerami Grant, who I used to call "Little Harvey" because I literally watched him grow up. His father, Harvey Grant, would bring Jerami and his brothers to Bowie Gym to work out. I would see them in church (First Baptist Church of Glenarden). When I was on the Washington Wizards, Harvey would bring his sons to some of our games and practices. I remember watching him at my alma mater, Syracuse University, and talking to him while he was there.
I actually interviewed Grant on my show, The Rematch, at the beginning of the NBA restart - mainly because I saw how he steered the conversation back to Breonna Taylor regardless of what questions were asked during his first media availability in the bubble. I'm so proud of the man that he has become. He went from being doubted after leaving Syracuse early to playing a key role in the Western Conference Finals. But this is not the series I wanted to watch.
This entire season, I wanted to watch a Clippers-Lakers showdown. I wanted to see LeBron James vs. Kawhi Leonard. This year's Western Conference Finals was supposed to be the "Battle for Los Angeles." All year long, these two teams seemed to be on a collision course!
It was frustrating to watch the Lakers dominate Game 1 against the Nuggets. All I kept saying was, "This is not the game I wanted to see." At one point, my daughter, Baby Sierra, replied, "Then why are you watching it? We can put on my show." (She's always looking for a reason to put her shows back on). Honestly, I understand her point because I complained the entire game.
This was supposed to be the gleaming Lakers against the snarling Clippers. The franchise with 16 banners hanging in the rafters against their rival that's looking to take over L.A. It would've been a drama-filled, smack-talking, players-being-separated, heated series. It was sure to be epic, and it would've only intensified the rivalry between these two teams.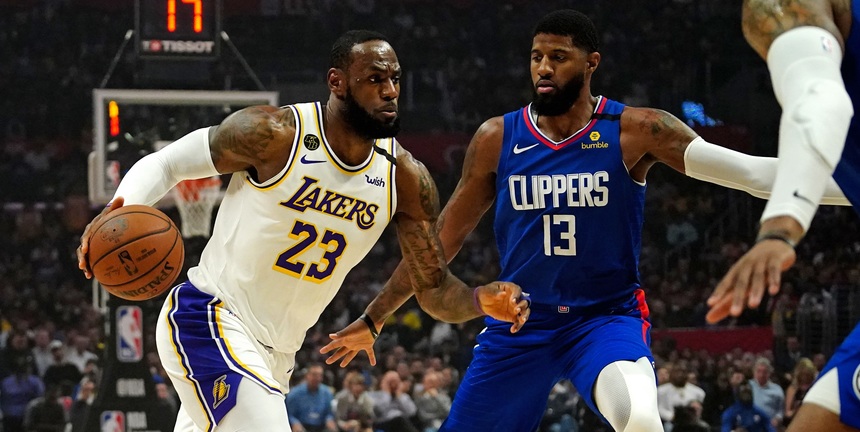 The prevailing notion was that this in essence would be the NBA Finals, as the winner of this series would be heavily favored to win it all. And that's no disrespect to anyone in the Eastern Conference. That was just the widespread belief.
Even Magic Johnson tweeted out last Thursday night: "I'm so excited that I'm going to see the Lakers vs. Clippers for the Western Conference Finals!!! The battle of the best in LA!"
This is the series that everyone was looking forward to watching. I did enjoy seeing Dwight Howard dominate against Denver in Game 1, proving that big men are still important after the small-ball Houston Rockets rendered the Lakers' big men obsolete in the Western Conference semifinals. Still, this was not the series I wanted to see.
At halftime last night, I sent a text to one of my best friends from high school, Zee Chilton, who is honestly the biggest Lakers fan I know. I told him that I was really looking forward to seeing the Clippers vs. the Lakers to which he replied: "I was too, but I feel better now that we don't have to play them."
And that, in a nutshell, is the reason for my complaints. The Clippers had a legitimate chance to beat the Lakers. In fact, from top to bottom, the Clippers looked like they were poised to take over Los Angeles and everyone knew it. The Lakers were going to need to play creative, swarming defense in order to stifle the Clippers, who have one of the deepest and most talented rosters in the NBA. And, quite frankly, many doubted if the Lakers could rise to the occasion, especially on the defensive end of the floor.
In fact, many diehard Lakers fans (like my friend, Zee) were nervous about the potential match-up against the Clippers - even if they don't want to admit it. Snoop, Magic and Co. were nervous because they saw what the rest of the world saw: That the Clippers weren't afraid of the Lakers one bit. Sure, the Lakers' players had a lot to say after the Clippers' loss. But make no mistake, they were nervous too.
Now, the Clippers will have a long offseason, enduring all of the criticism that they have earned, especially since they made so much noise all season.
There will be people who question whether Kawhi Leonard should've left Toronto. People like Stephen A. Smith will take public shots at Paul George. There will be media questioning if Doc Rivers should still be the coach. They'll point to the arguments between George and Montrezl Harrell and wonder if there's dissension in the locker room. They'll bring up Lou Williams' visit to Magic City to point out that they weren't focused. And, of course, they will focus on one of the biggest trash-talkers in the game, Patrick Beverley - who had a verbal sparring match with Damian Lillard among others - having to eat his words.
The Clippers will have a lot to prove next year because they didn't live up to the expectations that were set by the entire basketball world or the expectations that they had for themselves. This should only stoke the fire in them. This season didn't go as planned for this organization; but, make no mistake, this rivalry definitely isn't over. If anything, it's just getting started.