Last night on TNT's "Inside the NBA," Charles Barkley interviewed Kevin Durant following the Brooklyn Nets' win over the Golden State Warriors. The clip has gone viral since the exchange was awkward and Durant gave Barkley a one-word answer.
Barkley and many other media members acted as if they didn't understand why Durant did this.
Well, let's revisit some of Barkley's comments about KD and his teammate Kyrie Irving.
Barkley, who never won an NBA title during his playing career, criticized Durant on "The Dan Patrick Show" in October.
"To be on my Mount Rushmore, you have to be a bus driver, you have to be that key guy on your team… Until KD wins one in Brooklyn, he won't be a bus driver to me," he said, adding that Durant has been a "bus rider" rather than a "bus driver."
Just to recap, Durant won two NBA championships with the Warriors in 2017 and 2018 and he was named the Finals MVP both times.
This isn't the first time that Barkley has taken shots at KD. After Durant joined the Warriors, Barkley was critical of this decision and blasted the move every chance he got.
On ESPN's "Mike and Mike" following Durant's signing with Golden State, Barkley said that KD was "gonna gravy train on a terrific Warriors team" and that he was "disappointed from a competitive standpoint."
Interestingly enough, Barkley tried to "gravy train on a terrific team" in 1996 when he pushed for a trade to play alongside future Hall-Of-Famers Hakeem Olajuwon and Clyde Drexler on the Houston Rockets. Yes, Drexler was 34 years old and both Barkley and Olajuwon were 33 at the time, so an argument could be made that they were all past their prime; but make no mistake, it was still a super-team. In their first season together, they each put up All-Star numbers: Olajuwon averaged 23.2 points, 9.2 rebounds and 2.2 blocks per game, Barkley added 19.2 points and 13.5 rebounds, and Drexler posted 18 points, 6 rebounds and 5.7 assists. They finished the season with a 57-25 record, which was tied for fourth-best in the NBA. They ultimately lost to Karl Malone, John Stockton and the Utah Jazz in the Western Conference Finals, but Barkley joined a team that was trying to capture their third title in four years. It just didn't work out for him.
During the 2019 free-agency period, Barkley once again took shots at KD while on a conference call with reporters to promote the American Century Championship golf tournament.
"Well, I'd say, 'Kevin, you're one of the greatest players I've ever seen. You also got some of the thinnest skin I've ever seen. I don't know if you're made for New York City,'" Barkley said when asked what advice he'd give Durant. "I think that would be the toughest aspect. If he's arguing with these teenagers online, he's not going to be able to deal with that New York media… I don't think he has the mental makeup to play in New York. That's just my personal opinion."
Barkley goes out of his way to publicly flog KD every chance he gets.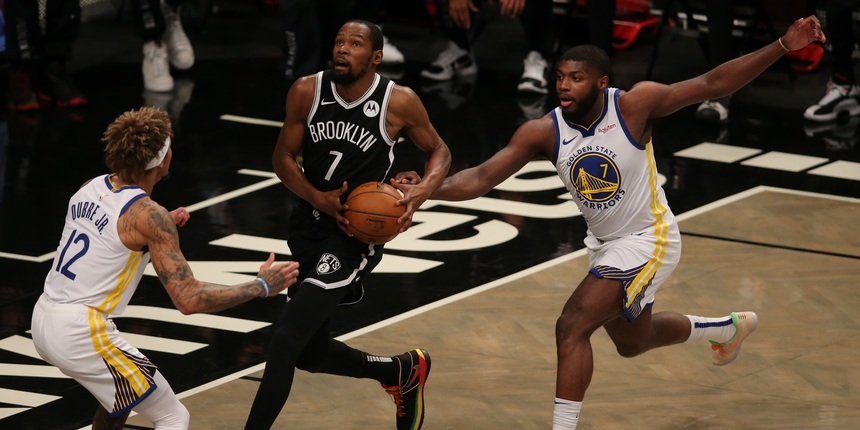 Recently, Barkley also castigated KD's teammate, Kyrie Irving, on ESPN's "Keyshawn, JWill & Zubin Show" after he initially refused to speak with the media at the beginning of training camp.
"When he talks, I'm like, 'What is he saying and what is he trying to say?' He starts talking about what an artist is. He's a basketball player. That's what he is," Barkley said. "Listen, we're not front-line responders. We're not teachers. Yo man, you dribble a basketball, stop acting like you're the smartest person in the world."
Why would it come as any surprise that KD wasn't excited to speak to Barkley after the Nets' opening-night win against the Warriors? He fulfilled his requirement to talk to the media, and it's not like he violated any rules.
When I played for the Washington Wizards, there was a reporter for the Washington Times named Tom Knott. Tom liked to cower behind his laptop and offer feeble and ill-informed opinions about Wizards players while taking unprofessional personal jabs at us in the majority of his articles -- like Barkley has done with KD. He would attack our character, mock us and call us names. He would call me "The Poet" (as if that was supposed to be an insult) in an effort to demean or belittle me. That was his schtick. He did it to players all the time. He was actually the person who motivated me to write my first open letter after I drew his ire following my objection to the war in Iraq. His language was similar to Barkley's comments about Irving. "Who is this basketball player who has the audacity to speak on a topic outside of basketball?!" He Laura Ingrahamed me, just like Barkley did with Irving.
I get why Kyrie called the media "pawns" and decided he didn't want to speak to them, just like I understand why Durant was short with Barkley on Tuesday night. I certainly had no interest in speaking to Tom Knott, who was definitely a "pawn" in his own right.
My only criticism of Kyrie's approach is that he should call out the specific media members that he has an issue with rather than making a sweeping indictment, because not all media are created equal. I am a part of the media now and I am no Charles Barkley or Tom Knott. Now, I'm not asking Kyrie to start writing open letters like I did, but he and KD could call out the specific media members or outlets that they have an issue with on their social-media accounts to their million of followers (which is something I didn't have when I was playing).
There is a reason why Malcolm X said, "The media is the most powerful entity on earth. They have the power to make the innocent guilty and to make the guilty innocent. Media has been a tool that has proven to influence the minds, ideas, behaviors and attitudes of the masses."
It was people like Tom Knott who pushed me to start writing articles and start hosting my own podcast, "The Rematch," where I can give athletes the opportunity to clear their names, correct the incorrect analyses and answer the media attacks they have received during their career.
Every athlete has been in a situation where they are required to speak to a reporter who has publicly attacked them or ripped them to shreds. Sure, many will say, "Hey, that's what you get paid to do," and they're right. But that doesn't mean the athlete has to be all warm and fuzzy with the media member. Even if they simply say, as Marshawn Lynch once proclaimed, "I'm just here so I won't get fined," they have technically fulfilled their contractual requirement.
However, there are also ways for them to defend themselves, clear their names, and answer all of the pawns, haters and critics alike.