One instance when analytics and the eye test reluctantly shake hands is when a team has bottomed out. Even when a team is excelling, serving up a feast for the eyes night after night, there are still numbers to poke and prod, to get fussy over whether the thing that appeared so masterfully done could have been more efficient.
With a losing team, there's less to disagree on.
A lot has been strange during the first weeks of the 2020-21 NBA season. There's been an inversion writ-large across the league, a sense of bizarro basketball with playmaking bigs that shoot, driving guards, and a level of overall parity not seen since before the Warriors' ironclad dynasty. There have been upsets by underdogs, historically low-ranking teams rushing the standings in either conference, and in spite of all that weirdness, the rapid decline of the Toronto Raptors has been strangest of all.
What's happening to the team since its arrival in Tampa seems like such a complete 180 for the club that the rest of the league's tumultuous start fades out and takes a backseat to the Raptors' transformation.
Toronto is 24th in effective field goal percentage (50.6), 26th in offensive efficiency (103.3 points per 100 possessions) and 21st in True Shooting Percentage (54.6) -- and these are areas the team expected to feel some discomfort in. Meanwhile, they are 14th in defensive efficiency (106.3 points per 100 possessions) and 16th in defensive rating. There are imposing problems for the Raptors, just by the numbers, at either end of the floor.
Unfold the less tangible issues and the problems only deepen. There isn't even a clear sense that the difficulties the club is currently dealing with started when the season did. It's possible the roots of these issues go further back.
Take the team's most pronounced change: it's relocation to Tampa, a decision made by the Raptors' front office only a week before Toronto's training camp was scheduled to start. Most players hadn't been back to Canada in the brief stretch between the Raptors' elimination in the playoffs and their return to Florida given Canada's closed borders and quarantine protocols. The Raptors essentially went from one bubble to another and while some players have since secured temporary housing, others are still living in the downtown Tampa hotel that they've been in since their arrival.
It wouldn't be a stretch to say that the team's move and lack of a home court since last winter could be getting to them, but asked about the effects of the back-to-back relocations earlier this week after the team's loss to the Boston Celtics, Kyle Lowry was quick to refute the idea,
"I mean, this is what we have to do for our jobs," Lowry said. "Our job had us relocate. We relocated [to the] bubble and we were fine; we relocated to Tampa and guys gotta figure it out. We're grown men. This is what we do. We get paid to play basketball and if we have to relocate, we relocate."
It doesn't mean the effects of playing in an unfamiliar place with new routines won't be felt by the team at points throughout this season, but Lowry's message, as the leader of the club, was clear: it can't be an excuse.
If anything, Toronto's new home could have been an opportunity for its slew of incoming players to mesh and make new attachments, free from any holdover habits. Instead, it feels like the differences between last season's roster and the Raptors' current lineup have only grown more pronounced, in gameplay and in culture.
With the way new bigs Aron Baynes and Alex Len have yet to adequately replace Marc Gasol and Serge Ibaka -- and in light of recent reporting that gave a glimpse into the negotiations -- the departure of both bigs seems less an outcome that had been planned for and more a setback that genuinely took the front office by surprise. Should the loss of Gasol and Ibaka have sent the team into such a tailspin? By the numbers, no, but both were important cultural drivers for the team as much as they offered a robust skillset that wasn't only focused on their individual defensive capabilities. Ibaka added shooting capabilities that the team is clearly missing. And even when he wasn't making shots, Gasol had the mind of a defensive scholar, expertly spacing the floor and easing his teammates into their spots.
Baynes and Len, while seasoned, are much more one-dimensional players defensively and add nothing to the Raptors' offensive cache. Even Chris Boucher, who has come a long way since his time with the team's G-League arm, is not strong or versatile enough to go toe-to-toe with the league's new caliber of positionless bigs, nor should he have to. It can't be Boucher's responsibility to fill the gap left by two championship players.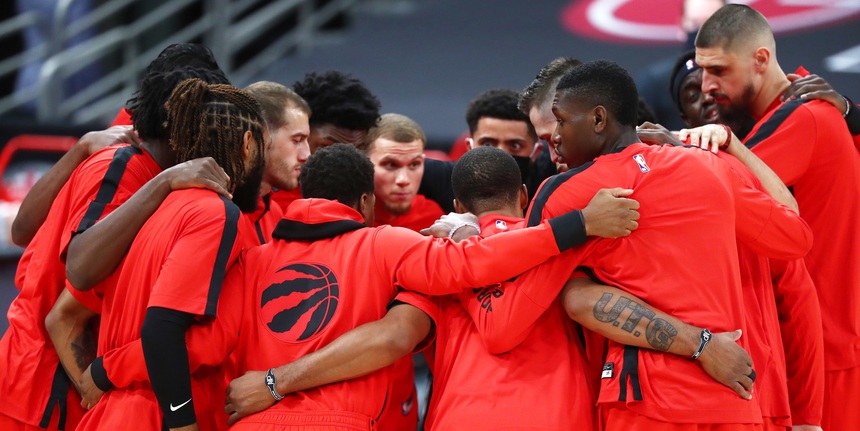 Nick Nurse has relied on being a frank coach that calls out poor performance in his players for two seasons now, and he hasn't grown any more demure. In recent scrums, Nurse has made plain his disappointment in mainstays like Norman Powell and Boucher as well as in Matt Thomas, Stanley Johnson and Terence Davis. Even rookie Malachi Flynn hasn't been let off the hook. It was the kind of criticism that once lit a fire under players and would spark a night-and-day turnaround in performance, but that hasn't been the case with any of his recent critiques. Without the ballast of a superstar like Kawhi Leonard, or being a team fresh from a title and more or less wholly intact with its heart and a chip on its shoulder, this season will be the biggest challenge Nurse has had to face as head coach and thus far, his regular techniques aren't working. It's a situation where a coach would look to their core to set the tone and the standard, but aside from Lowry and the unflappability of Fred VanVleet, the franchise's identity players have been largely absent.
Powell has been inconsistent off the bench, Boucher is working to fill multiple shoes, and while OG Anunoby has been a bright spot of intention, attacking the rim where the team has had so much trouble finishing, he's still developing as an on-ball shooter and reliable scorer.
But the most puzzling regression has been in Pascal Siakam.
Prior to the season, Siakam was honest about his shortcomings in the Orlando bubble, citing a lack of joy as the reason for his poor performance. He said he didn't recognize himself in rewatching tape from the NBA restart, a sentiment largely shared by fans who would have been more likely to believe that the real Siakam had been body-snatched and replaced. It was an encouraging realization, especially on the heels of Gasol and Ibaka's departure and questions around team identity rising. But as soon as this season got underway, it was alarmingly apparent that nothing had changed. Siakam has lacked confidence on the floor, his shot selection has been bizarre, and he's favoring ISO-plays over the energy-creating spark of team-focused ball movement that fizzles long before he reaches the rim. There is none of the swagger or spice that ran flush through his game in prior seasons, and he's shown a lack of commitment to any other way he might contribute on the floor if his shots don't fall.
Siakam's rise has always been meteoric, with plateaus and periods of leveling out met with further improvement or development. And through it all, he's kept a cool head and a humble approach to challenges. This season, Siakam has fouled out in two of the six games he's played, walked off court with time left on the clock and his team still on the floor, and was suspended for a game as a result of his behavior. By now, there is a palpable sense that there's more to Siakam's out-of-character behavior that his poor performance on court, and it's only giving further shape to the looming cloud hanging over the club.
Because it hasn't only been the team's actions on the floor that have been atypical, there's an overarching sense of a slow character shift in the front office of the franchise, too.
Beyond the accelerated position the organization was put in with its relocation due to the pandemic and, ostensibly, ongoing discussions with the Canadian government in hopes of staying put in Toronto, the decision to move to Tampa came abruptly. Housing and practice facilities hadn't been secured, with many players viewing the same rental properties as one another upon arrival. The move also came at a time when negotiations were ongoing between the club and GM Bobby Webster for a renewal of his contract, and with the future contract of President Masai Ujiri still up in the air. Webster made it clear that the logistics around the team's move were, understandably, the priority, but nothing has been clarified with Webster's — or Ujiri's — contract now that the team is settled. Webster and Ujiri, who were both so present in the bubble -- either hanging around to watch games or out and about on the Disney campus -- have been largely invisible so far this season.
Also, in recent months, the team has faced two very public accusations of domestic violence against a coach and a player. In the bubble, the Raptors' mandate around activism was clear: be outspoken, saying the things that need to be said even if they're difficult. Toronto's response to the allegations against assistant coach Adrian Griffin and second-year player Terence Davis have been the opposite: say the minimum and hope the silence speaks loudest.
When asked about the claims against Griffin, Nurse spoke of Griffin's character, calling him a "class individual" and a "hard-working guy," as if either had bearing on the claims against him. With Davis, the league swiftly took over the investigation and when Webster, Ujiri or Nurse were questioned on the case and its developments, all acknowledged a kind of holding pattern the team had been placed in. But when former G-League player, Kay Felder, was arrested on domestic assault charges in 2018 similar to Davis', he was cut in less than a day. With Davis' case still very real and very much ongoing, he has, quietly, returned to the regular rotation, as if he had sat for the requisite, arbitrary amount of time the team had internally decided was sufficient. Whether or not they say it explicitly, it's actions like this that align the franchise to a position they have vocally rejected in the past — condoning violence, or at the very least signalling that it's permissible depending on perceived value to the organization.
The relative quiet the team has settled into feels rife because it is. It's a heavy silence and its effects are permeating, sapping the kind of energy and identity the Raptors were very recently rife with. What's most difficult is that for a franchise as hands-on and interconnected as Toronto, there can't be one simple solution. It has always been a top-down, multifaceted approach whether in chasing a championship or all the gruelling years of building to get there, years that were formative and joyful amidst difficulty and strain. The team's losing streak won't be reversed by forfeiting a huge chunk of the franchise's future for a star like James Harden, because the team itself isn't ready to take on that kind of player. There's no place for Harden, at present, to fit in with a team that's gone so flat and so solitary, with every player attempting to sort through their own problems individually instead of collectively buying back in.
As the season continues to stretch on, so will its strains further weary the team unless there is a real and concerted attempt to reconcile the deeper issues at hand. What makes the Raptors so unrecognizable at present -- what's made them so flat on the floor and unable to catch or create their own spark -- is a lack of confidence and conviction as much as grit and resolve, but in short, an absence of trust. Trust is what's needed now, extended from Nurse to his roster, within the team from one player to another, and from the organization, when setting its way forward. Trust is the thing that underscores every eye test, every winning stat. Without it, the only thing ahead is more uncertainty, with Toronto's bad start sure to become a worse season.