The Denver Nuggets capped off the season with their first Western Conference Finals berth since the Carmelo Anthony Era. Nikola Jokic further solidified himself as a superstar, while Jamal Murray broke ankles and tossed flames en route to a memorable playoff run. Knocking off the highly-touted LA Clippers in the second round was the height of the run, made even more impressive once you consider the Nuggets were without arguably their third best player in Will Barton for the entirety of the series (and playoff run).
Now, the fun part begins.
The Nuggets have their young core in place with Jokic, Murray and Michael Porter Jr. Filling in the blanks will be the hard part, with a trio of important frontcourt pieces set to test the free-agent waters. There's no real avenue to cap space without renouncing literally everyone; expect the Nuggets to operate as an over-the-cap team and utilize their non-taxpayer mid-level exception (worth over $9 million). The always-informative Keith Smith has a more thorough breakdown of their cap situation, which you can find here.
Let's take a look at some guys they'll look to bring back, as well as some targets that could help them come back stronger than ever.
Key In-House Decisions
Jerami Grant*: Bring Him Back
I'm not sure the Nuggets can afford to lose Grant. After sending a first-rounder to OKC to acquire him, Grant responded by averaging 12 points while shooting nearly 39 percent from three and by providing value as a multi-positional defender. He uses his athleticism well on both ends, thriving as a cutter alongside Jokic and taking on various defensive assignments on the other end. Grant has a $9.3 million player option, but I'd assume he opts out to test the market. Lock him up for the rest of his prime.
Paul Millsap: Bring Him Back
Millsap slipped a bit, sometimes laboring while operating as Denver's back-line defender in the team's aggressive pick-and-roll scheme. Still, he's able to hold his own against power wings and fours and still provides a little bit of everything on offense. He's coming off the best shooting seasonof his career (43.5 percent from three), though that came on limited volume. He can mash smaller players on the block, and can flow between rolling and popping in pick-and-roll. The Nuggets should be able to bring him back at a third of the price he had last season ($30 million), if not less than that because of his age and a likely smaller role.
Mason Plumlee: Let Him Walk
Plumlee is a perfectly fine backup who inexplicably has Team USA experience to boot. He's a nifty high-post passer, reliable lob threat and fine rebounder. There's room to bring him back if the price isn't wild, but there are better free agents on the market that would likely demand less than Plumlee would.
Torrey Craig*: Circle Back Later
Craig is a good perimeter defender, though the issue is that perimeter defense may be his only legitimate NBA skill. He's a woeful shooter and doesn't possess the on-ball chops to compensate even as a secondary attacker. Playoff teams will continue to ignore him offensively. He'd need to be an elite perimeter defender to make him worth the trouble, and he certainly isn't that.
Craig is a restricted free agent, with a cap hold worth a little more than the minimum. It's hard to imagine anyone splurging to pry him out of Denver. Do some shopping on the wing market, then come back if nothing materializes.
Free Agent Guards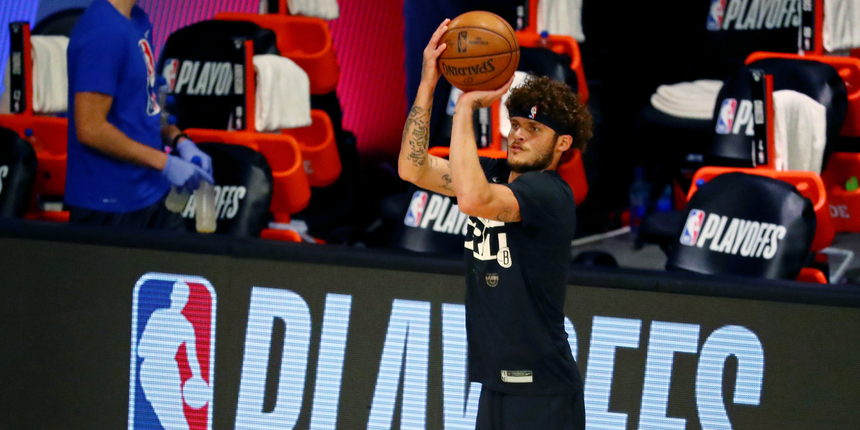 Bargains: Tyler Johnson, Michael Carter-Williams
Johnson had a pretty quiet regular-season campaign, kicking things off in Phoenix before finding his way to the Brooklyn Nets mid-season. Johnson performed well in the postseason, averaging a shade under 14 points while unloading the clip from deep (39.3 percent on 7.0 attempts). He's a fearless driver and underrated rebounder; he isn't afraid of mixing it up with bigger players.
Carter-Williams had a bit of a resurgence in Orlando. His jumper still hasn't come around (career-high 29.3 percent from three last season), though he did a better job of getting to the rim, and he has the passing chops to beat rotating defenses. The real appeal comes on the other end. Williams is able to defend 1-through-3, which makes him an ideal partner alongside Murray or Monte Morris whenever they'd play together.
Free Agent Wings

Mid-Tier Options: Wes Matthews, Justin Holiday
There's a case to be made that Matthews could accept another minimum deal from a contender, either remaining in Milwaukee or going elsewhere. There's an even stronger case to be made that he's earned himself a pay day.
Matthews routinely took on the most demanding perimeter defensive assignments throughout the regular season, while knocking down over 36 percent of his threes on decent volume. He then upped the ante in the postseason, something that the Heat -- and Jimmy Butler specifically -- got a first-hand look at. Matthews would quickly become Denver's best perimeter defender and a welcome addition to that locker room as a respected veteran.
Holiday is more 3-and-Decent than 3-and-D, but he's coming off of the best shooting season of his career (40.5 percent from three-point range on 4.5 attempts) while being a credible option against twos and threes. He'd boost Denver's transition attack. Considering how willing of an off-ball mover he is, the fit alongside Jokic is a snug one.
Bargains: Garrett Temple*, Wilson Chandler
Temple would give the Nuggets a plus, multi-positional defender with a solid three-point stroke (35.3 percent over the past five seasons). The asterisk is present on Temple's name because the Nets hold a $5 million team option on him, though it'd come as no surprise if they let Temple walk to free up tax room to bring back Joe Harris.

Chandler has been a Nugget before, has the size to defend either forward spot and is only a season removed from a solid three-point showing (37.3 percent on 3.1 attempts during the 2018-19 season). It's worth noting a PED suspension derailed his stint in Brooklyn this past season, though it's unclear how much that will affect his market this offseason.
Free Agent Forwards
Mid-Tier Options: Jae Crowder, Derrick Jones Jr.
The early bet is that Crowder remains in Miami. He loves it there, and the Heat possess his Bird Rights, giving them the opportunity to give him a bloated one-year deal to preserve 2021 cap space.
If Crowder wants more security, the Nuggets could toss their MLE at him. Crowder defended all types of players during his stint in Miami, though most of his time was spent defending fours. Having another body to throw at a guy like Anthony Davis should appeal to the Nuggets. The three-point shooting runs hot and cold, but you live on that roller coaster with the defense Crowder brings to the table.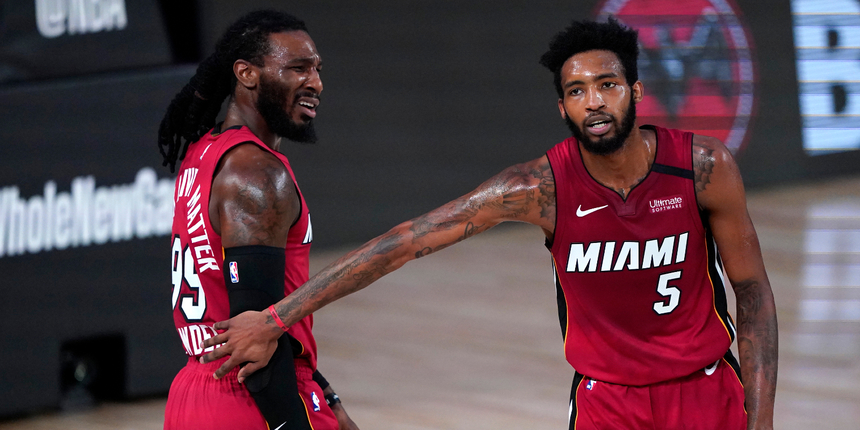 Jones Jr. is a different case altogether. Like Crowder, he loves it in Miami and has a strong relationship with Bam Adebayo in particular. Unlike Crowder, Jones' defensive profile is a little more perimeter-based; he's better at using his length to hound guards instead of banging with frontcourt options.
Jones is an explosive athlete, an incredible lob threat and offensive rebounder with a silly catch radius. The issue is that he just hasn't figured anything out with the ball in his hands. After shooting nearly 37 percent on corner threes last season, that percentage plummeted to 22.5 percent last year. He can't dribble, and the passing leaves quite a bit to be desired. There's some untapped potential as a cutter, something that Jokic could help unlock, but there's reason to question his playoff value right now.
Still, he doesn't turn 24 until February and there are quite a bit of tools to work with. Using a portion of the MLE to bring him in could be a smart gamble.
Bargains: Lance Thomas, Mo Harkless, Luc Mbah a Moute, Carmelo Anthony
Lance Thomas has flown under the radar for years as a sneaky-solid forward defender that can knock down open threes. He's converted 38.5 percent of his triples over the past five seasons, though that comes on limited volume. He'd be a solid get as a ninth man to get you through the regular season.
Harkless is a credible defender of threes and fours, though his jumper has always been the swing skill of his effectiveness. He's never been a high-volume guy and even with that caveat, he has shot over 35 percent from three-point range in just three of his eight seasons. He can provide value as an eighth man during the regular season.
Mbah a Moute has fallen victim to his own body, with injuries derailing his last three seasons. It's probably far-fetched to expect his 2017-18 form, but he could serve as a nice "break-glass-in-case-of-emergency" defender during the season.
Melo would be a nice bench scorer for the Nuggets, huh? (Laughs) I'm kidding, I'm kidding. He isn't coming back.
Free Agent Bigs
Mid-Tier Options: Dwight Howard
You can probably rule this out just because of the ill-will Howard seems to have for Jokic. From purely an on-court perspective, Howard would make sense. He was one of the NBA's most productive bench bigs, averaging 7.5 points, 7.3 rebounds and 1.1 blocks in 18.9 minutes per game. Fouls were a problem, but Howard can provide a brand of rebounding, rim finishing and post defense that Plumlee doesn't, even if the high post passing would take a hit.
Bargains: JaVale McGee, Harry Giles
McGee remains one of the NBA's top lob threats, equipped with solid leaping ability and a silly catch radius. He uses those limbs to putback misses and swat shots on the other end. Fouls and an inability to navigate space limit his ceiling, though he'd only be needed for 12-15 minutes to spell Jokic.
Giles has a bit of an injury history, dating back to his high-school days. Multiple lower-body injuries have sapped some of his athleticism, and he's still a fluid, jumpy big who can feast in transition. The intrigue lies in his on-ball skill; he's quietly one of the better passing big men in the league already. There's some serious "throw-it-to-him-in-the-high-post-and-let-him-do-stuff" potential waiting to be untapped, which fits pretty snugly into the Nuggets' ethos. It would be fun to watch him and Monte Morris make sweet music against opposing bench units.