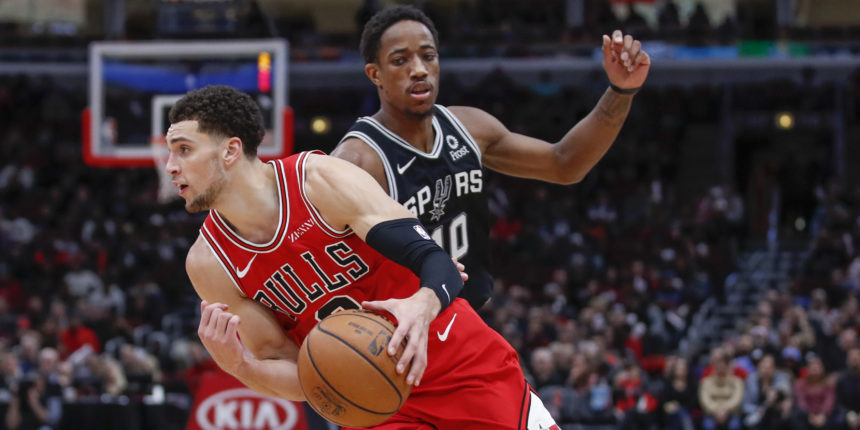 NBA Roundtable: Who's the next big-name player that will be traded?
The NBA playoffs are here, which means roughly half of NBA fan bases have shifted their focus to the offseason and how their team can improve in 2021-22. With that in mind, we asked our BasketballNews.com writers the following question:
Who is the next big-name player that will be traded?
Imman Adan: The next star to be traded will be Kyle Lowry in a sign-and-trade. (A part of me is hoping if I say it enough, I'll jinx it and it won't happen). Everyone in Toronto had his bags packed at the deadline since there were four teams after him -- the Miami Heat, Philadelphia 76ers, Los Angeles Lakers and Los Angeles Clippers -- and yet, no deal got done. After some potentially early playoff exits for a few of these contenders, maybe a price that seemed too high at the deadline becomes justifiable.
Alex Kennedy: I don't think there's a current All-Star who's poised to be traded, so I'll go with a notable name that was mentioned quite a bit leading up to the 2021 trade deadline: Atlanta Hawks big man John Collins. Multiple outlets reported that Collins was available and that the Hawks spoke with a number of teams about a possible deal. Atlanta had an incredible second half of the season -- going 27-11 after March 1 -- so perhaps they'll stand pat. However, Collins believes he's a max player and he turned down the Hawks' $90 million extension offer prior to the season. This offseason, he'll be a restricted free agent, so it wouldn't surprise me if he's dealt in a sign-and-trade if he wants more than Atlanta is willing to pay (especially since the additions of Danilo Gallinari and Onyeka Okongwu make him a bit more expendable).
Ethan Fuller: I honestly don't see a Tier-1 superstar out there who could be on the move. The most likely candidate for me is in that next level of blossoming All-Stars. Zach LaVine has toiled away on losing teams in Chicago and Minnesota for his entire career, but still earned his first All-Star nod this past season while growing into an elite scorer with above-average facilitating chops. He's also on a very moveable, bargain contract and will be paid just $19.5 million next season. I don't know what Chicago's plans are -- the 26-year-old still barely fits into the franchise timeline -- but other teams in need of a dynamic top-two scoring option should be checking in. A trade will really depend on if the Bulls get to keep their first round pick (top-4 protected) this season.
Moke Hamilton: I wanted to say Damian Lillard or Bradley Beal or Kawhi Leonard or Karl-Anthony Towns, but I can't. Each of those players have expensive running mates and supporting casts that their teams have put around them. While any of them being traded is viable, I think the safest bet is Lonzo Ball. Lonzo was reportedly shopped this past deadline and is heading for restricted free agency. I am assuming that Lonzo will get a near-max offer this summer. New Orleans knows it and will opt to sign-and-trade him after concluding that he's simply a luxury they can't afford right now, not without them being at least a second-round playoff team.
Spencer Davies: Damian Lillard and Bradley Beal appear to be sticking with their respective franchises unless something drastic happens, so from a "star" perspective, we'll go with a relatively easy one since he's going to be a free agent anyway: a sign-and-trade of DeMar DeRozan by the San Antonio Spurs. There is a clear shift toward youth happening within this organization, as Derrick White detailed to BasketballNews.com recently. It's time for Dejounte Murray, Keldon Johnson, Lonnie Walker and White to transition the Spurs into this new era. LaMarcus Aldridge is gone, and it would be best for San Antonio to try to receive some sort of compensation for DeRozan, because he has been an All-Star caliber scorer and a vastly underrated playmaker who can help any team in need of a second or third guy to push them over the edge.
Chris Sheridan: There are a couple of players who come to mind who do not qualify as stars anymore -- Al Horford and Kevin Love being two of them -- but I believe Lonzo Ball qualifies on name value alone, and he will be a restricted free agent. With the Pelicans looking to shake things up after one of the most disappointing seasons of any team in the league, a sign-and-trade that sends Ball out makes sense. The destination will depend in large part on the decisions that teams make about their own restricted free agents, and with players on non-guaranteed deals. But Ball to New York or Chicago would put him in a major market, and the Knicks would probably have more to send back because they have a pair of future picks from Dallas.
Jannelle Moore: If the Blazers flame out again, don't be surprised if they trade CJ McCollum. Trade rumors involving McCollum are nothing new since it's believed that the backcourt of McCollum and Damian Lillard hit its ceiling. Portland needs a playmaker in the vein of a Ben Simmons or a Draymond Green to take pressure off of Lillard in terms of facilitating, or a wing who can create his own shots and defend.