To celebrate Kobe Bryant's incredible life and legacy, BasketballNews.com's Alex Kennedy asked a number of current and former NBA players to share their favorite Kobe stories. We've compiled them below:
ISAIAH THOMAS: "One on-court story that stands out was facing off against Kobe in my first NBA game. I was on the Sacramento Kings and during training camp, Coach Paul Westphal had a rule that nobody could back me down. Everybody always turned the ball over or was forced into a bad shot when they tried to post me up, so he'd always say that nobody could back me down. When he subbed me into my first NBA game for the first time, he was telling everybody who they were guarding and he didn't say who had Kobe. I looked at him like, 'Uh, who has Kobe?!' Paul Westphal goes, 'IT, you've got Kobe. Remember, nobody can back you down!' (laughs) He was hyping me up and I don't know if he even realized that Kobe was my favorite player. For three-straight possessions, Kobe backed me down and he scored two out of three times (laughs). I was just smiling on the way back down the court. It was just hilarious. That was an on-court memory that stands out, even though at that point I didn't have a close relationship with him yet.
"But the biggest memory for me was when Kobe and I sat down after every game of my series against the Chicago Bulls in 2017 and watched film together. I had my people send the film to him and he'd look it over. Then, we'd be on speaker-phone and he'd be telling me everything that he saw, breaking the game down the way he would if he was in the series. I think that's why he started doing that Detail show with ESPN because it was basically just like that, but it was just me and him. I was going through one of the toughest times in my life with the passing of my sister and he took the time out of his day to help me. We were on the phone for about an hour-and-a-half to two hours the day after every game, looking over the film and seeing how I'd adjust for the next playoff game. It was so surreal. It didn't seem real that Kobe Bryant was really on the phone with me, helping through playoff situations. That was probably my biggest memory of Kobe, taking the time to really be there and help me...
"For me to have Kobe Bryant basically on speed dial, where I could call him or text him anytime I needed him and he was there for me? That meant so much to me. For someone of that stature to always be there for me and always lend a helping hand, whether it was with basketball or when I was dealing with my sister passing, it meant so much. When my sister passed away, he was one of the first people to reach out and he sent a long text message on that game-day. I remember he said, "If you're going to play, you play. You play like Isaiah Thomas plays and nobody knows how to make that happen but you." That goes a long way. He's someone who is close to my heart."
KERRY KITTLES: "Playing against Kobe in the 2002 NBA Finals, he and Shaq that year were No. 1 and No. 2 in the whole league. We had the best player in the league and the second-best player in the league coming at us, taking all of the shots. Occasionally, they'd pass the ball to Rick Fox or Robert Horry or Derek Fisher every now and then, but those two guys were just as dominant as could be. And Kobe, to me, was just so hard to guard because he didn't have any weakness. With most players back then, you could key in on certain tendencies, but he didn't have tendencies! He had countermoves and then he had more countermoves! Kobe was more skilled than Jordan, but Jordan was more effective than Kobe. Jordan would hit you with pump fakes and drive by you; he was a little bit more predictable. With Kobe, you didn't know what he was going to do because he didn't know what he was going to do. That's the most dangerous player, when you think about it. As far as trying to guard him one-on-one, you didn't know what he was going to do. At least with Mike, you had a little bit of an idea what he wanted to do. Kobe was the toughest match-up for me and the hardest to guard."
TRISTAN THOMPSON: "I remember my rookie year, I was wearing LeBron shoes and playing at Staples [Center], and he said, 'Young fella, if you had my shoes on, you would get more buckets.' That made me laugh, and it was cool. The fact a guy I looked up to my whole life, for him to say something like that to me, especially as a rookie, was like, 'This guy's a human.' Growing up as a kid, you view those guys as superheroes. The fact that he said that to me was something that I'll always tell my kids when I get older. Kyrie [Irving] got [his shoes after the game] -- No. 1 pick. (laughs) I got my pictures, though, so those will be framed in and going up in my house. [I'm] gonna show my kids and my grandkids and pass 'em down. I'll always have that in the Thompson estate."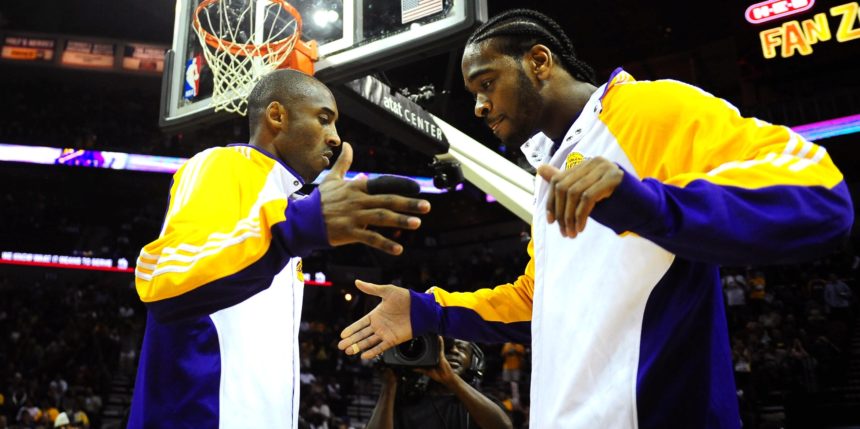 JOSH POWELL: "With Kobe, it was his attention to detail and his obsession with the game and getting better [that stood out to me]. I was more impressed watching him in practice than I was in games. I've been on both sides of it; I was in Dallas when he put up 62 points in three quarters on us and I was with the Lakers when he put up 61 at the Garden. But watching him in practice, he would come in there and his presence alone would change how guys were attacking and going at it every day. You had to elevate your game because you were around greatness.
"He ain't for everybody, I'll tell you that. (laughs) I was fortunate to be as close as I was with him, God rest his soul. You can't be on no bullsh*t [around Kobe]. That's the one thing about him: If he felt like you were some sucker or on some soft sh*t, he ain't respect that. That's why you'd see him go at guys the way he did -- because if he doesn't respect you, he ain't f*cking with you. And if he does f*ck with you, it's because he does respect you. When you see a guy like that -- one of the all-time greats -- with that type of work ethic and that type of obsession, it makes you tighten your sh*t up and bring your A game. Because how in the hell am I going to let someone like that outwork me? I remember when I first got signed by the Lakers, it was like me and him were battling to [get to] the gym first at 3 or 4 in the morning, but that's how I earned his respect. Even when I was at NC State, I would be in that b*tch at 3:30 or 4 and that was prior to meeting or knowing [Kobe]; that was just a part of my make-up. From the time I was in college through my pro years, I stayed in the gym and was in there three or four times a day. But he appreciated that.
"For the guys at that level, I don't think people realize how f*cking sick it must be to have a brain like that. I did film work with Kobe and just watching how he would break down film [was incredible]. He'd be like, 'JP, look at how they're guarding me on the left side. Here's what I'll do to counter that. Now, look at the middle, they have no answer for this. And watch how they guard me on the right side, and now watch what happens when Tony [Allen] is on me versus Ray [Allen] being on me.' The sh*t is insane... the attention to detail. Think about how crazy their mind is to have that attention to detail! The way that they process sh*t and look at sh*t is just different. That was amazing to watch and be a part of."
COLLIN SEXTON: "My favorite [players] were Allen Iverson and Kobe Bryant. Those two are my guys. I got a chance to sit down with Kobe and talk to him for about 40-to-45 minutes, just picking his brain. It was cool. I'm [glad] that I got to meet him before the tragedy. But it was cool, just being able to sit down with Kobe Bryant – one of the best to ever play – and being able to ask him pretty much anything. We talked about everything."
JAMES POSEY: "Playing in Denver my rookie year, Coach John Lucas made me pick Kobe up full-court. Luc was yelling, 'Turn him, Pose! Turn him! You got him!' So I'm working him and then he passes the ball away and then gets it back in the mid-post and... hits a turnaround jumper. Luc yells, 'That's okay, Pose! He can't do it again!' Next trip down, I'm doing the same thing defensively and I get back-screened and Kobe GETS A LOB DUNK. Luc jumps up again and says, 'That's okay, Pose!' The third trip down, I'm doing the same thing, but I make sure I don't get back-screened. They run some action out of the triangle and Kobe gets ball in the mid-post again, puts me in the blender and goes to the basket and gets an AND-1. Luc is still talking sh*t while he's at the free-throw line, saying, 'YOU GOT HIM, POSE!' That's when Nick Van Exel yells at Luc, 'MAAAAN, SHUT THE F*CK UP, LUC!' (laughs) Then, while Kobe is getting ready to shoot the free throw, Van Exel jokingly says, 'You got him, Pose!' Kobe gave Van Exel and I that look and then he started laughing. Then... SWISH!"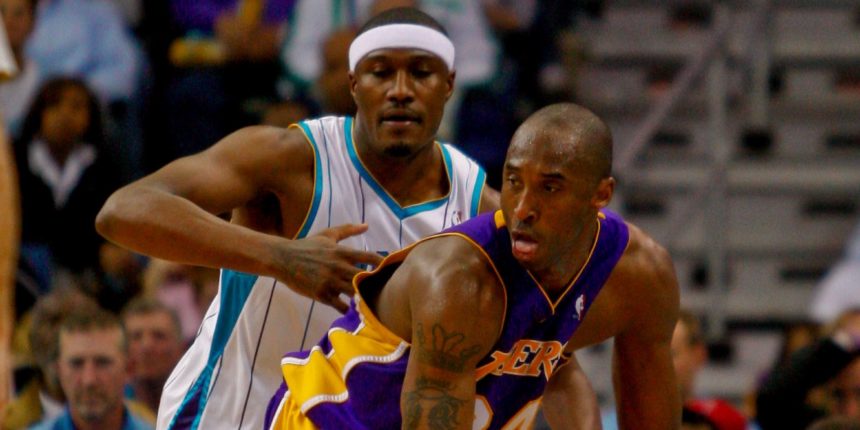 CHUCKY BROWN: "I was coaching [the Los Angeles Defenders] in the D League and we would have 8 a.m. practices. I'd get to the gym around 7:00 or 7:15 a.m. One day, I get there and I hear a ball bouncing in the gym. I thought I was the first person there and I'm thinking, 'Who the hell is here already?!' I stuck my head in the gym and it was Kobe. He was working on his footwork and getting lathered up and stuff. Their practice didn't start until 11:00! But he was there at 7:00 and he had already worked up a sweat, so he'd been there for a bit too. I tell my young players that story because I just found it so impressive that a guy at THAT level was in the gym so early and doing his thing. And when he came in there for practice, you better be ready to go. And if you're not ready to go? He had no problem being the a**hole. I remember him getting on Sasha [Vujacic] a couple of times and then D-Fish would come smooth it over and mellow everything out. I'm glad I got to witness his work ethic."
MO EVANS: "The things I appreciated the most about him as a player were how well-rounded he was and dedicated to the game he was. He would literally run our shootarounds and put everyone in position and share the strengths and weaknesses of the opposing players. He could just manipulate the game because in the triangle offense, and I'm not sure if most people know this, it's interchangeable. The reason it's so hard for some players is because you need to know all five positions fluently. Just as he spoke multiple languages fluently, he knew that offense inside and out, and he was so good at utilizing his skill set to find an advantage and exploit weaknesses in his defender. He was a savant."