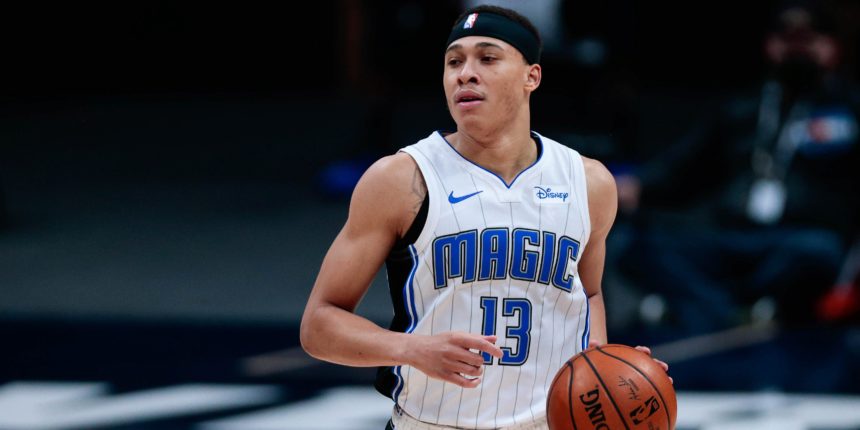 Magic's R.J. Hampton Q&A: 'I don't think you can put a cap on our ceiling'
R.J. Hampton has had an eventful rookie season.
On draft night, the 19-year-old was selected No. 24 overall by the Milwaukee Bucks, but his rights were traded to the Denver Nuggets as part of a four-team deal.
Coming off of a Western Conference Finals trip, the veteran-laden Nuggets played Hampton just 9.3 minutes per game over 25 contests. Despite the lack of playing time, he made the most of his minutes and tried to learn from vets like Jamal Murray, Will Barton and Gary Harris. Due to the condensed schedule, practice time is very limited, which further complicated matters.
In March, Hampton was traded to the Orlando Magic as part of a package for Aaron Gordon. While he was surprised by the move, he was excited to join Orlando's young core and receive more playing time. Since the trade, Hampton has averaged 10.8 points, 4.6 rebounds and 2.5 assists in 24.8 minutes per game.

BasketballNews.com caught up with Hampton to talk about his rookie experience, the midseason trade, his development, the 2020 draft class and much more.
This is such a unique season, so what's it like being a rookie during a year like this?
R.J. Hampton: "It's definitely been a little weird, having to go through a rookie season where there's COVID and having to go through a rookie season where you get traded in the middle of the season, it's definitely been challenging. But you just try to stay the course and keep working. Like I said, it's definitely been challenging, but I think I've persevered through it pretty well."
You spent last year playing professionally in New Zealand rather than playing college basketball. How did that impact you, and do you think you were more prepared for your rookie year than players who went the college route?
Hampton: "Yeah, I definitely feel like it prepared me more than some other players who went to college. With the things that I've been through this year, I feel like the things I went through last year kind of helped me mature and prepare for a COVID season, and helped me prepare for getting traded -- just with the maturity aspect, [knowing to] continue working and to block out those other distractions."
I think we're going to see more and more players take a non-traditional route to the NBA, whether that's overseas or the G League professional path. What advice would you give to players who take the same route that you did?
Hampton: "Probably my biggest advice is just to stay about your business. It's very easy to get caught up in distractions when you're a teenager or a kid and you're getting a little bit of money and a little bit of fame. Stay the course. Keep those distractions out and keep your work first. Time will tell what kind of player you are, but do those things and I think you'll be fine."
How much do you feel you've improved from the start of the season to now?
Hampton: "I think I improved a lot. Coming from Denver and playing with those guys in practice every day -- playing against Gary Harris, Jamal Murray, Michael Porter Jr. -- I think that prepared me for the time that I'm playing now with Orlando. And learning from those guys as well. Now, I'm getting an opportunity to play, but I think throughout my whole season, I've progressed a little bit day-by-day and just gotten better over the course of these months."
This is a cliché question, but did you have a welcome-to-the-NBA moment?
Hampton: "Hmm, a welcome-to-the-NBA moment… I don't know. When I was in Denver, I probably had a welcome-to-the-NBA moment every time I played. And now, it's the same thing in Orlando; I pretty much guard one of the best players -- if not the best player -- every game that I play. I would probably say maybe [facing] Carmelo [Anthony] with Portland. I think he got me on, like, two fakes, but then I ripped him on one play. I just remember stealing the ball from him and running down the court, and as the ball is in my hands, I'm thinking, 'As soon as I get out of the game, I'm going back home to tell my friends that I ripped Carmelo!"
They told us our class was trash😂 https://t.co/DOw57Eg6F4

— Tyrese Haliburton (@TyHaliburton22) May 6, 2021
Tyrese Haliburton had a great tweet about how people said this draft class was "trash," yet we've seen a lot of really talented rookies step up this season. Do you feel that this class is already proving the doubters wrong and showing what you guys can do?
Hampton: "Yeah, and Tyrese is exactly right. Certain people who talk don't really know basketball, so they just want to say anything to have it out there that, 'Oh, the 2020 draft class is a bad class. It's not going to be a great class.' Now you see, throughout this whole season, that there are a lot of stars-in-the-making here; obviously, you've got Tyrese, you've got James Wiseman, you've got Melo [Ball], you've got Ant [Edwards], you've got Saddiq Bey, you've got Immanuel Quickley, Tyrese Maxey, Cole [Anthony]... There are so many guys that have star potential and that have helped their teams significantly, in a big way, this year. So, that statement is always going to be funny to me."
When the trade happened, where were you and how did you find out about it?
Hampton: "I was on the bus with Denver; we were on the bus to go to New Orleans. We were all sitting on the bus, me and all of my teammates, about to get on the plane. Then, the GM [Calvin Booth] and president of the team [Tim Connelly] came back and told me and Gary [Harris] that we were getting traded, so that's how I found out. We got off the bus, said bye to our teammates and coaches and staff. I think we were in Tampa at the time; we went back to the hotel and chilled out for a little bit, and then we were in a car on the way to Orlando in like an hour."
As you mentioned, getting traded midseason isn't something you expect as a rookie. Were you surprised by the trade? And how did you process it?
Hampton: "I wasn't, like, surprised or blindsided by the move; I had seen my name in certain [rumors] the week before it happened. I was happy. I was happy that Denver was getting a piece that they felt like they needed to be a championship contender, and I was happy to be able to play. That was the biggest thing for me; I wanted to play. I didn't care where I played at, who I played for, who I played with -- I just wanted to experience playing in the NBA. I felt like, when I got traded, that was a really good opportunity for me."
Every NBA situation is different. In Denver, you were on a playoff team with a bunch of veterans. In Orlando, it's a younger team, but you're playing more and getting twice as many shot attempts. What are the biggest differences between the two situations, and what are the pros and cons of each?
Hampton: "I definitely think the pros in Denver were learning from such great teammates -- great guys that I had like Jamal, Gary, Will Barton and Mike. I was playing against those guys and getting that experience and learning by watching them. Obviously, one of the cons for me was not playing. But then you come to Orlando and you have guys that young and you get that experience by actually playing now. I don't think there are really any cons for me in Orlando; this is what I wanted. I wanted to be on a team where I could play and grow and help my team get wins. Those were the biggest pros and cons, and differences."
How excited are you about this young core in Orlando and what this group could be in the future?
Hampton: "I'm very excited. We have a great group of guys here and a lot of young talent. And we still don't even have J.I. [Jonathan Isaac] or Markelle [Fultz] back, so that's really scary to think about -- pairing them with me, Cole, Mo [Bamba], Wendell [Carter Jr.] and the veteran guys like Gary. I definitely think that the future in Orlando is bright. Every team that's been good has taken time. I think we're putting the right pieces together and we just have to make progress now."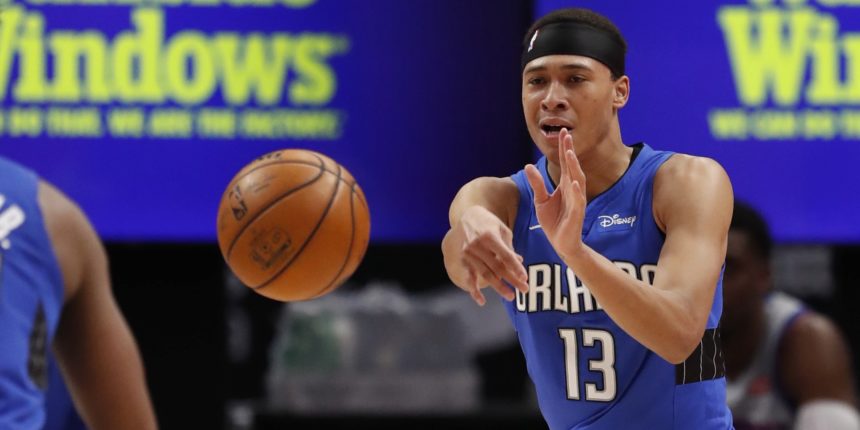 What is the ceiling for this current Magic team?
Hampton: "I think the sky's the limit for this group. I don't think I've seen a team that's this young with so much talent and potential. We have guys who have barely turned 23 who are playing 30 minutes per game. I just turned 20 and I'm playing around 30 minutes per game. Cole is 20, Markelle is still very young, Mo is still very young. There's so much talent around all of us that I don't think you can put a cap on our ceiling."
You mentioned that you just turned 20 years old, which is wild. To have that much success at such a young age, what kind of sacrifices did you have to make? And did you have to grow up and mature quickly?
Hampton: "I mean, the biggest thing for me is that I had two really strong parents that I'm very thankful for, and they always kept me grounded. They always knew what I wanted to do because I told them from the day that I first touched a basketball that I wanted to be in the NBA, so they never let me let that dream down. Having them in my corner and having them pushing me and keeping me on course was big for me. But, like you said, sacrifices are something that you have to make in order to get where you want to go, and I did that for 19 years of my life to get to the NBA. And now that I'm here, I have to make all new sacrifices to get to where I want to go in the league."
What's been your first impression of Orlando over the last two months?
Hampton: "I like Orlando. I've been to Orlando many times in my life, and I definitely like the city. The weather is nice and I like the housing. With the fans, you can really tell that they want to see Orlando win, and they've wanted to see Orlando win for a long time. So when we do get wins, it's great and they can see our progress game-by-game. Right now, I think we're in that stage where we're rebuilding, but I think once we're finally done rebuilding, we'll be a top team and a contender and it'll be so much better."
With the condensed schedule and limited practice time, has it been tougher to get acclimated with your new teammates? And how is that process going?
Hampton: "It's definitely different. You don't practice pretty much at all because of the game schedule. But I think the one thing that we've done well in Orlando -- and we did it well in Denver, too -- is we just go out and play hard. I think that makes up for [a lack of] practice time and chemistry. If you can play hard and play together, [you'll be fine]. That's the biggest thing we did in Denver and, now, in Orlando. We're starting to jell and play really well off of each other, and we're playing hard. Those things make up for practice time, but it's definitely been weird not having those structured practices and things we can build off of."
I've heard some coaches say that because there aren't many practices, there's an even bigger emphasis on film study. Who are some players that you study?
Hampton: "I watch the guys that I feel like I can try to model my game after, the guys I kinda want to play like in the future. The main guys that I watch are Russell Westbrook and Zach LaVine and Jamal Murray. Those are the guys that I watch consistently, on a day-to-day basis."
When Jamal tore his ACL, you were already on the Magic. But you mentioned that he was one of the veterans who helped you and that you study his game, so what was your reaction when that happened?
Hampton: "It was definitely a tough situation; I was super down, super sad. Coming off of a season like he had in the bubble and then in the last month before he got hurt, he was just tearing it up, so it was just sad to see. But I'm super close with Jamal, and people who are close with Jamal know that this isn't really a setback; this is just gonna make him work harder. I talked to him and he said that he misses playing basketball, but he's rehabbing and getting right. So, he'll be back in no time, and he'll keep showing the world who Jamal Murray is."
What advice would you give to next year's rookie class?
Hampton: "I think the biggest thing I would tell them is: Be humble. You never know what's going to happen. Whether you're the No. 1 pick or the No. 30 pick, you never know what your situation is, you never know what type of thing this league is going to put you through. This is a very hard league, a very long league. It's tough, it's grimy. So, just be humble and stay the course. You see someone like James Wiseman, who was the No. 2 overall pick, and he's missed a significant amount of time. Nobody thought he would miss that time, but that's what comes with the league, that's what comes with playing basketball at such a high level; there are injuries. But then, you have guys who were second-round picks that have gotten an opportunity to play at a high level this year; for instance, Kenyon Martin Jr. plays a significant amount of minutes for Houston and he was picked in the 50s. So I would say to the rookie class: Always keep your eyes peeled, keep your eyes open, because you never know what this league is going to bring you. But just continue to work hard."