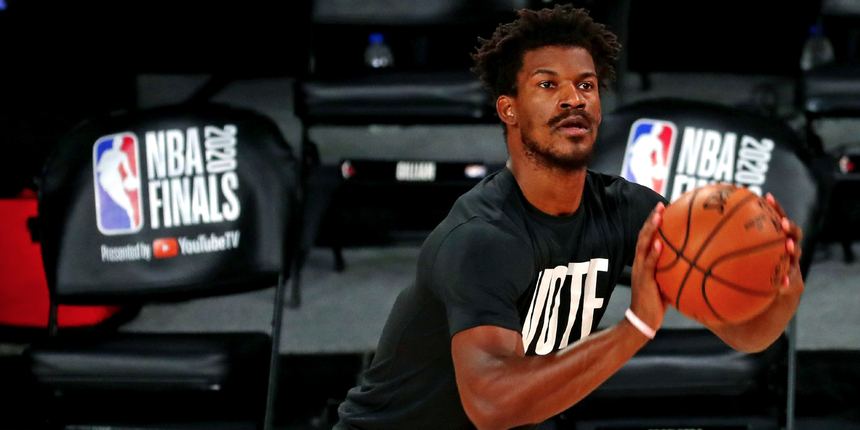 Heat's Butler says team confidence is still high
Miami Heat swingman Jimmy Butler still believes his team can turn things around in the NBA Finals despite the fact that the Los Angeles Lakers took a commanding 3-1 lead with a 102-96 Game 4 win on Tuesday night in Lake Buena Vista, Florida.
Butler, who has praised his team's mental toughness all season, spoke with the same calm confidence he has had throughout the Heat's time in the bubble, despite the group's latest setback.
"I don't think that it should [change]," Butler said. "We're so comfortable with who we are and how we play that that's what we're going to go out there and do. And we're going to live with the end result. Obviously, we want it to be a win, but we just got to lock in on us knowing that we can control a lot of these things, but our confidence ain't going nowhere. It's going to stay high. I'm going to make sure that it stays high because it's going to have to be at an all-time high to get this next win."
Source: Nick Friedell of ESPN
ANALYSIS: Miami has not got too down on themselves following a loss all season long, and now is no different. With Jimmy Butler's leadership the Heat feel like they are never out of a game/series, but if the Heat want to extend the Finals they are going to have to play with that same desperation they had in Game 3. Miami has to win all the 50/50 balls and make plays when it matters most down the stretch, something they did not do in Game 4.
Jimmy Butler has been the voice of this Miami Heat team all season and now Butler is trying to prepare his guys for their biggest task yet.