When Karl-Anthony Towns tested positive for the coronavirus in mid-January, the Minnesota Timberwolves desperately needed somebody to rise to the occasion in their star's absence.
Naz Reid knew he had to be the one to step up.
The burly big man had already been making his mark as a regular in head coach Ryan Saunders' rotation, playing 20 minutes a night until that point. But with his face-of-the-franchise teammate sidelined, Reid burst onto the scene while holding down the fort as a starter (aside from one matchup at Cleveland).
In 11 games between Jan. 18 and Feb. 8, Reid averaged 14.4 points, 5.9 rebounds and 1.5 blocks per game, emerging as an efficient contributor on offense and a stout presence on defense. He notched eight double-digit scoring efforts and recorded a pair of double-doubles.
"I mean, going out as a team, one of our best players is out, so going out there and trying to do something similar to what he did, if not better," Reid told BasketballNews.com in an exclusive phone interview. "And also, within the game, helping myself moving forward.
"[KAT] means a lot. Like I said, he's one of our better players on the team. He can do it [all] -- passing, shooting, defense, all that stuff. So when we don't have him, we're missing a big factor for this team. And stepping up in his role, it was definitely a big role, but I was able to get it done for the most part."
Reid's relationship with Towns goes back many years to their upbringing in the New Jersey area, with Naz at Roselle Catholic High School and Karl-Anthony just 11 miles north at St. Joseph. Despite the four-year difference in age, the two played on the same AAU team together.
"It''s a little bit of a bond already built," said Reid, who's reunited with his friend at the pro level. "I've learned a lot [from him], from outside of basketball to being on the court and doing what I do best -- from angles to high-post; it's a lot of things."
Unfortunately, we've only seen a handful of minutes with both bigs on the floor together (Reid believes he and Towns are interchangeable at the four and the five). They have thrived separately, though.
Coming off of the bench on Wednesday night, Reid dropped his third 20-plus-point game of the season, and his second of the last three games. Arguably the most encouraging part of his sophomore campaign has been the different ways he puts the ball in the bucket.
Reid is an avid pick-and-popper. The Wolves draw up a ton of sets where he sets high screens for his teammates and, with a quick twitch, retreats to the top of the perimeter. When he attempts a jumper off these designs, he is scoring 1.22 points per possession, according to InStat. When he decides to put it on the floor off a pump fake, the results are similarly positive.
"I try to really just play to my strengths, being able to shoot the ball, [I] can drive the ball off the roll and score at the rim," Reid said. "So I kinda just pick and choose off of what the defenders and my point guard's doing [and] just read that."
Whether it's a pop or a roll situation where he screens and moves into the paint, Reid doesn't have a particular preference. He just wants to get points out of the possessions he's involved in. There's more than one effective way he goes about accomplishing that.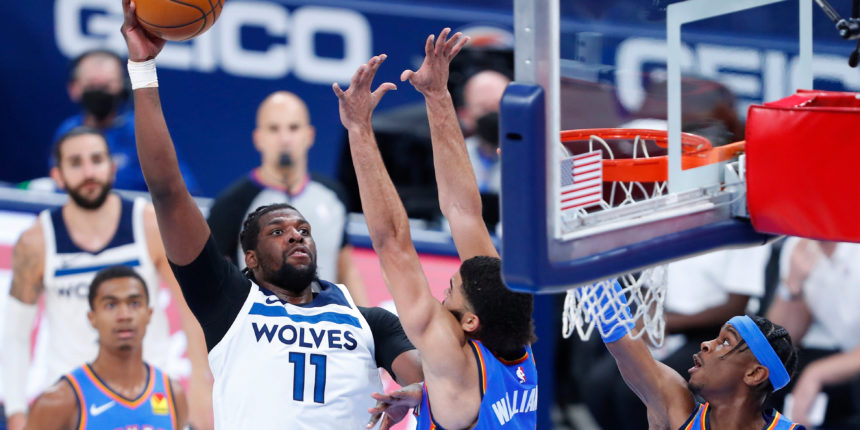 In the post, he has a soft jump hook with great touch using either hand. He knows just how to time it and when to go to it, keeping an eye on which shoulder his defender is guarding him on and where the opposing help may come from. When he doesn't need to rush it, he'll turn and toss it up. When the opportunity presents itself, he'll immediately flip the ball towards the cylinder. He is "very confident" in that aspect of his game and takes it seriously.
On the outside, Reid possesses a feathery, rainbow jumper that's cashed in at a 39.7 percent clip on catch-and-shoots. Though the typical stretch-big stations himself in the corner -- and Reid does have 15 attempts from the left corner -- he tends to sneak back above the break or position himself at the right elbow. At his size and with a quick release, he agrees with the notion that it is a shot that is basically unblockable. He also understands that he can keep improving it.
"It's always been like that since a younger age, since middle school, high school," Reid said of his high-arcing jumpshot. "I would definitely say it's a leg up because a lot of bigger guys can't really defend pick-and-pop or know how to defend pick-and-pop, so it's definitely an advantage.
"I've been shooting threes since I started playing basketball, really, and not knowing that big guys really don't shoot threes -- I just was firing 'em. Then, once I realized that can be a great expansion in my game, I worked on it a whole lot since I've really locked into basketball. I've had a lot of help from others. I don't think you're ever too old to learn anything, so I definitely [have] learned that and I'm still learning."
If you're looking for a mid-range savant, don't expect it from Reid. A couple of weeks ago, he became an analytics favorite by telling the world of his disdain for those looks. Even though it's more of a "comfortability thing," he expanded on the thought to BasketballNews.com.
"It's not that I can't shoot it. It's just ...I don't know. If I'm that close to the rim, I may as well get to the basket," Reid said. "If I'm a little bit further from the basket and just take a three, it counts as more points. So I don't know, I just never... I never really shot mid-range. I don't think I ever really shot mid-range at all, so it kinda fits into our system."