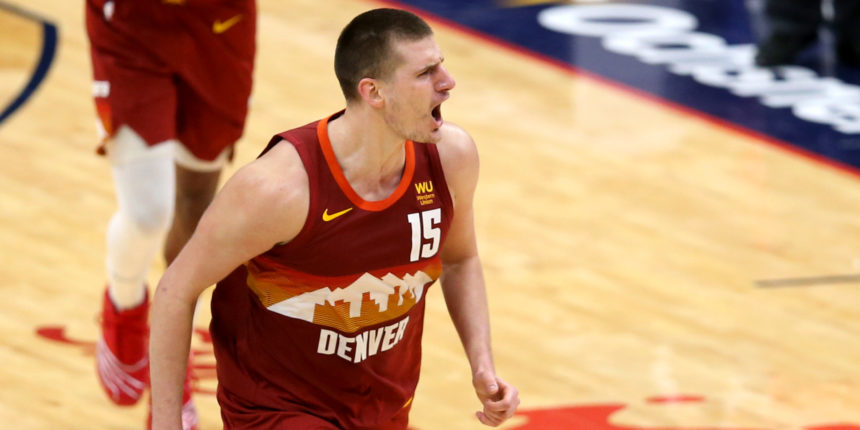 NBA MVP odds: Overwhelming favorite Nikola Jokic outlasts the field
The NBA regular season is over, so it's time for voters to submit their ballots.
Nikola Jokic is the overwhelming favorite to win the 2020-21 Most Valuable Player award in what has turned into a war of attrition. Several contenders for the award have fallen off due to injury over the abridged season, but Jokic has outlasted everyone, as seen through the odds, per DraftKings Sportsbook.
Let's break down the MVP race now that the season has wrapped up.
Nikola Jokic (-400)
There's a saying that goes "the best ability is availability." Nothing holds more true in regards to this award race and how Jokic has become the prohibitive chalk.
The Denver Nuggets big man played in every single game this season, which makes Jokic more likely than Joel Embiid to take home his first MVP award in many people's eyes.
The @nuggets stay in the hunt for the West's #3 seed behind Nikola Jokic's triple-double!

20 PTS | 15 REB | 11 AST pic.twitter.com/8opCuTahop

— NBA (@NBA) May 15, 2021
While staying healthy has been key, don't let that undersell just how good the Serbian has been this season.
Jokic averaged 26.4 points, 10.8 rebounds, 8.3 assists and 1.3 steals per game on gaudy shooting splits of 56.6/38.8/86.8.
The Nuggets secured the No. 3 seed in the Western Conference and after losing star guard Jamal Murray to a torn ACL, Denver has won 13 of its 18 games. Jokic has shown that he can keep the Nuggets afloat without Murray on the court, and it makes sense why experts are picking Jokic and the Nuggets night-in and night-out.
While he isn't a lockdown defender by any means, Jokic has one of the most profound impacts on the offensive side of the ball. Denver's offense is in the 98th percentile when Jokic is on the floor, per Cleaning the Glass. When he sits, the Nuggets are worse by 14.2 points per 100 possessions.
Overall, Denver is more 5.9 points better per 100 possessions better when he is on the court, good for the 83rd percentile in the league. Jokic also lead all players by a wide margin in Win Shares (15.6), PER (31.3), Value Over Replacement Player (8.6) and Box Plus/Minus (+11.7), which is a testament to his impact.
While the loss of Murray may keep Denver from making a return to the Western Conference Finals, Jokic has become a true MVP with his ability to do it all on the offensive end of the floor, and keep his team competitive all season long.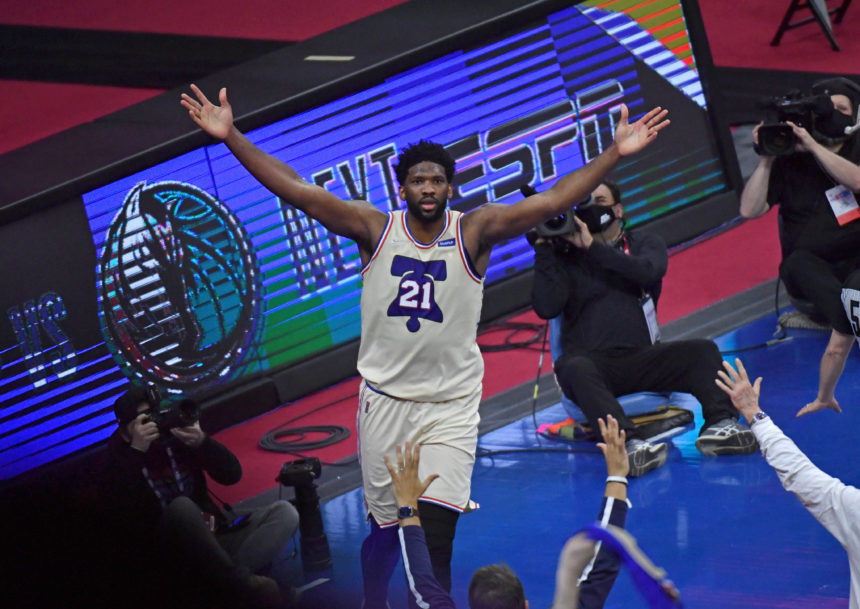 Joel Embiid (+350)
Embiid was in a heated midseason race with LeBron James for the favorite to win the award, but he hurt his knee in mid-March. About one week after that injury, James went down with a high ankle sprain. Both of them were taken out of pole position as a result.
Can Embiid catch Jokic? It's becoming more and more difficult to see it happening.
From April 19 to 24, the Sixers had a four-game losing streak -- Embiid missed one of those games -- but since then, they've won 10 of their last 12 games, and Philadelphia clinched No. 1 seed in the East during that stretch. Still, Embiid has missed 21 games thus far -- about 30% of the team's games this season.
He's missed too many games to get the nod over a deserving Jokic.
There is no denying that Embiid has elevated his game to new heights this season. His numbers are downright dominant. The Sixers big man averaged 28.5 points, 10.6 rebounds and 2.8 assists, and Philadelphia's net rating is +13.6 with Embiid on the floor.
However, the missed games, and the fact that Philly has still been able to stay near the top of the league without him, probably takes The Process out of the race.
Stephen Curry (+1400)
Curry went on a tear during the month of April, seeing his odds shrink from 100-1 at some shops all the way to 14-1.
A torrid stretch has made him the dark horse for the hardware. He averaged 37.3 points, 6.1 rebounds, and 4.6 assists in the month of April while shooting nearly 52% from the floor, 47% from beyond the arc, and 91% from the free-throw line. Curry appeared on BasketballNews.com's "The Rex Chapman Show" during this ridiculous run:
Curry is the 2020-21 scoring champion with his 32 points-per-game average, beating out Wizards guard Bradley Beal (31.3 PPG).
Yes, Golden State is headed for the play-in game, and it's rare for a non-elite team to have the MVP, but Curry has willed this squad back into the mix with a poor supporting cast around him. MVP or not, this has been a heroic season from Curry, who has reaffirmed himself as one of the league's most dominant players.
Curry has rightfully seen his odds shrink. But again, it will be tough to take down Jokic, despite Curry posting one of the most dominant months in NBA history.
If you would rather bet on night-to-night action in the NBA, make sure you check out BetQL's best bets throughout the playoffs to find out which side their model is betting for every game.