Kyrie Irving -- perhaps now the most talked-about voice in NBA media -- broke his public silence on Monday.
The Brooklyn Nets star spoke publicly to reporters for the first time this season after an extended media holdout. In the press conference, Irving addressed his healthy return to the court, his preseason debut with Kevin Durant and tempering the expectations placed on this year's team.
"You can't make up experience, you can't make up time and you can't make up [what it'll take] to get us as a whole championship-collective train right away," Irving said. "We've got to continue to make progress every single day, and craft.
"It's not the first time I've had a lengthy injury or been out a long period of time," he said. "I've had to build myself up quite a few times in my career."
The Nets are a revamped squad, and new head coach and former MVP Steve Nash made his coaching debut last night. Irving had nothing but praise for Nash and the job he's done.
"Steve's been amazing," Irving said. "It really is a reflection of the type of person he is and the I.Q. he has for the game. He commands the respect, and it's not just coming in and being a typical rah-rah coach and getting on us. It's just giving us a comfortable space to grow, to communicate, to throw ideas out there. And you got a two-time MVP coaching you."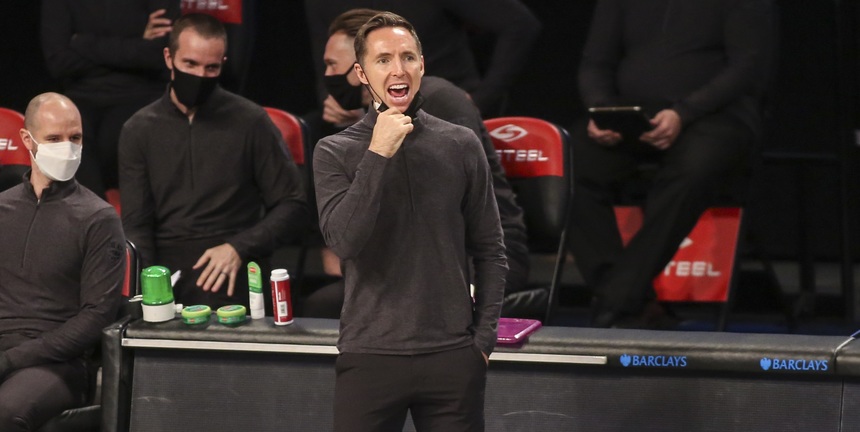 And it wasn't just Nash -- Irving dished out credit to the entire Nets' coaching staff, which includes Mike D'Antoni and former All-NBA big man Amar'e Stoudemire.
"They have been able to guide us to come together as men in the locker room, and then be able to communicate with them. And then we mesh well in the locker room," Irving said. "And with Mike D'Antoni in the locker room talking about offense -- I mean, come on now, he's led the league in three-point attempts the last few years with his teams and his offensive style."
The Nets have been involved in plenty of rumors -- particularly surrounding the trade availability of superstar James Harden. Brooklyn is reportedly atop Harden's wish list of preferred destinations. Irving said he and the Nets have tried to limit the outside noise.
"There's no control that we have as players to manage what's being said in terms of rumor mills and what's being reported, so let's just leave it at that," Irving said. "James is a great player, we wish him well, and I just want him to be happy and secure in who he is as a man first. And then as a basketball player, whatever happens between those conversations is between them first."
"But with us," Irving added, "we have to focus on us. I play with so many great players in this league, and we all wanna play with one another. But now we just gotta focus on what's out here on the floor."
Irving and Durant represent one of the best duos in the NBA. After a year-long wait, they plan to show up and show out this season. Irving even tossed out a nickname for the pairing.
"It's a new show," Irving said. "It's a new beginning in terms of building and moving forward with the pieces that we have here, and that includes 7-11. So get to know us."