♪ Your time is up, my time is now ♪

♪ You can't see me, my time is now ♪

The beat is booming, trumpets blaring. The crowd is hyped — anticipation of something amazing will do that to you.
Normally, this would be the paragraph where John Cena is described. How he plays to the crowd, the message he gives to the camera conveniently zoomed in on him before he flashes the "Never Give Up" towel and runs to the ring.
Instead, the music just happens to be playing during the fourth quarter of the Toronto Raptors-Los Angeles Clippers game on Wednesday night.
Kawhi Leonard trots up the left side of the floor with OG Anunoby, the best perimeter defender in the league by many (read: my) accounts, waiting for him near half-court. Eric Gordon steps up to set an early drag screen, but Leonard rejects it to continue his leftward path.
Leonard gains inside leverage — doing that a lot, these days — and meets Jakob Poeltl at the rim. Well, more accurately, he gets to the rim and Poeltl just happens to be in his way. It sucks for him, because he wasn't stopping the funk coming his way.
"You can't see me, my time is now" works for Cena. Try as you might, you're not on his level. You're distant. He's better and he knows it. He's better and his fans know it. He's better and you probably know it, deep down inside.
Leonard is different. You can see him; he just doesn't care that you can. It may be more accurate to say he can't see you. Is this the face of a man that thinks he's overcome insurmountable odds?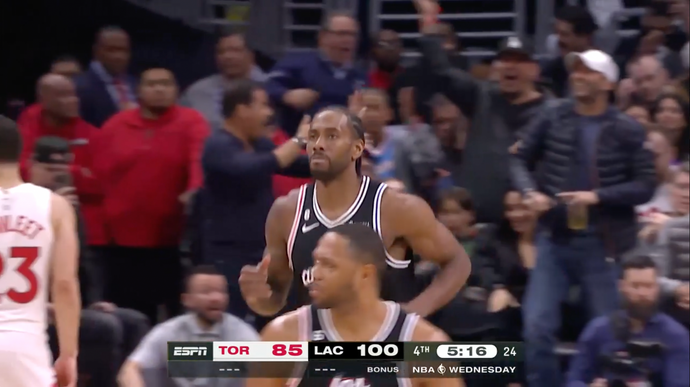 Absolutely not.
If a dunk like that is the Attitude Adjustment (the old name was better, cowards), his middy might be the shoulder charge before the Five Knuckle Shuf — okay, I've done enough with the wrestling analogy.
(Psst, he's knocked down 50.1% of his mid-range shots this season, per Cleaning The Glass. That feels like a typo, especially when you factor in how contested they've been.)
Anyway...
What shouldn't be lost in all the hoopla surrounding the Clippers — Russell Westbrook talk, rotation talk, podcast talk, Western Conference standings talk — is the metronomic, inevitable nature of Kawhi.
He's both a source of friction and a reason for optimism. The Clippers aren't here without him being on the recovery plan he's been on; conversely, the Clippers wouldn't be a reasonable playoff pick without his two-way dominance.
The further we get away from his initial return, the more terrifying he looks. Just look at his season in 10-game intervals.
First 10 (8 starts): 13.7 points on 51.7% True Shooting, 5.8 rebounds, 3.5 assists in 26.0 minutes
Next 10: 23.2 points on 61.1% True Shooting, 6.6 rebounds, 4.2 assists, 1.5 steals in 33.4 minutes
Following 10: 29.2 points on 63.2% True Shooting, 6.3 rebounds, 4.2 assists, 2.0 steals in 37.1 minutes
Last 10: 27.0 points on 67.6% True Shooting, 6.8 rebounds, 3.7 assists, 1.5 steals in 36.9 minutes
You can't erase portions of the season for a player — at least not in good faith — but a 30-game sample of 26.5 points on 64.0% True Shooting, 6.6 rebounds, 4.0 assists (1.8 turnovers) and 1.7 steals per game certainly qualifies as elite production. It's nasty stuff, even.