Shortly after Paolo Banchero committed to the Duke Blue Devils back in 2020, then-assistant coach Jon Scheyer connected the five-star recruit with Jayson Tatum. Banchero would text Tatum, picking his brain about playing for Mike Krzyzewski and what to expect at the collegiate level.
The two would remain in touch, which was pretty surreal for Banchero since Tatum is someone he modeled his game after.
"I've known him for about two years now," Banchero told Basketball News. "He was always one of my favorite players growing up. I've watched him since he was in high school [and kept watching him] all the way through Duke and now throughout his career in the NBA."
Last offseason, Banchero had some tough decisions to make as he was declaring for the 2022 NBA Draft. Once again, Tatum was there for him every step of the way. Looking back, Banchero says that Tatum was "the main guy" who helped him navigate the pre-draft process.
"He's helped me with a lot, mainly when I was coming into the league. Like during pre-draft, I asked him about signing with an agent, signing a shoe deal – and I ended up signing with Jordan Brand, where he's at," Banchero said. "All of that stuff coming into the league is stuff that I ran by him and tried to get his opinion on, just because he was in a lot of these same positions that I'm in. I've definitely used him as a resource.
"Obviously, during the season I haven't hit him as much since we're both in-season, but he's a guy who was always open. I mean, he made himself available to me. He offered me his number and said, 'If you ever need anything, don't hesitate.' And he just kinda took me under his wing, and I appreciate him for that."
Tatum, who has referred to Banchero as his little brother in the past, believes it's only right to pay it forward to the next generation.
"I think that's just our responsibility. Somebody helped me [when I was younger], and somebody helped the person that helped me," Tatum told Basketball News. "[Paolo] is somebody that I was close to while he was in college. Amile Jefferson is one of my best friends and he's an assistant coach at Duke, so all three of us kind of talked all the time while he was in college.
"I'm a big fan of his; he loves the game and he works hard. And I know what it's like to come from Duke and be a top lottery pick and have a lot of expectations, so anytime I can help, I feel like I'm obligated to do that."
Tatum knows what it's like to enter the NBA and have your idols become rivals. He's just not used to being on the other side of this dynamic.
"It means a lot. It is funny, I guess. I'm in my sixth year now and guys are coming in that are 19, so they've been watching me all of their high-school career and first year in college — the tables have turned," Tatum told Rookie Wire. "I remember being in that position and playing against guys I really admired and looked up to. The best part about it is the respect is always there. The way you show it is to go out there and compete. No matter how much I like his game or like him as a person, I'm not going to take it easy on him at all. I think, even moreso, I'm trying to guard him and go at him to kind of let him know I respect his game and I know what he is capable of and things like that."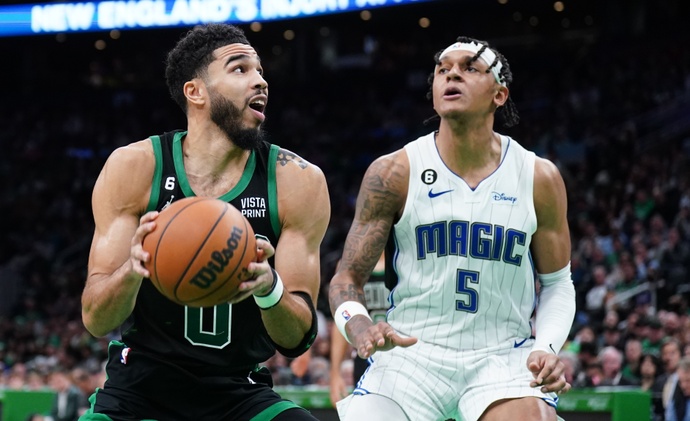 In addition to Tatum's mentorship, Banchero says that other former Blue Devils have been there for him too. Paolo believes that this network of support (often called "The Brotherhood") is one of the biggest advantages of attending Duke. Entering the 2022-23 NBA season, there were 25 Duke alumni in the NBA – the second-most of any program, trailing only Kentucky (27).
"Everyone hears 'The Brotherhood' and probably thinks it's corny, but it's a real thing," Banchero said. "Jayson isn't the only one [who's helped me]. I've talked to Zion [Williamson] plenty of times. I've talked to Grant Hill a lot and he's helped me a lot. A lot of guys would come back [to Duke], like Jahlil Okafor came back, R.J. Barrett came back. All of those guys, they're just around and they try to get back any time that they can. And if they were in the same city that we were playing in back in college, we'd have guys coming to the games.
"It's just an elevator where they send it back down and help the next guys out. I was definitely helped by that, talking to those guys in college and hearing from those guys. It helps you a lot."
ROOKIE OF THE YEAR LOCK
Barring injury, Banchero seems like a lock for the Rookie of the Year award.
He currently leads all rookies in points per game (20.8) while also averaging the third-most assists (3.8), third-most steals (1.1), fourth-most rebounds (6.4) and sixth-most made threes (1.4). Banchero has the most 30-point games (four) and 20-point games (26) among all rookies too.
"He is just a tough matchup," Celtics forward Jaylen Brown said of Banchero. "[In addition to] his skill level, his stature is just tough in itself. The way they play, and the lineups they play, allows him to be aggressive. He has been having a stellar rookie year so far."
"He's a bigger wing; he's 6-foot-10 and he's got to be 230 [pounds] or something like that. He can create off the bounce, he can shoot, post up," Tatum said of Banchero. "He's had a hell of a year. I think, obviously, probably Rookie of the Year. He has been playing at a high level. It looks like he has gotten better every month and is getting accustomed to the game. I'm happy for him."
The Orlando Magic went 3-1 against the Celtics this season, including three straight wins. Banchero seems to elevate his game against Tatum and other superstars that he once idolized.
"It's super fun," Banchero said of facing his favorite players. "Going against Tatum, Luka [Doncic], KD (Kevin Durant), LeBron [James]... it's kinda surreal at first. But then once you get past it, it becomes even more fun than just playing a regular team because this is the best of the best. These guys are as good as you're gonna see, so you've gotta be on your A-game."
Paolo grabs the lead back as the first half comes to an end ✅

Bally Sports+ is a new option to watch Magic basketball. Learn more here âž¡ï¸ https://t.co/uVNZdsxxKl@OrlandoMagic | #MagicTogether pic.twitter.com/Ln48dhfHBa

— Bally Sports Florida: Magic (@BallyMagic) January 24, 2023
Banchero has been on his A-game for much of the season, stepping in as a focal point for Orlando from Day 1.
He has led the Magic in scoring a team-high 18 times this season. In December, Banchero scored 20 or more points in seven consecutive games, tying the longest streak by a rookie in franchise history (which was previously set by Shaquille O'Neal in February 1993). Banchero would go on to earn the NBA's Rookie of the Month award for December.
Banchero's best game of the season was his 33-point, 16-rebound performance against the Sacramento Kings on Nov. 5. He became just the second teenager in NBA history to record at least 30 points and 15 rebounds in a game, joining LeBron James. After scoring 30 points in the following game against the Houston Rockets on Nov. 7, he became just the fifth teenager in NBA history with back-to-back 30-point outings, joining James, Doncic, Williamson and Devin Booker.
Overall, he has made the prep-to-pro transition look relatively easy.
"It's been good, it's just been a learning process. I'm still learning, but I'm definitely more comfortable than I was at the beginning of the season," Banchero said. "I think as the year goes on, stuff changes. In this game, you have ups and downs. I think I started off really hot and then you slow down and then you heat back up, and that's just kinda how it goes.
"I think that's just what I've been learning – how to sustain a solid focus and intensity that you can bring every night. There's so many games, so that's really just what I've been trying to learn and pick up on. It's been a learning process, but I've had a lot of fun so far."