An undrafted training-camp invitee who earned a two-way contract stemming from a solid showing at NBA Summer League with the Miami Heat, Jamal Cain didn't even expect to play on this night.
After all, the Heat were only a couple of games into the preseason, and rotational players were tuning up for the fast-approaching regular season. In addition, they were on the road preparing to take on the Brooklyn Nets, a team with an entire circus surrounding its walls, and yet, one that featured loads of individual talent — including former MVP and perennial All-Star forward Kevin Durant.
Little did Cain realize he would not only suit up for the Heat in that game, but he'd also have the opportunity to defend Durant, his childhood hero, on national television in a legitimately competitive environment.
"It's definitely an eye-opener. The fact that I got to guard one of my idols in my first-ever, like, real, NBA game with real NBA minutes — it was definitely a surreal moment," Cain told Basketball News over the phone. "I was just telling him, 'Ay man, you're an inspiration to me,' and stuff like that. Like, 'I've been watching you since I was small.' That's like a moment right there that can change your life.
"He just treated me so well. He just had a good, positive energy about him. 'Cause he could be like, 'Ay man, I'm trying to focus on the game. Don't talk to me.' But the way he handled that moment with me was, like, so inspirational. And just a huge moment for me because that's like one of my favorite players ever."
Yet, while Cain was excited about what was transpiring in real time, there was no doubt in his mind that he belonged on the floor with KD and the Miami mainstays. Cain's production that night, and in other games, back his claim. He finished that game with 15 points and 12 rebounds, a double-double in the first extended minutes of his pro career.
"I mean, he has the work ethic, he has the character," Heat head coach Erik Spoelstra said after the game. "He was all about potential when we brought him into summer league. He's raw, but you can see his athleticism, you can see his competitiveness, his activity, his multiple efforts. He's really been honing that and trying to really fast track the schematic in how we play.
"So I'm sure his head is spinning, but he makes plays and makes you watch him – the offensive rebounds, the extra efforts, all that stuff. And his coachability makes you think that he's just going to continue to improve rapidly."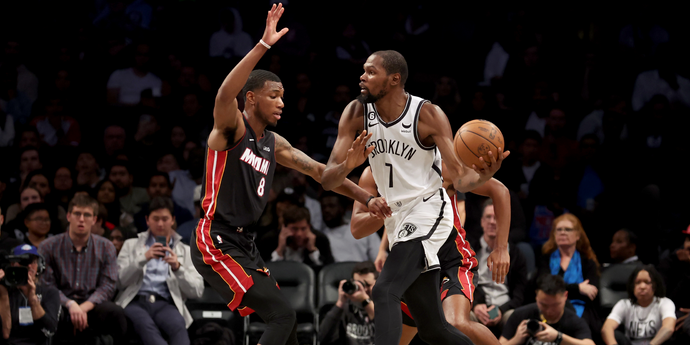 When Oakland assistant coach Mychal Covington turned on his TV and saw Cain and Durant battling, he knew exactly what was going through his mind.
"A lot of people, they say, 'LeBron, LeBron, LeBron,' and Jamal is steadfast on KD. Kids get into heated arguments about basketball players and who's the best, so I've been in the gym with him on numerous times, even up until last year just arguing with some guys on our Oakland University team. I knew he wasn't starstruck, but it was a surreal moment. But I also knew he was gonna compete," Covington told Basketball News over the phone. "He wasn't gonna give a f*ck about 'being there' and not competing. That was his moment to say, 'I'm here.' Like, 'Okay, this is what I do. I'm on the floor with Kevin Durant. The first person I gotta guard is Kevin Durant and this is the dude that I've been watching.' So I knew he was gonna go out there and compete.
"The funny thing about it is Kevin Durant's mom came to one of Jamal's high school games. She was in Michigan and she was at a tournament, and she came to one of his high school games and came up to him and talked to him after the game. She didn't know him. Nobody brought her, she wasn't there for him. And she took a picture with him and the team. So fast-forward, it's like wow how does it go from there to now?"
Though a coach who has helped him along the way, Covington is much more than that to Cain. The two have been inseparable since Jamal was a middle-schooler in Pontiac, Michigan, and have developed a relationship to the point where they've become family.
"Man, that's my guy. He's been training me since Day 1," Cain said. "He's kinda been with me every step. He's trained me mentally, emotionally and physically, so he's definitely like a huge help into my success in basketball. I've done got a lot of lessons from him. Just working hard. Not wanting any handouts. Just knowing if you want something, you're gonna have to work hard for it and not make any excuses."
Their bond began when Jamal and his cousin, Davion Bradford, saw one of Covington's AAU players at their school — Pontiac Academy for Excellence — with new shoes and fresh gear. One day, Covington's high school team (Melvindale Academy for Business and Technology) was playing against them. After the contest, the young man introduced Cain and Bradford to Covington; Jamal and Davion asked if they could play for Mychal in high school.
Curious about who their parents were, Covington asked and quickly learned that they attended Northern High School. Jamal and Davion's moms — Amanda and Kassandra Branner — are twins, and were quite the talented power-forward duo at Northern High School. (Covington graduated a year after them.) Once the connection was made, Jamal's mother insisted they worked together, and all three — especially Jamal and Mychal — would be by each other's side for life.
Covington stuck by their sides even when the parents of players on his middle school AAU team (The Family/Detroit Stars) didn't want Cain to join, concerned about him stepping on their kids' toes and taking playing time away from them. Ironically, Jamal and Davion were the only two to stay with Covington's AAU program from eighth grade all the way through high school.
(That only went for AAU ball; outside of their freshmen seasons at Melvindale, Covington was actually prohibited by the state of Michigan from coaching them on the school's team itself. The state ruled Jamal and Davion improperly followed him there, so they played at Cornerstone. Mychal said it actually strengthened their bond. Davion now plays professionally overseas.)