Craig Porter Jr. is one of the most interesting prospects in the 2023 NBA Draft.
The 6-foot-2 guard began his collegiate career as a JUCO player, leading Vincennes (Indiana) to a 62-7 record over two seasons and winning the NJCAA national championship in 2019. After receiving interest from a number of programs (including Indiana, Kansas, UConn, Oregon, Ole Miss, West Virginia, Texas Tech and Indiana State), Porter ultimately transferred to Wichita State.
Over the next three years with the Shockers, Porter would make huge strides and continue his development. Last season, Porter filled the stat sheet, averaging 13.5 points, 6.2 rebounds, 4.9 assists, 1.5 steals, 1.5 blocks and 1.2 threes, while shooting 47.8% from the field and 36.3% from three.
Porter became the first player in school history to lead the team in rebounds, assists, steals and blocks. There aren't many 6-foot-2 point guards who lead their team in blocks, but Porter's motor and 40.5-inch vertical allow him to erase shots regularly. Porter ranks sixth among Wichita State's all-time leaders in career blocks per game (1.08). Last season, he had 11 games with multiple blocks (including a pair of 5-block performances) and 14 games with multiple steals.
Porter is looking forward to starting the next chapter of his unique journey on Thursday night, when he hopes to hear his name called in the 2023 NBA Draft. He says that it's finally starting to sink in that his NBA dream may soon be a reality.
Throughout the pre-draft process, Porter has worked out for the Dallas Mavericks, Golden State Warriors, Boston Celtics, Detroit Pistons, Orlando Magic, Cleveland Cavaliers, Los Angeles Clippers, Miami Heat and Washington Wizards. He's been turning heads in workouts, and he hopes that a team is willing to take a chance on him in the second round.
Darryl Hepburn trained Porter in Tampa after Wichita State's season ended, and he believes the 23-year-old has what it takes to succeed in the NBA.
"When he came to Tampa, he was flying way under the radar. But when I did my research on him, I immediately saw that he had a couple signature games against some good teams, so I felt like he was an [NBA] prospect," Hepburn told Basketball News. "Since I first laid eyes on him – a 6-foot-2 guard with long arms – he impressed me with his athletic ability.
"He shot 36% from three, but I saw some room for improvement there. Over the last seven weeks, he showed me that he's a proven shooter. I saw him make a lot of improvements. He went to the Portsmouth Invitational and was one of the best players there. There's a high ceiling for this kid – a very high ceiling – and he deserves an opportunity. I think he's going to get drafted."
Basketball News caught up with Porter to discuss his game, player comparisons, unique journey, pre-draft workouts, plan for draft night and much more.
What has the pre-draft process been like for you? I've talked to NBA veterans who say they're glad they never have to go through it again because of how hard it is with all of the workouts and traveling.
Craig Porter Jr.: "It's been a lot of traveling, for sure – going from the east to the west to down south a lot. I mean, it's an interesting process, just getting to see a bunch of different cities and getting to play against a bunch of different prospects and players of all calibers. It's just an experience that you only get to go through once, so I've just been going through it and just doing everything I can to get into the position that I'm in now. But it's been pretty fun."
You have worked out for the Mavs, Warriors, Celtics, Pistons, Magic, Cavaliers, Clippers, Heat and Wizards. What were some of the biggest questions they were asking and what kind of feedback did you get from those teams?
Porter: "I would say, at the beginning when I did my first few [workouts], the most questionable thing about my game was whether I could consistently shoot the outside shot. I feel like, as I've done all of the workouts, everybody has noticed and realized that I can shoot the ball way better than they thought. And my complete game just surprised a lot of people once they saw [me pass] the eye test, I guess. A lot of the feedback has been pretty similar across the board. I've been honestly doing really well in a lot of my workouts, and a lot of the teams have been saying that they expect me to go somewhere in that second round or, if not there, then for sure [I'll be] a two-way type of player."
Do you think you can be a knockdown shooter in the NBA?
Porter: "I definitely think I can. I feel, eventually, [when players read] a lot of the scouting reports and things people go over about me, they won't necessarily see the numbers and think that I'll be able to [shoot], so it'll surprise a lot of people at the beginning. But even with the work I've been putting in, I'll be able to just shoot the ball more confidently and do it at a high level."
You've had a unique journey to this point, coming from JUCO, leading your team to a NJCAA national championship and spending five years in college. What was it like taking the JUCO route and what did you learn from it?
Porter: "It really just showed me to never take anything for granted and that you have to work for everything you earn in life. Really, JUCO taught me almost everything I know. I mean, I went through just about everything in JUCO – going through five-hour practices, to Coach having to order us all pizzas after 8 or 9 p.m. because we practiced so long, to wanting to quit because things got so hard and difficult. I mean, it tests you, for sure. I pay a lot of my respects and dues to my coach and teammates there because of the grind we went through there and how it just prepares you. It puts you in a different position, and it prepares you for this level."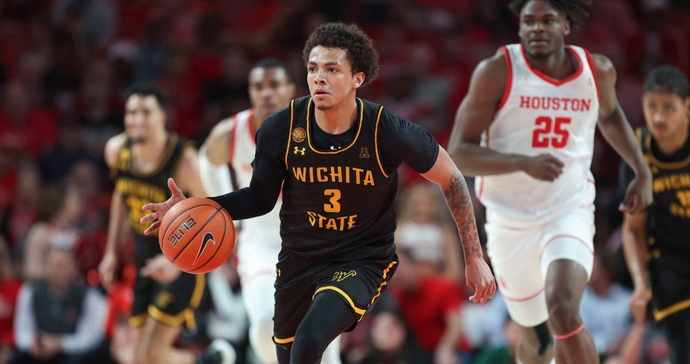 When did you start to realize that playing in the NBA might be a realistic option?
Porter: "Honestly, I think it was after my senior year once I was about to sign with my agent Ryan [Straining]. I got a text from him saying that he was going to try his hardest and do everything he could to get me into the Portsmouth Invitational, and this was before I even signed with him. Really, I was unsure of anything I'd be able to do. I thought I would've been an overseas player, for sure. But once he got me into Portsmouth, things have just been taking off and skyrocketing ever since everybody has been able to see me. I give a lot of credit to him for pushing my name so hard."
Each season, you've made significant strides. From the start of your college career to now, how much do you feel you have grown as a player?
Porter: "I think every aspect of my game has just gone to another level, especially the shooting, scoring and rebounding – pretty much every statistic. I really feel like I was just in a bunch of different roles and being asked [to do] different things on certain teams. But I feel like every role I was put in, I thrived and did everything I was supposed to do. I feel like being prepared for all of those things is really what [allowed] me to do that...
"Like I said, my role kind of changed every year. In JUCO, I went from being a spot-up shooter my freshman year to being the lead guard my second year and really just playing in a bunch of different roles. And the same thing happened at Wichita State. It just put me in a position where I didn't always have to be the person who scores or the person that the defense focuses on, and I just found ways to impact winning. I was the leading rebounder and shot-blocker; I just found ways to get on the court and I just did the extra things that some of the guys on my team didn't, and it just always paid off for me."
You're 23 years old and we know that teams typically fall in love with younger players and their potential during the draft process. But do you feel like there are some advantages to being an older and more experienced prospect?
Porter: "I definitely do. I think [my experience] has already prepared me to be a pro and I feel like I'm handling myself as a pro, so [I'm not dealing with] a lot of the little hiccups that some younger players might have to go through – like needing a little bit more time to develop or anything off the court. I just feel like with me being older and being through things that they haven't experienced, it just prepared me a little bit more than they are."
Which players would you compare yourself to? Who do you like to study?
Porter: "There are a couple players I study. Definitely Lonzo Ball, that's one of my top ones. One of my favorite players growing up was Rajon Rondo, just him being able to do a little bit of everything, even if he couldn't shoot the ball (which I feel like obviously I can do a lot better than him). I mean, just being able to rebound, get his teammates involved and score when needed. Really, those comparisons are probably my top-two, for sure."
If an NBA general manager asked why should they draft you, what would you say?
Porter: "I'd probably say that I'm the type of person who doesn't necessarily need to be 'the guy' or the face of something to impact it. I can impact winning in many different ways. You can throw me in there for one minute and I'm going to make a big difference in that one minute or 30 seconds or [however long I'm in]. My attention to detail is really high. I'm just an older guy who needs a chance. I take this really seriously – this is honestly my life. Really, being able to show what I can do is life or death to me."
What do you bring to a team off the court? Do you think you can have an impact in the locker room as a leader or glue guy?
Porter: "Definitely, I'm a pretty calm person and, like I said before, there's almost nothing that I haven't been through. I know what it's like to win, I know what it's like to lose and I know what it's like to go through adversity. Really, my biggest thing is that I'm able to lead and get guys to pay attention and listen, even if they're frustrated or whatever. That was one of the things I was challenged on over the last two years, so it's something that I've definitely developed over the years. But yeah, I'm definitely a good person off the court who can help guys keep their mental."
What are your plans for draft night?
Porter: "I think I'm just going to have some of my family and friends over at my parents' house, and we're just going to watch the draft. Hopefully, my name is called. If it's not, we're all still going to hang out and I'll spend some time with my family."