I take pride in my defense. I've always enjoyed guarding the best scorer on the other team. I look forward to it. When I'm assigned one of those match-ups, I know it's gonna be a fun night.
In my 13 years as an NBA player, I guarded many perennial All-Stars and future Hall-of-Famers. I'm talking about the best of the best. I tried to contain them and get under their skin. I'd constantly poke my hands in to try to get a pick or at least throw off their rhythm. If I could get scorers to think and worry about my hands, that was a win for me. But for these guys, it was basically impossible. They were always locked in.
What is it like to guard these superstars? In part one, I shared my experiences defending current elite scorers. Today, I'll break down some of the retired legends that I matched up against:
Kobe Bryant
You never forget the first time you played against Kobe Bryant. For me, it was in my rookie year in Minnesota and he dropped 30 on us. When he stepped on the court, just his swag, his whole demeanor, made me feel like, "Damn, this is Kobe Bryant!"
Kobe was a nightmare to guard. Seriously. He knew what he wanted to do, and I couldn't make him do anything different. It was like the game was a script to him; it was really a Hollywood script, and he was going to put me in his movie. I can't explain it any other way except that I was in Kobe's movie. When I was in the mid-post with him, he knew what he was about to do. It was: "I'm gonna fake left and then fade over my right shoulder," or, "I'm gonna pump-fake you, make you foul me and get the and-one," or "I'm gonna pump fake and go dunk on your head." He had a plan and he executed it. He was amazing, man. Unbelievable. Kobe would make so many difficult shots and I'd just be amazed.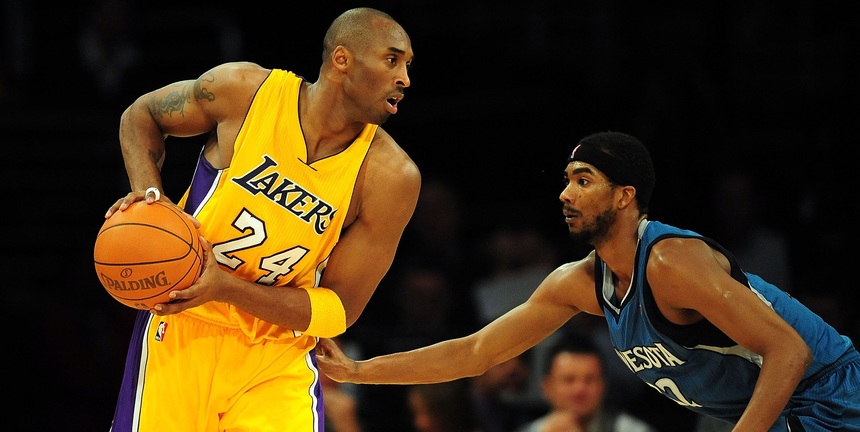 He was a no-nonsense killer, and that's why I'm glad I got to play him in the playoffs a couple of times. Just to see him in that environment, playing at that level and being the way he is on the basketball court, that's why everybody respects him so much. He was that good, and he was really a student of the game. That's why he played for 20 years. He worked his tail off, and he was that good for so long because he was such a hard worker in all the nuances and technical aspects of the game. He was everything. He was relentless and steadfast in his plan: from his footwork to his bank shots to getting fouled--everything he did, I knew he had thought about it, worked on it and watched film on it. He loved the game. That's why Kobe Bryant was Kobe Bryant. Rest in Peace.
Dirk Nowitzki
I actually used to get to guard Dirk a lot. Dirk's tough, man -- the one-leggers! He's a "footer" meaning he's at least 7 feet tall, so I'm not gonna block his shot, and I'm not gonna speed him up no matter what. Like Kobe, he had a plan and I just hoped I could try to do something that made him get out of a rhythm. When I guarded Dirk, I just tried to deny him in his favorite spots or front the post. I just tried to be a little 6-9 pest. It felt like the only thing I could do guarding Dirk was be a nuisance because when he got the ball, it was over. He might miss, but he was typically going to get the shots he wanted. If I could just force him to shoot 12 inches away from where he most wanted to go, I did my job.
Dirk is one of the best scorers I've seen in the NBA. Ever. I played with him in 2011, when he had that incredible postseason and got us a Championship ring when we defeated the Miami Heat in the NBA Finals. It didn't matter who they put out there, he wasn't going to be stopped during our run to the championship.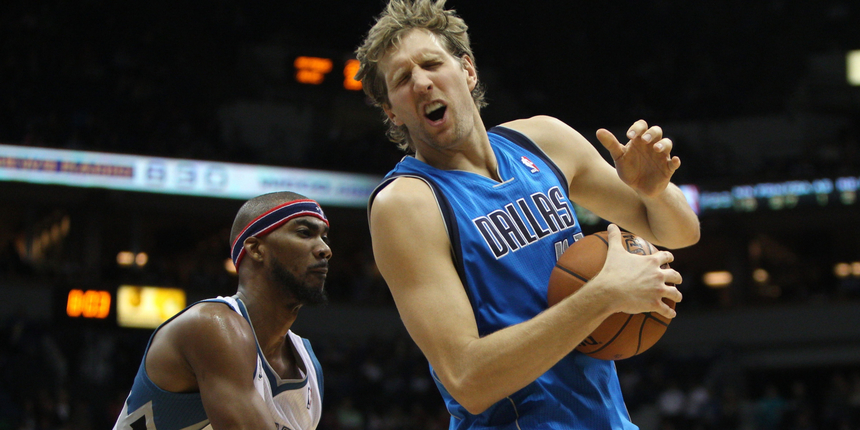 Dirk is for sure the reason we have all these stretch-fours now. The trail three, that was his bread and butter! At the time, bigs used to run back into the paint, but Dirk Nowitzki trailed in, stopped at the three-point line and let it fly -- and it would splash. Dirk was a bad boy, man.
While we all revel in how he shot the ball, it was the tireless work he put into his craft that made him that kind of shooter. He worked on the one-leg jumper so much. It wasn't just some random move he would do sometimes; he worked on it a lot, and that's why he made so many and why it became his go-to. He changed the game and evolved the big man position we all see now.
Dwyane Wade
I hated guarding D-Wade because his pump fake was just unbelievable. He was so athletic. Going to the rim, he'd dunk on people. Then he'd go and just stop on a dime, pump fake, then draw a foul. I knew his plan so I'd try not to foul him, but that's when he had me right where he wanted--not as aggressive as I normally am. He was just tough with the way he approached the game, the way he played the game and how good he was at getting to the basket and finishing.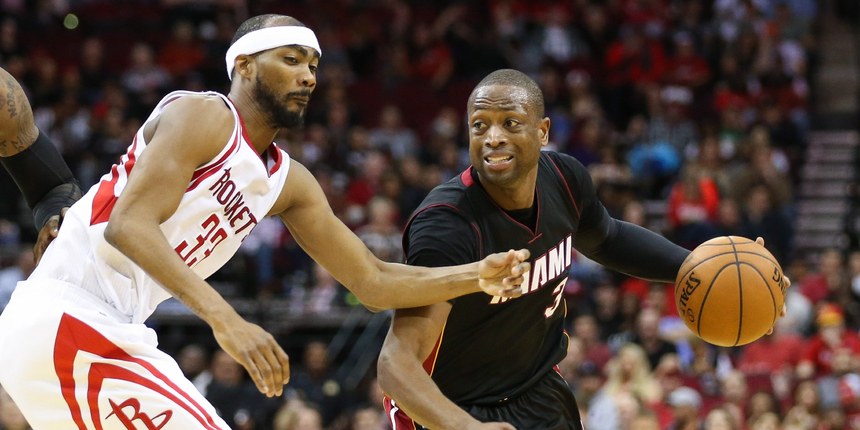 And, seriously, Dwyane Wade's pump fake has to be up there as one of the greatest ever. I hated that pump fake. My goal there was just to stay down and make him shoot a jump shot over me. I feel like if I did that, I did my job -- which, a lot of times, it still wasn't good enough. But hey, I did my job; I'd rather him pump fake, shoot a jump shot and make it than him pump fake and draw a foul or dunk on me or my teammate -- because his dunks would always get his team and the crowd going. My job wasn't to stop scorers like him, it was to get them to take shots they were less likely to make than they otherwise would if I didn't do my job. Fouling was the worst thing I could do--most scorers shoot free throws well.
Gilbert Arenas
If Gilbert Arenas didn't get hurt, we'd be talking about him on a different level. I feel like people don't realize how good he was and how well he played during his prime. When he got that big contract, he deserved it. He just got hurt and had bad luck. That's all you can say. But he was a tough guard with the way he could shoot it.
I wanted him to pass. I would try to send him to my help and get the ball out of his hands because when he had that ball in his hands, he could get going. They didn't call him "Hibachi" for nothing! When he got going, he got going. He heated up fast when his confidence soared.
Gilbert Arenas was actually one of the first dudes to be coming off the pick-and-roll and pull it from deep. He used to pull from deep, and he had the ball on a string; when he went to the basket, that was his thing. Gilbert was tough, and I feel like if he didn't get hurt, we're talking about him in a different sense. But I have to show him love because he was that good.
Tracy McGrady
I caught T-Mac toward the end of his time with the Houston Rockets. T-Mac was tough. I remember the first time I played T-Mac, he'd catch it and he'd jab step. He'd jab me off, and it was a thing of beauty. I'd be thinking, "What is he gonna do? Is he gonna pull up? Is he gonna try to get by me?" His jab step was one of the best ever. I wish I could've faced off against T-Mac more.
Check out Corey's article breaking down what it's like to guard current superstars such as LeBron James, Kevin Durant, James Harden, Giannis Antetokounmpo and more.