After a long four-month offseason, the 2023-24 NBA season officially kicks off on October 24. Preseason action is currently underway, with teams evaluating their roster and getting ready for the start of the regular season.
There were a few roster rule changes of note this offseason that were introduced as part of the new CBA. Now, each team can sign up to three two-way players (up from two) who are able to play up to 50 games with their NBA team and spend the rest of their season in the G League. Also, offseason rosters were originally limited to 20 players but have since increased to 21.
Each team needs to be at 15 standard contracts prior to the start of the season, which means a few players on guaranteed deals will have to be cut prior to the season. While some teams have a pretty set roster, others (like the Oklahoma City Thunder) will be forced to part ways with talented players to reach their roster limit.
Looking at the Central Division, let's see how each team's lineup is shaping up and what questions they may need to answer before the start of the season.
(This is part two of a six-part series. Check out our Atlantic Division preview, with more previews coming soon).
CHICAGO BULLS
Who will start at point guard?
The Bulls have a lot of capital committed to a couple talented guards, but only one will be in the starting lineup when they kick off the season against the Thunder on October 25. They wouldn't be in this predicament if Lonzo Ball were healthy, but the former UCLA guard has struggled with knee issues throughout his time in Chicago and will miss his second straight season.
Head coach Billy Donovan has a few options to choose from in fourth-year guard Coby White, third-year guard Ayo Dosunmu and new signing Jevon Carter. White has started throughout the preseason, averaging 11 points and 5 assists per game, showing signs of improvement in his scoring and playmaking abilities. The Bulls do have a surplus of scoring options, which could lead White being used as a primary scorer in the second unit. Dosunmu didn't totally impress in his extended run filling in for Ball last season and hasn't shown much to grab the job in preseason. The former Illinois guard has had some shaky shooting recently, but his 6-foot-5, 200-pound frame brings unique defensive and size versatility for Chicago. Carter is probably the most akin to a replacement for Ball stylistically as a stout defender and transition specialist. Alex Caruso could also be a wild-card option, but he is more likely to head-up the team's second unit as the backup for Zach LaVine, as he was for most of last season.
Roster Decisions
The Bulls likely don't need to make any immediate changes to their roster with 15 players on standard contracts. However, they are currently projected at $219,401 over the luxury tax, which could push them to waive one of Carlik Jones or Terry Taylor, who are on non-guaranteed deals. Both Jones and Taylor have partial guarantees of $250K and $350K, respectively, if they make the opening-night roster. If either are cut after the start of the season, Chicago would take a dead cap hit for their partial guarantees.
Rotation
Current Roster Count: 18 players (13 guaranteed, 2 non-guaranteed, 3 two-way)
Projected Starters: G Coby White, G Zach LaVine, F/G DeMar DeRozan, F Patrick Williams, C Nikola Vucevic
Projected Rotation Players: G Alex Caruso, G Ayo Dosunmu, C Andre Drummond, G Jevon Carter, F Torrey Craig
Projected Reserves: G/F Dalen Terry, F Julian Phillips, G Carlik Jones (non-guaranteed), F Terry Taylor (non-guaranteed), G Lonzo Ball (injured)
Projected Two-way Players: F Justin Lewis, F/C Adama Sanogo, F Onuralp Bitim
Projected Roster Cuts: N/A
CLEVELAND CAVALIERS
Is starting Max Strus enough to help their deficiencies at small forward?
Coming off a season in which they vaulted all the way to fourth in the Eastern Conference, the Cavaliers' missing piece always seemed to be a starting small forward. They hoped that Isaac Okoro, their No. 5 overall pick in 2020, would assume that spot by improving his offensive game to complement his strong defensive skills. However, Okoro has rarely been a net positive for Cleveland and his usage went steadily downward last season.
In order to address their weak wing depth, the Cavs splurged in free agency by signing Max Strus to a four-year, $64-million contract. The former undrafted Miami Heat wing was Cleveland's top-free agency target this past summer and will replace Okoro this year as the starting small forward, according to Chris Fedor of Cleveland.com. Throughout his career, Strus has been a knockdown three-point shooter and he has plenty of playoff experience that could bring a new element to a young Cavs team. Strus is not the elite defender that Okoro is, but he is far from poor on that end of the floor. While with the Heat, he matched up with forwards around 45% of the time, per NBA.com stat tracking, and was able to hold his own. He won't be guarding any primary ball-handlers, but he should be able to fit within J.B. Bickerstaff's defensive gameplan and serve as an upgrade on offense.
Roster Decisions
The Cavaliers likely won't make any changes before the start of the season with a full roster. If they have their eyes on someone else via free agency or waiver claims, they can waive Tristan Thompson or Sam Merrill with little to no dead cap hits.
Rotation
Current Roster Count: 21 players (12 guaranteed, 1 partially guaranteed, 1 non-guaranteed, 3 two-way, 4 Exhibit-10)
Projected Starters: G Darius Garland, G Donovan Mitchell, G/F Max Strus, F/C Evan Mobley, C Jarrett Allen
Projected Rotation Players: F/G Caris LeVert, F Georges Niang, F/G Isaac Okoro, G Ricky Rubio, F/C Dean Wade
Projected Reserves: G Ty Jerome, C Damian Jones, C/F Tristan Thompson ($200K guaranteed), G Sam Merrill (non-guaranteed)
Projected Two-way Players: F Emoni Bates, F Isaiah Mobley, G Craig Porter Jr.
Projected Roster Cuts: G Sharife Cooper (Exhibit-10), G Zhaire Smith (Exhibit-10), G Justin Powell (Exhibit-10), F Pete Nance (Exhibit-10)
DETROIT PISTONS
How will they manage the big-man rotation?
The Pistons have their fair share of young bigs on their roster, but none have really taken a leap into stardom. While each of them have a unique skill-set, they all have their shortcomings on the court and haven't worked seamlessly together in any pairing.
They recently extended Isaiah Stewart, who started most of last season at power forward, at a fair value of four years, $60 million. Stewart has a good perimeter game, but struggles in the paint due to being slightly undersized as a big. Jalen Duren fits the mold of a more traditional center, but is still raw on defense, especially in the paint. New head coach Monty Williams has praised Duren this preseason, suggesting that they will try to get the young center more opportunities on offense and that he's confident Duren will continue to improve.
With Stewart and Duren likely to start at the four and five, Williams still needs to decide whether Marvin Bagley III or James Wiseman will get the primary backup minutes behind them. Bagley has some defense and size limitations that make him more of a power forward. Wiseman, already in his fourth NBA season, hasn't had much of an opportunity to prove he is a reliable NBA player despite his build. Bagley has had stronger play this preseason, but Williams has yet to reveal who will be a part of the rotation when the season starts.
Roster Decisions
The Pistons have two interesting decisions to make with one open standard roster spot and one open two-way spot. It appears as though Stanley Umude should earn either the final standard roster spot or the final two-way spot, based on his performance in the preseason (15.0 PPG, 4.5 RPG and 2.0 APG) as well as playing with the second-unit in open practice, according to Palace of Pistons. Their moves are also dictated on whether they choose to make any trades before their season tips off on Wednesday.
The Houston Rockets are reportedly interested in trading for Alec Burks, according to Jake Fischer of Yahoo Sports, and would likely send back Victor Oladipo's expiring contract with second-round draft picks. It is unclear whether Detroit is interested in acquiring Oladipo or dealing Burks in the first place. If things stay the same, look for the Pistons to elevate Umude and promote one of their other Exhibit-10 signings (Buddy Boeheim, Tosan Evbuomwan, Jontay Porter or Zavier Simpson) to the two-way spot.
Rotation
Current Roster Count: 21 players (14 guaranteed, 2 two-way, 5 Exhibit-10)
Projected Starters: G Cade Cunningham, G Jaden Ivey, F Bogdan Bogdanovic, F/C Isaiah Stewart, C/F Jalen Duren
Projected Rotation Players: G/F Ausar Thompson, G Monte Morris, G Alec Burks, F Marvin Bagley III, C James Wiseman
Projected Reserves: F Isaiah Livers, G Marcus Sasser, G Killian Hayes, G/F Joe Harris, G Stanley Umude (projected Exhibit-10 convert)
Projected Two-way Players: G Jared Rhoden, G Malcolm Cazalon, G Buddy Boeheim (projected Exhibit-10 convert)
Projected Roster Cuts: F Tosan Evbuomwan (Exhibit-10), G Zavier Simpson (Exhibit-10), F/C Jontay Porter (Exhibit-10)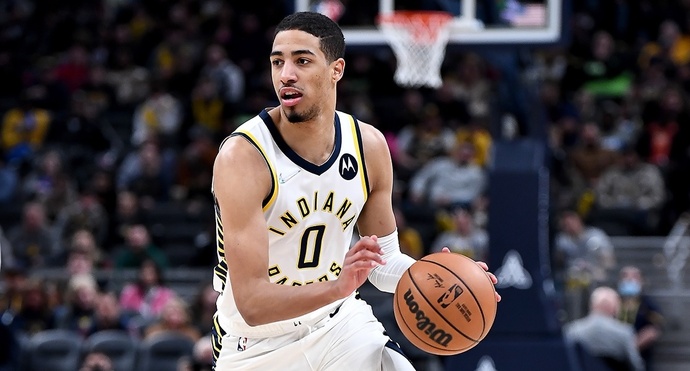 INDIANA PACERS
Only 10 guys can reasonably play on a nightly basis, so who gets left out?
The Pacers quietly have one of the deepest rosters in the league led by star guard Tyrese Haliburton, who just received a max contract extension. Having a surplus of talent leaves some tough playing-time decisions for Rick Carlisle. The team's surefire starters include Haliburton, veteran center Myles Turner, and free-agent addition Bruce Brown. Bennedict Mathurin will also likely move into the starting lineup at small forward after coming off the bench during his rookie year. After that, things are still up in the air in terms of who will get playing time and where.
When it comes to who will back up Haliburton, veteran T.J. McConnell has been a reliable option for the past few seasons, steadily improving his jump shooting over that time. Andrew Nembhard held his own last season while filling in for Haliburton as the starter while he was injured last year. Nembhard, coming off an All-Rookie-Second-Team season, could push McConnell for the backup-point-guard spot, but should get minutes on the wing regardless. Buddy Hield will start the season coming off the bench and should be the primary scorer for the second unit, albeit to his disapproval (see below).
In terms of wing depth, new addition Obi Toppin will most likely start at power forward, replacing Aaron Nesmith. Nesmith and Jordan Nwora have shown flashes, but may be on the outside of the rotation to start the year. No. 7 overall pick Jarace Walker will likely be a key part of the rotation with his high ceiling and may push for Toppin's starting spot later in the year. Ben Sheppard, their other first-round pick, has also made a case for playing time with his play this preseason, but he may have to wait for minutes to open up for him. The backup big man spot should be mixed around between Jalen Smith, Isaiah Jackson and Daniel Theis, all of which are capable options on both ends of the floor.
Roster Decisions
The Pacers' roster is pretty set going into the season. One notable thing to mention is that Buddy Hield requested a trade earlier this offseason in hopes of getting a bigger role on a contending team. While other teams are definitely interested in Hield, it doesn't appear as though Indiana is interested in trading him at the moment. Things could change if the team has a poor start to the season.
Rotation
Current Roster Count: 18 players (15 guaranteed, 3 two-way)
Projected Starters: G Tyrese Haliburton, G Bruce Brown Jr., F/G Bennedict Mathurin, F Obi Toppin, C Myles Turner
Projected Rotation Players: G Buddy Hield, G T.J. McConnell, G Andrew Nembhard, F/C Jarace Walker, C/F Jalen Smith
Projected Reserves: F Aaron Nesmith, F/C Isaiah Jackson, G Ben Sheppard, F Jordan Nwora, C Daniel Theis
Projected Two-way Players: G/F Kendall Brown, G Isaiah Wong, C Oscar Tshiebwe
Projected Roster Cuts: N/A
MILWAUKEE BUCKS
How will the Damian Lillard trade affect their defensive strategy and depth?
The Bucks have shifted their identity on both ends of the floor with a bold offseason move, giving up Jrue Holiday and Grayson Allen to acquire Damian Lillard. Under Mike Budenholzer, the Bucks were a defensive juggernaut and this propelled them to a championship in 2021. However, new coach Adrian Griffin will have to contend with the loss of two rotation players, including an elite defender in Holiday. Lillard has not been the best defender throughout his career and the task of guarding the other team's best perimeter player will likely have to fall on someone like Malik Beasley coming off the bench. As an assistant coach with the Raptors, Griffin was the architect behind Toronto's tight-ball-pressure defenses that were unpredictable on a nightly basis and among the most efficient in the league. If their defensive schemes aren't up to par, Milwaukee may just have to outscore their opponents on a nightly basis, which they may be more than capable of doing with Giannis Antetokounmpo and Dame.
The loss of two starters from last year's team also shouldn't be understated. Pat Connaughton is likely going to fill Grayson Allen's starting spot, which could open up bench opportunities for younger players like MarJon Beauchamp. Beauchamp had his moments during his rookie year, showing off his athletic potential while learning the flow of an NBA offense. He should get an opportunity for real playing time as a help on defense. It also seemed like second-round pick Andre Jackson Jr. would get opportunities at backup point guard, but then the team signed Cameron Payne. Payne will likely man that spot going into the year, but Jackson Jr. has played well this preseason and has shown he has the tools to be a jack-of-all-trades for the Bucks.
Roster Decisions
The Bucks seemed to have their roster set going into the season after making the move for Lillard and signing Payne. However, the team made some minor changes on Wednesday, surprisingly waiving two-way player Omari Moore along with two training camp signings. Moore was signed to a two-year two-way deal after going undrafted out of San Jose State and will likely start the year with the Bucks' G League affiliate, the Wisconsin Herd. The only Exhibit-10 player who was not waived was Marques Bolden, who will likely have his contract converted to fill the team's open two-way spot.
Rotation
Current Roster Count: 18 players (15 guaranteed, 2 two-way, 1 Exhibit-10)
Projected Starters: G Damian Lillard, G/F Pat Connaughton, F Khris Middleton, F Giannis Antetokounmpo, C Brook Lopez
Projected Rotation Players: C Bobby Portis, G Malik Beasley, F Jae Crowder, G Cameron Payne, F/G MarJon Beauchamp
Projected Reserves: G AJ Green, G Andre Jackson Jr., C Robin Lopez, F Chris Livingston, F Thanasis Antetokounmpo
Projected Two-way Players: G TyTy Washington Jr., G Lindell Wigginton, F/C Marques Bolden (Projected E-10 Convert)
Projected Roster Cuts: N/A