Today, the NBA announced the launch of "Future Starts Now," a new digital program on the NBA app that will showcase the next generation of basketball stars in a centralized location, creating a unique way for fans to follow their journeys at every stage beginning at the high-school level.
"Future Starts Now" will offer a comprehensive experience for fans of all ages including livestreams, real-time updates, exclusive behind-the-scenes content, in-depth player interviews, electrifying highlights and game recaps. The content will include NBA G League Ignite games – featuring top prospects Matas Buzelis and Ron Holland – top-tier international competitions and elite youth basketball competitions.
"When we launched the NBA app last season, we made a commitment to make it the premier destination for elite basketball," said Andrew Yaffe, the NBA's senior vice president, head of docial, digital and original Content. "Spotlighting the game's brightest young stars through this new program with events like the 2023 Nike World Basketball Festival gives fans a closer look at the next generation of stars from the beginning of their basketball journey."
To tip off the new initiative, the NBA app and NBA YouTube channel will stream the 2023 Nike World Basketball Festival girls' championship at 5:30 p.m. ET followed by the boys' championship at 7:00 p.m. ET on September 16. The tournament is part of a weekend-long Nike Basketball celebration set against the iconic backdrop of Lincoln Center in New York City.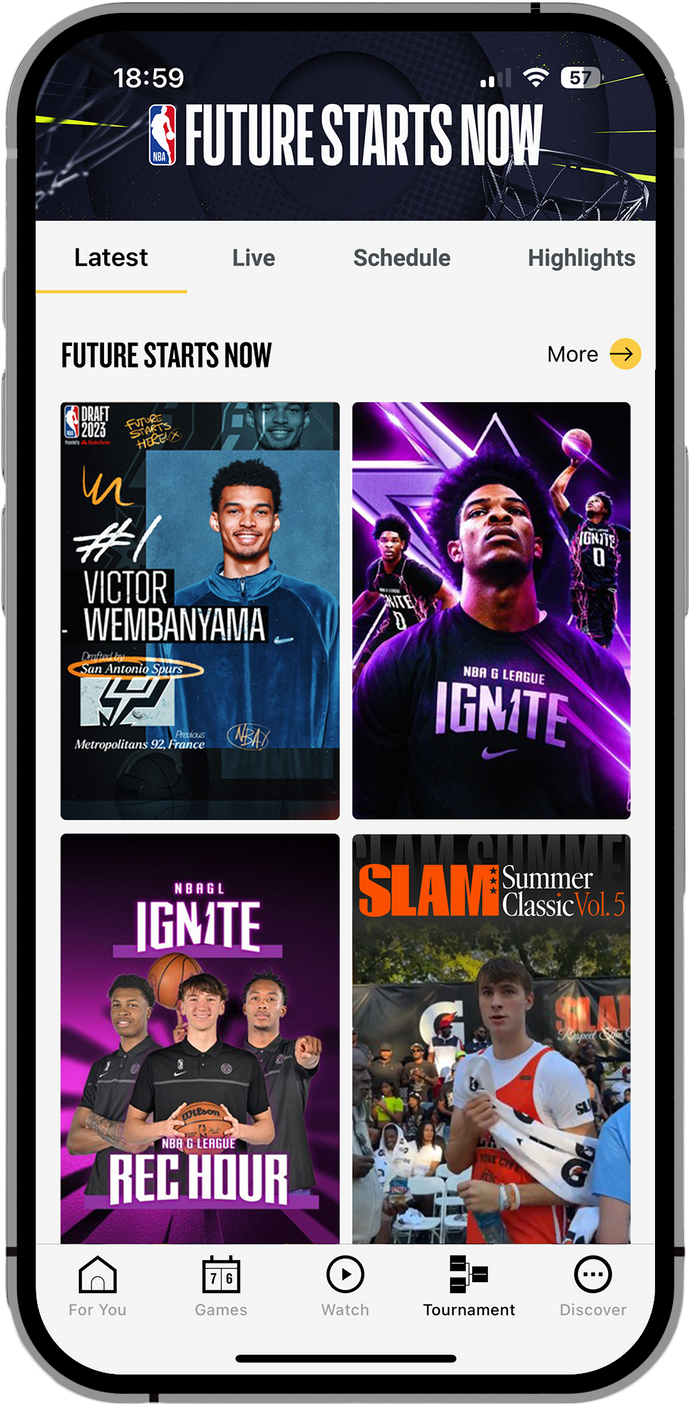 Eight NBA and WNBA stars will serve as honorary team coaches for the rosters of 80 of the brightest male and female high-school talents. Podcast host and influencer Bobby Cey will call the action alongside ESPN's Monica McNutt and Ros Gold-Onwude, while iconic New York radio legend and artist Angie Martinez will serve as the in-arena host.
As part of the new initiative designed to identify and spotlight basketball prodigies from across the globe, the league is unveiling new social-media handles, including @NBAFutureStartsNow on Instagram and TikTok and @NBAfuturenow on X for fans to keep up with all the action.
Over the past year, the NBA app has hosted an array of premier basketball content with more than 150 live game streams and vertical video stories of events, including Peach Jam from Nike Elite Youth Basketball League (EYBL), G League Ignite, Jr. NBA Showcase, SLAM Summer Classic Vol. 5, LNB Betclic ELITE, top pro-am leagues such as the Drew League, Miami Pro League and AEBL and more.
This portfolio of events has featured international prospects, including 2023 No. 1 overall pick Victor Wembanyama (LNB Betclic ELITE/Boulogne-Levallois Metropolitans 92) of the San Antonio Spurs, top high-school players such as Cooper Flagg (Peach Jam and SLAM Summer Classic Vol. 5), Cameron Boozer and Cayden Boozer (Peach Jam), alongside numerous other budding elite talents.