The NBA announced the 28 players who have earned spots in the 2023 Jordan Rising Stars Games, which will take place on Feb. 17 at Vivint Arena in Salt Lake City as part of NBA All-Star Weekend.
The annual showcase of premier young talent features a mini-tournament with four teams and three games that will air live at 9 p.m. ET on TNT.
The player pool consists of 11 NBA rookies, 10 NBA sophomores and seven NBA G League players. The 21 NBA players, selected by NBA assistant coaches, will be drafted onto three teams consisting of seven players. The seven NBA G League players, selected by the league office, will comprise the fourth team.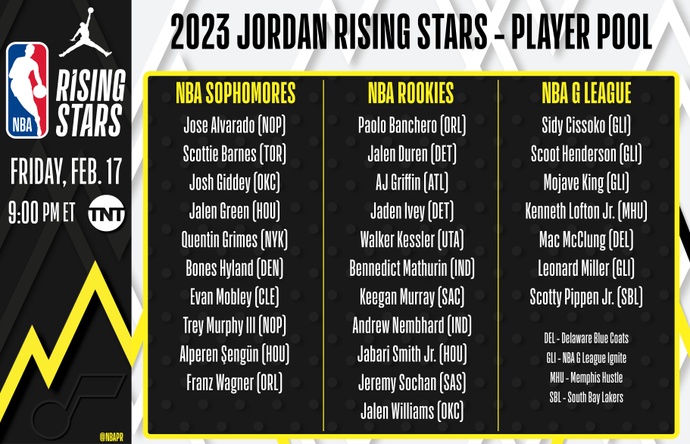 Four NBA legends will serve as honorary head coaches for the Jordan Rising Stars Games: six-time NBA All-Star and two-time NBA champion Pau Gasol, two-time NBA All-Star and 2013-14 Defensive Player of the Year Joakim Noah, 2008-09 NBA Sixth Man of the Year and 2011 NBA champion Jason Terry and three-time NBA All-Star Deron Williams.
Gasol (Team Pau), Noah (Team Joakim) and Williams (Team Deron) will select their teams through the NBA Rising Stars Draft, which will be held at a later date. Terry (Team Jason), a current Jazz assistant coach and a former head coach of the NBA G League's Grand Rapids Gold, will coach the team of NBA G League players.
All three Jordan Rising Stars games will be played to a Final Target Score, meaning that each game will end with a made basket or a made free throw instead of with the clock running out. The semifinal games will be played to a Final Target Score of 40. The final game will be played to a Final Target Score of 25.
Team A will face Team B in the first semifinal (Game 1), and Team C will play Team D in the second semifinal (Game 2). The winner of Game 1 will meet the winner of Game 2 in the final (Game 3).
In selecting the NBA players for the Jordan Rising Stars Games, each NBA team submitted one ballot per coaching staff. Each coaching staff selected four frontcourt players, four guards and two additional players at either position, in order of preference, for the rookie ballot and the sophomore ballot. Coaches were not permitted to vote for any player on their team.
The NBA participants for Jordan Rising Stars were determined by the total points each player received from the ballots. Points were awarded based on where a player was ranked on each ballot. The player pool includes an additional rookie based on the ballot results.
Assistant coaches from the NBA All-Star Game coaching staffs will join the NBA legends in coaching the Jordan Rising Stars teams. The Boston Celtics' coaching staff will lead Team Giannis in the NBA All-Star Game, while Team LeBron's coaching staff has yet to be determined.