With the 2020 NBA Draft quickly approaching, Oak Hill standout Josh Hall sat down with BasketballNews.com to discuss a number of topics including his personal interests, his game and why he believes he'll make a solid pro.
Could you start off by sharing where you're from and telling me a little bit about your family and background?
Josh Hall: "I'm from Durham, North Carolina. My mom is a defense attorney, so I always made sure I stayed out of trouble so she didn't have to represent me in court one day. My pops is the main reason I am the player that I am today. He taught me early on about the importance of being able to rebound and still handle the ball and make decisions like a guard. He knew I would be tall, but he helped me work on my wing skills and [helped me] be a versatile player."
You attended Oak Hill Academy for high school; you didn't make their national traveling team as a junior and instead played for their local team. Did that put a chip on your shoulder?
Hall: "Yes, sir. My sophomore year, I felt like I had areas of my game that I could improve on. That summer, I made sure that I put the work in to be on the gold team, so being a competitor, of course I was let down when I didn't make the team. That put a chip on my shoulder and it's still there to this day."
You opted to do a post-graduate year developing at Moravian Prep. What went into your decision to take that route, and how do you feel it helped your career?
Hall: "I chose that route because I didn't feel like I was ready at the time to step on a college campus and start from day one. It gave me more time to continue to get better and improve on my body so that I could make an immediate impact the day I stepped on campus."

You were extremely productive in your year at Moravian. In which aspect do you feel you grew the most there, either on or off the court?
Hall: "I feel like I grew in all aspects on and off the court. The two areas I feel I grew the most were leadership and being an all-around basketball player. Before Moravian, I was known as just a shooter. So that post-grad year, I worked on putting the ball on the floor more and becoming a three-level scorer. I also wanted to make sure I focused on rebounding and improving on my defense."
You originally committed to NC State. What was it about the program that drew your attention?
Hall: "Growing up, I wasn't ever a big fan of any of the blue bloods that most kids around North Carolina were. I was drawn to the fact that Coach [Kevin] Keatts and the staff went out of their way to see me every week. They laid out a game plan for me and were detailed about how I would fit in and why NC State would make sense for me. Also, I am very family-oriented, so I liked the fact that my parents would get to see me play."
You competed on all three major shoe circuits for grassroots basketball. Which league did you enjoy playing in most and why?
Hall: "The EYBL (Nike Elite Youth Basketball League) is a league like no other. Every game, you can walk around and casually bump into an NBA All-Star. The atmosphere was also unlike the other two circuits. It helps bring out your best in every game."
You ultimately decided to skip college and declare for the draft, taking a similar route to guys like Anfernee Simons and Thon Maker. What led you to opt for the professional route?
Hall: "Towards the end of my season, there were a lot of rumblings about me skipping college to make the jump to the NBA. In my mind, I always felt like I had a skill set and the versatility to do well in the modern NBA; there were just a few things I wanted to improve on. When I met with ProSport Management, they felt the same way about my skill set and they laid out a game plan to help address those areas that I needed to improve on. After a few weeks of strength training and working with pro trainers, I saw improvement in my body and in my game and knew that I would be ready to help an NBA team by the start of the season."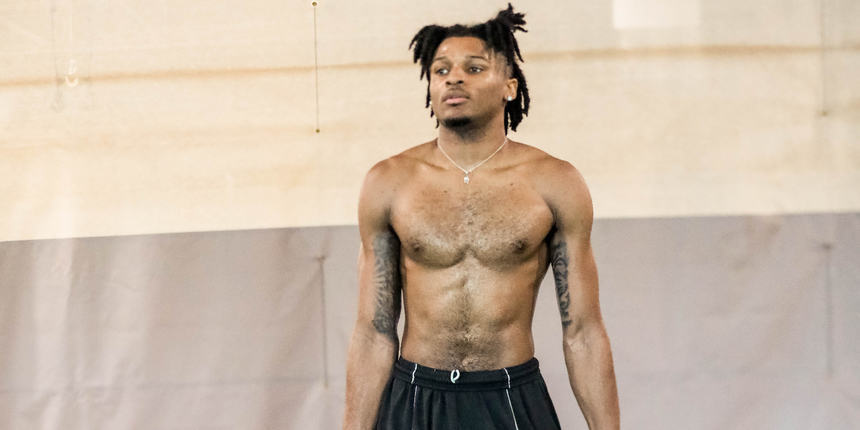 Besides basketball, what other interests and hobbies do you have?
Hall: "I am a chill and laid-back type of guy. I like to play video games and listen to old-school music."
Could you walk us through a typical day for you currently as you prepare for the NBA Draft?
Hall: "Usually, we work out two to three times a day -- twice on the court and one workout to improve my body, like yoga, pilates or strength training. Typically we work out around 9 a.m. on the court, then rest for a few hours, eat lunch and go to weights. Then, we have a shooting session towards the end of the night, and I try to do some form of recovery after our last workout. Finally, I get back to the house and play the game for a little and get ready to do it all over again."
For those who are unfamiliar with your game, would you mind giving me a quick rundown of who you are as a player on the court?
Hall: "I think I am a versatile wing who can score from anywhere on the court. I can space the floor and I finish at the basket a number of different ways. Even though I am 6-foot-9, I feel like I was always taught to have a floater or an in-between game in case you can't get all the way to the rim. I can also defend 1-through-4 and switch on to anyone."
Who is one player you model your game after the most?
Hall: "Being from North Carolina, I always watched Brandon Ingram growing up. He is someone I modeled my game after because we always had similar measurables and he could score at all three levels."
What are some things that you would like to continue to work on and improve in your game?
Hall: "I want to continue to work on my body so I can be a good defender, since I know that is the key to staying on the floor, especially as a rookie. I also am continuing to work on my ball handling so I can get my shot off against the best defenders in the world."
Let's pretend that I'm an NBA general manager that's considering selecting you and we've just entered an elevator. What is your elevator pitch as to why I should select you?
Hall: "I am a hard worker that is a sponge, and I'm willing to listen to everything that those around me are telling me. I have a skill set to help a franchise win and I won't be outworked if selected."