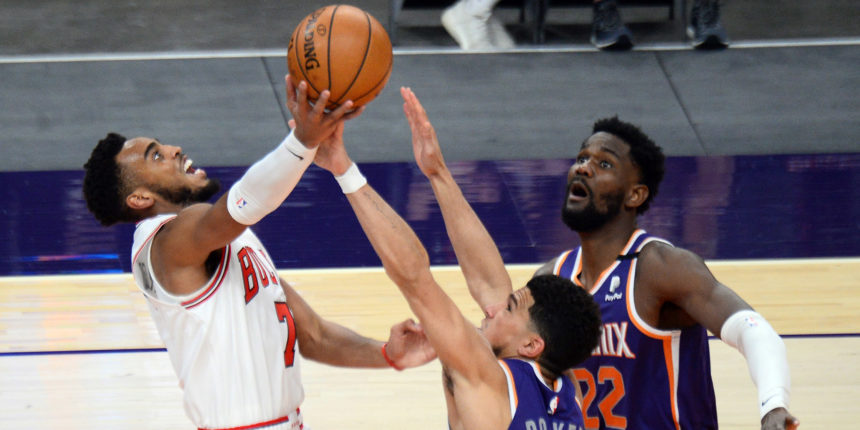 My first time getting traded: Learning what it's like to be dealt in the NBA
We hear it all the time.
"It's a business."
But now, I can tell you first-hand. That realization hits a whole lot different when you find out you've actually been traded.
After two years in D.C., just like that, it was over. I will never forget where I was when I found out the first chapter of my NBA career came to a close.
It was Thursday, March 25. We'd been in New York for a few days because we were scheduled to play the Nets on Sunday followed by two games against the Knicks at Madison Square Garden on Tuesday and Thursday.
On Thursday, I was locked in like every other gameday. Thursday (trade deadline day) began like most others. We had a good walkthrough, and afterward, I went back to my hotel room to try to get a little rest before the game that night.
Then, my phone rang.
"I just wanted to say thank you…"
As soon as I heard those words, I knew my time in D.C. was over. The voice on the other end of the phone was Tommy Sheppard, the Wizards' general manager. He said a few other things with positive words of encouragement and told me I was headed to Chicago.
I always knew there was a chance that I would be traded, mainly because I just hadn't been playing that much lately and in the NBA, players get traded all the time.
Even though it's nice to feel wanted, nothing prepared me for that moment.
Like I said, things happen fast, and by the time I got off the phone with Tommy, my mind immediately went to thinking about what it would be like to suit up with my new teammates. But at the same time, even though I was excited for a fresh start and a new beginning, I'd be lying if I didn't say that I was going to miss the guys I was leaving behind.
Obviously, things didn't go quite as planned in D.C., but I learned so much during my time there that it would have been impossible to not have some emotions about being told that it was over. I had some great connections with my teammates, especially the younger guys like Bonga, Deni and Rui. I became best friends with Thomas pretty much since I started there, so it's definitely tough. That's the worst part about being traded. Having to leave the guys you formed these great bonds with.
But I'll tell you this… You definitely don't have too much time to think about that stuff. You don't really have that much time for anything, to be honest with you. In such a short span of time, you've got people calling and texting you while you're still trying to process the idea of living in a new place, having a new coach and playing with new teammates. It's a fresh start, but there's some anxiety because you want to prove yourself. There are definitely a lot emotions and lots to do.
Most people know that we have up to 48 hours to report to our new team, but a lot of times, everybody involved — the teams, agents, families and the player — want the transition to go as quickly and as smoothly as possible. As pro athletes, we have routines and habits and if we break them or go away from them for too long, it can break our rhythm. So as soon as I got off the phone with Tommy, I started thinking about getting to Chicago and when the next game was and stuff like that. I ended up getting a car service to the airport roughly 30 minutes after I learned about the trade.
Next thing I know, I'm on a plane heading to Chicago. It was finally sinking in — I was a Bull.
Overall, despite all the moving pieces and craziness, I was excited. I definitely appreciate the fans and the opportunity I got in D.C., and without question, I'm gonna miss my former teammates. But the thought of a fresh start and a new beginning energized me.
Growing up, I always remember seeing Bulls jerseys and associating greatness with it because of Michael Jordan. I never once thought that I'd have the opportunity to put on that red jersey and try to be part of building a winner in Chicago, but that's exactly what I'm gonna try to do.
And when I think about what we can do on the court as a team, it's almost impossible to not be excited. For them to believe in me and bring me in let me know that they thought I could help the team win, and that's exactly what I plan on doing.
Offensively, with Zach and Vuc together, it's like pick your poison. Zach is going to have a lot of freedom to play his game more because opposing defenses are going to be hesitant to leave a guy like Vuc when they run a pick-and-roll. At the same time, either of those guys can take you one-on-one, but they also each consistently command double teams.
I'm looking forward to being able to impact the game in ways other than scoring, though, because helping us find consistency on the defensive end of the court is definitely going to be my focus. I know I have to prove myself, and I'm going to work hard every day to make the best possible impression.
As a team, we have a long way to go to accomplish our goals. For me, personally, I'm excited for the fresh start, but I'm still trying to get used to my new situation.
I'm still missing my old teammates but am getting acquainted with my new ones.
One phone call changed everything, and although the dust still hasn't completely settled, I'm looking forward to helping my team — my new team — get to where we hope to go.