The 2022 NCAA Tournament is underway, with the First Four games taking place over the last two days. Here's a recap of the First Four action and what's next for the winners:
Notre Dame defeats Rutgers 89-87 in 2OT, will play Alabama
After a scoreless final 1:50 in regulation, these two teams went to overtime where Blake Wesley hit a huge bucket with :02 remaining to send it to yet another overtime period. Paul Atkinson Jr. had a putback basket with :02 to play that sealed the deal, capping off his huge night with 26 points, 6 rebounds and 2 blocks. The energy that Notre Dame exerted will be something to monitor in the next round (especially if they come out looking fatigued), but what an incredilble game to get the weekend started.
Indiana defeats Wyoming 66-58, will play Saint Mary's
Trayce Jackson-Davis continues his ridiculous postseason with a 29-point outing. The Hoosiers took control just before the break and would hang steady the rest of the game. Even behind a poor free-throw shooting night, they dominated the glass and won the turnover battle, which ended up being the keys to victory. Indiana now looks ahead to a tough matchup with the No. 5 seeded Gaels.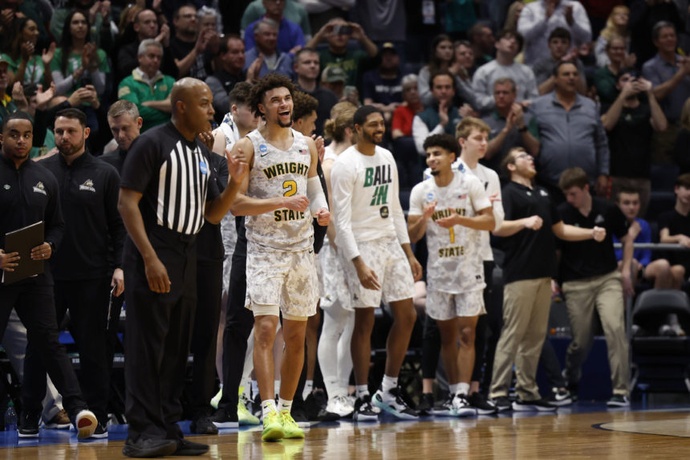 Wright State defeats Bryant 93-82, will play Arizona
Tanner Holden had a monster night, posting 37 points on 11-of-15 from the field. The Raiders held a two-point lead at the break, but Holden and Co. would pull away for the rest of the contest. Trey Calvin also had a strong outing for the Horizon League Tournament Champions, finishing with 21 points, 5 rebounds and 4 assists. They advance to the Round of 64 and now have a tough matchup with the Wildcats.
Texas Southern defeats Texas A&M-CC 76-67, will play Gonzaga
The Tigers' bench scored 55 points while the starters scored only 21 in this one. Senior guard Bryson Etienne posted 21 points, and the team as a whole connected on 26 free-throw attempts. The SWAC Conference Champions trailed by four points with nine minutes to play, but were able to battle back and win down the stretch. They took the lead with 5:32 to play and never gave it back, securing the win and a meeting with the No. 1 overall seed, Gonzaga.