HOUSTON (AP) — Everything seemed set for a college basketball season marked by the familiar — right up until the season, anyway.
There was North Carolina returning four starters from a wild ride to last year's NCAA championship game to open at No. 1 in the preseason Associated Press poll. Fellow bluebloods Kentucky, reigning champion Kansas and Duke were near the top. Instead, they crashed away to bring us here: the season's final weekend with a decidedly unexpected Final Four.
So what happened? A bad bout of flawed projection? A shift in the sport itself? March Madness arriving early?
"I think obviously between the transfer portal, the extra COVID year and NIL, that created a lot of opportunities, I think, for parity," Connecticut coach Dan Hurley said this week, "where brand isn't quite as important when there's so much inventory in terms of players, and they can move freely. And they're old and good."
The Huskies are headliners in Houston, both as a four-time national champion and as the team hurtling into the weekend after dispatching tournament foes with ruthless efficiency. They're also a team that was unranked in preseason, lost six of eight at midseason and was a 4-seed for the NCAA Tournament ahead of San Diego State (5), Miami (5) and Florida Atlantic (9).
Of this quartet, only San Diego State (19th) was ranked in the preseason AP Top 25. That marks only the second time since the tournament's expansion to 64 teams in 1985 that three teams went from unranked in the preseason to reaching the Final Four, the other coming in 2006 with eventual champion Florida, LSU and the George Mason team led by current Hurricanes coach Jim Larrañaga.
"I always say with the NCAA Tournament, if you were to start it off with the exact same brackets and start it today, we'd have four different teams in the Final Four," Aztecs coach Brian Dutcher said. "I mean, this is a hard event to win in, and it's almost a perfect-storm scenario."
Maybe so, but this season's journey is about the headlining teams that didn't make it here too.
Take UNC. Its riveting run last year included an epic Final Four win against Duke in the first NCAA meeting between the fierce rivals that also marked the farewell for retiring Blue Devils Hall of Fame coach Mike Krzyzewski. But this year's team looked weighed down by expectations and became the first team to go from preseason No. 1 to missing the tournament since its 1985 expansion.
Yet it goes further.
Three other preseason top-10 teams (Kentucky, Creighton and Arkansas) finished unranked. Two others (Baylor and Duke) spent at least one week wandering among the "Others Receiving Votes." Three teams ended up going from unranked to the top 10 in the final poll, including Purdue — which became the second No. 1 seed ever to lose to a 16-seed — and Marquette joining UConn.
By comparison, only two teams slid from preseason top 10 to unranked at any point last year during the first full season with the transfer portal, while one (Arizona) finished in the top 10 after opening the year unranked.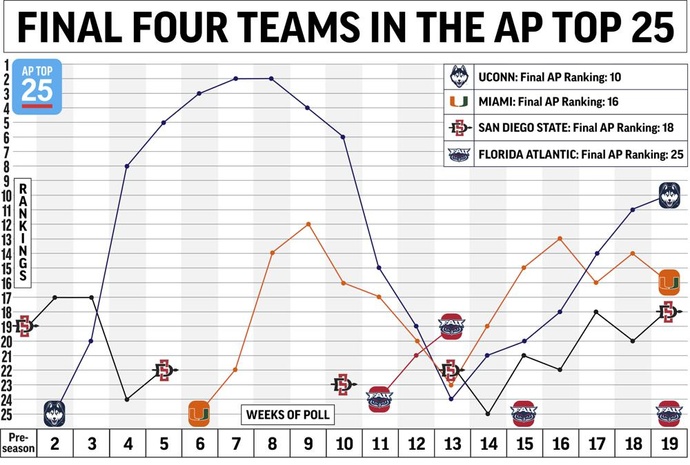 In all, four teams held the No. 1 ranking this year, including Houston, Alabama and Purdue. None gave the whiff of a potential juggernaut like 2021 champ Baylor and Gonzaga combining for three losses that season.
"Through the season, No. 1s were losing, rankings were always changing," San Diego State senior guard Jared Barnett said Thursday. "So we always felt like we had a chance."
Joel Berry II, the Final Four's Most Outstanding Player in 2017 during UNC's title run, is struck by those swings.
He'll never forget the last Final Four in Houston: He was on the court in 2016 for the Tar Heels when Villanova's Kris Jenkins hit a last-second 3-pointer for the title. That crushing moment was the driving force when the Tar Heels returned a year later to claim the title that had eluded them.
Now, he figures those redemption arcs are harder to complete with the transfer portal offering the equivalent of college free agency as a landscape-altering variable.
"Schools like North Carolina, Kansas, Villanova, Duke, these teams can't get by anymore just bringing in (high school) All-Americans," said Berry, now an ACC Network analyst. "These other teams have All-Americans that went to schools and maybe it didn't work out. Now they're transferring to other places where they have better opportunities."
That was a popular take among players in the locker rooms at Houston's NRG Stadium, too, with several mentioning the portal when asked about whether the season felt more wide open.
"You don't have to sit out now, so people are changing schools whenever," said Florida Atlantic guard Jalen Gaffney, who transferred from UConn. "So I guess a lot of players, a lot of teams are just evening out at this point."
And to listen to them, it's both welcome and a sign of what's ahead.
"High-major dudes could bounce back and go to some of these low- and mid-majors and really turn a program around," said UConn guard Joey Calcaterra, a graduate transfer from San Diego.
"It's just cool to see the different types of teams who could step up in big moments. It's not always what you expect like in past years."