Luka Doncic (+400) and Joel Embiid (+700) are the current betting favorites to win the 2021-22 NBA MVP award, as listed on Draft Kings Sportsbook.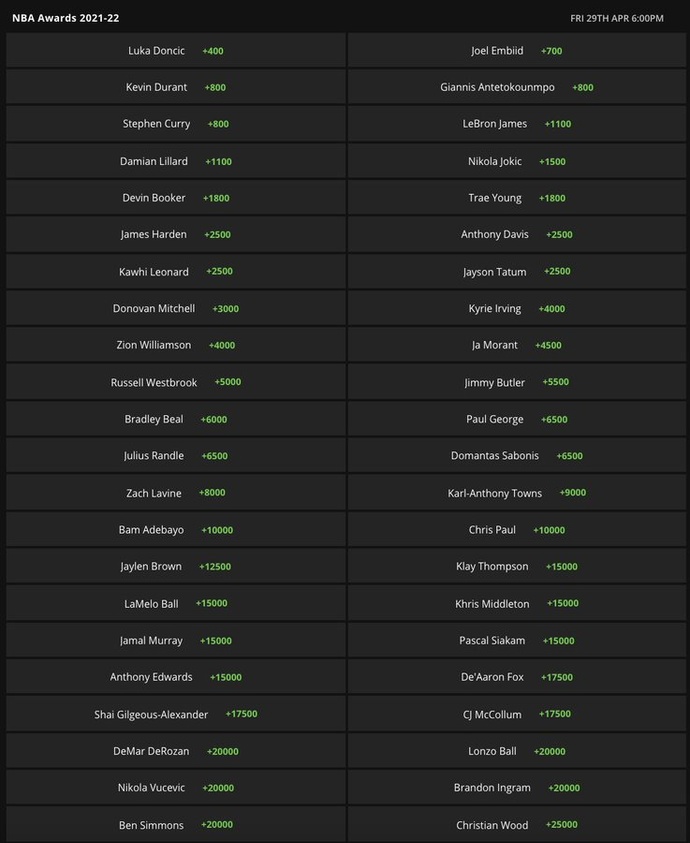 Defending NBA MVP Nikola Jokic has +1500 odds to win the award. Other notables include Kevin Durant (+800), Giannis Antetokounmpo (+800), Stephen Curry (+800), LeBron James (+1100) and Damian Lillard (+1100).
Doncic averaged 27.7 points, 8.6 assists and 8.0 rebounds per game in his third season while also shooting a career-high 35 percent from beyond the arc. He finished sixth in MVP voting for 2020-21. Embiid placed second in the vote after putting up 28.5 points and 10.6 rebounds per game for the top-seeded Sixers.
Among this year's Finals squads, Antetokounmpo leads in the book, with Devin Booker (+1800) and Chris Paul (+10000) following behind. Rookie of the Year winner LaMelo Ball is listed at +15000.