With 10:10 left in the first quarter of their first playoff berth since 2016, the Dallas Mavericks call timeout. They face a 10-0 deficit, mostly because their superstar sophomore Luka Doncic is being bum-rushed.
Eight possessions, five turnovers. Doncic is the culprit of four of them. The Los Angeles Clippers are throwing the kitchen sink at Doncic, much like they did during the regular season.
The up-and-down affair will continue for Doncic en route to a 118-110 defeat. He'll turn the ball over seven more times, giving him 11 in his debut. He'll also finish with 42 points, a playoff-debut record, along with nine assists, seven rebounds and three steals.
The comfort level throughout the contest is evident; he's figuring out what coverages the Clippers are using, who the personnel is and where the help will come from. It's a defeat on the scoreboard, but a necessary processing game for Doncic.
You don't get the next three games, a meticulous dismantling of an elite unit, without that early struggle.
Doncic is 21 years old, barely old enough to buy alcohol in this country, and he's now torching the league's fifth-best defense in his first NBA-playoff appearance.
His Game 4 performance, in particular, was legendary. To put up 43 points, 17 rebounds and 13 assists is absurd in its own right. The list of accolades to come with it was so long, the Mavericks' PR account couldn't fit them all in one tweet.
A recap of @luka7doncic's day:

» joined Wilt as only players ever with 43+ pts, 17+ rebs and 13+ ast in a game
» youngest to hit a playoff buzzer-beater
» joined MJ as only players to put up 40+ and hit a GW buzzer-beater while trailing
» youngest with 40pt playoff triple-double pic.twitter.com/2ZwqojruO6

— Mavs PR (@MavsPR) August 24, 2020
» 3rd player ever with 40-15-10 in the playoffs (Oscar, Barkley)
» joined LeBron as only 21yo's to record a 30pt triple-double in playoffs
» only player with more than 1 triple-double in playoffs this year
» 2nd-longest postseason GW buzzer-beater (28ft), only behind Dame (37ft) pic.twitter.com/NVXQC8hOMk

— Mavs PR (@MavsPR) August 24, 2020
Doncic is now averaging 29.6 points, 10.0 rebounds and 8.6 assists in the series, a nice bump from his regular-season production. His numbers were even better through four games -- 31.5 points, 10.5 rebounds, 9.8 assists -- but a lackluster Game 5 (22-8-4) brought him down to (his version of) earth.
A strong argument could be made that Doncic has been the most impactful player on the floor, though the pendulum has likely swung toward Kawhi Leonard -- averaging 33-9-5 in the series -- after his Game 5 performance (32-7-4).
Let's take a look at how Doncic rebounded from Game 1, then go into what changed in Game 5.
Stressing The Bigs
To understand how Doncic has shredded the Clippers, you first must understand how L.A. wants to play.
The allure of the Clippers is their versatility. Leonard and Paul George are two of the best defenders in the league, full stop. Marcus Morris isn't an elite defender, but he has the size, strength and mobility to hang with three positions in a pinch. Patrick Beverley, currently out with a calf strain, can pester point guards or punch -- or scratch, or claw -- above his weight against bigger players.
It should come as no surprise, then, that the Clippers are a relatively switch-heavy team. According to a source with access to Second Spectrum tracking data, only two teams -- the Houston Rockets and Boston Celtics -- switched more pick-and-rolls during the regular season than the Clippers did.
At full strength, the Clippers like to switch 1-through-4. Their big man, Ivica Zubac, is one of the NBA's most underrated rim protectors. They drop him most of the time, which puts strain on whoever is guarding the ball to fight over screens and stay attached.
The kryptonite of a dropping big is a stretch big; pick-and-pops naturally concede open shots from the perimeter since the defensive big is hanging around the free throw line (or lower).
The Mavericks just happen to have two bigs -- Kristaps Porzingis and Maxi Kleber -- who are comfortable popping out to the perimeter. Doncic has made it a point to hunt out those matchups when Zubac is in.
Porzingis has long been one of the league's most dangerous pop threats. At 7-foot-3, and equipped with the Hall-of-Fame "Range Extender" badge, you really can't afford to let him fling from deep without some sort of resistance.
Below, the Clippers attempt to ICE this pick-and-roll. Watch how quickly Zubac calls for a rotation when he recognizes Porzingis is popping above the break.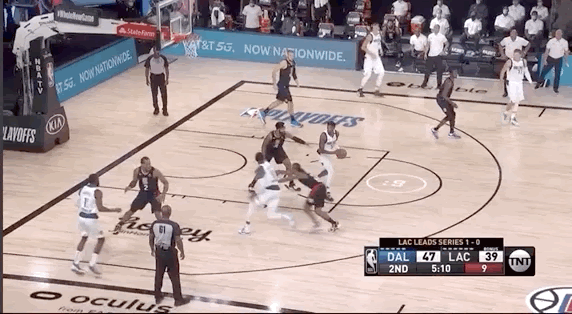 Kleber doesn't possess the same gravity that Porzingis does from the outside, but he can pose a similar pick-your-poison threat. Check out this twist on a Spain pick-and-roll.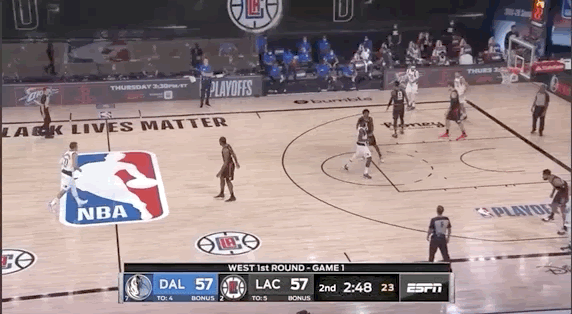 Normally in a Spain set, the second screener (Tim Hardaway Jr.) would set a pick on the big (Zubac). Here, Hardaway Jr. screens his own man (Lou Williams) to generate space for Kleber. With Zubac hanging in the paint, Williams fights through the screen to contest a potential shot. Kleber smartly makes the swing to an open Hardaway Jr, who drills a triple over the late contest from Zubac.
Pulling Zubac away from the rim has been a priority when he's in the game. Once he's pulled above the free-throw line, his relative lack of mobility is exposed. This sudden cross from Doncic leaves Zubac in the dust: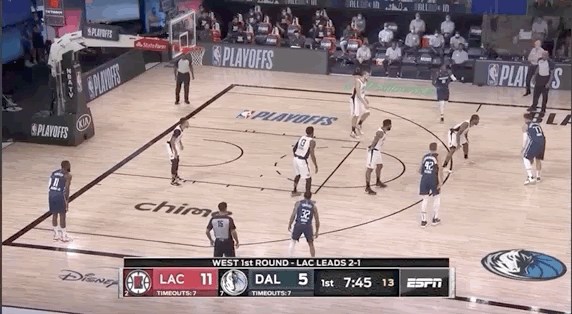 And if Zubac isn't at the rim, that means there are paint openings for others to exploit: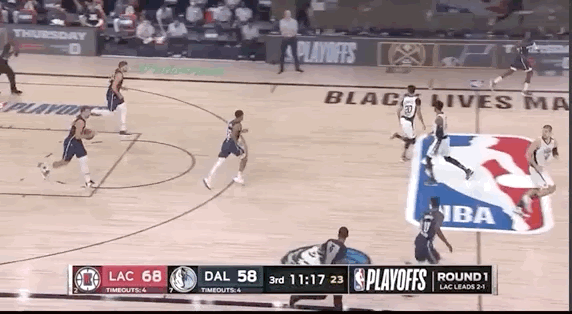 Manipulating Matchups
When Zubac isn't in, the Clippers are even more likely to switch. It makes sense considering Montrezl Harrell is a lot more capable of moving his feet outside. In these instances, the Clippers are prioritizing containment over rim protection. Keep the ball in front at all costs.
The issue is that not only does Doncic know the Clippers want to switch, he knows there will be virtually no resistance from the Clippers to prevent unfavorable switches. That's the downside of keeping things in front at all costs, and that is where and how Doncic has really taken over the series.
Doncic generated an ungodly 1.28 points per possession on switches out of pick-and-roll through Games 2-4, per the Second Spectrum source. This is the cause of Doncic dictating matchups for the benefit of everyone, not just himself.
Below, the Mavericks go into an early 1-5 pick-and-roll with Doncic and Boban Marjanovic, Once the switch comes, Doncic immediately feeds Marjanovic inside for the easy post hook.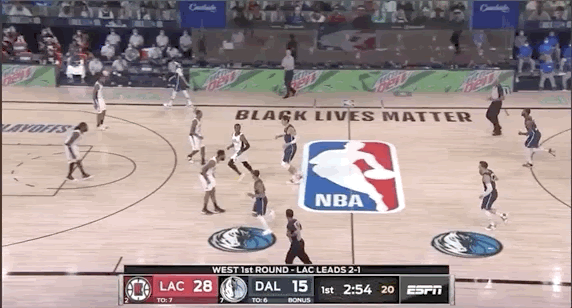 Most notably though, Doncic absolutely destroyed Reggie Jackson.
According to NBA.com's matchup tracking data, Jackson has spent roughly 19 possessions defending Doncic. The Mavericks have scored 34 points on those possessions, with Doncic shooting nearly 67 percent from the field in the process.
There's an obvious size mismatch between the two. Jackson is listed at 6-foot-3, 200 pounds, much too small and much too light to handle Doncic (who's listed at 6-foot-8, 230 pounds). You tell me what Jackson is supposed to do about this post-up, especially with no help coming over: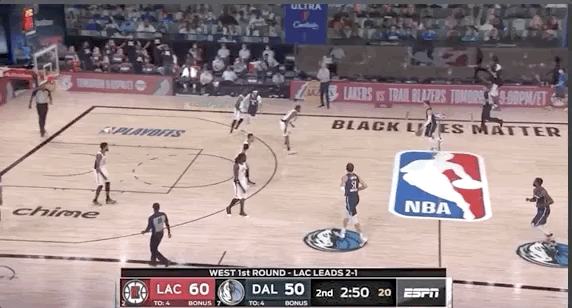 Even when a dig does come, Doncic is able to spin away from it for a mostly unbothered shot at the rim: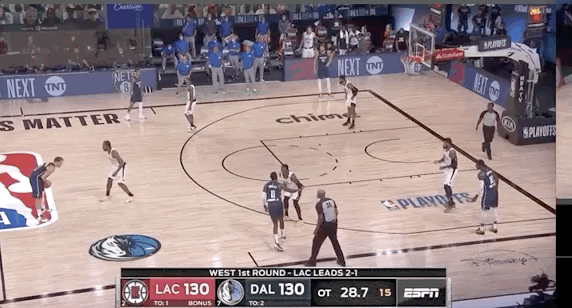 What you'll notice in both of those plays is that Leonard is the initial defender. He's done a mostly fine job on Doncic when he's been able to defend him; Doncic has done a better job of making sure those opportunities are limited.
From the outside looking in, it's a bit absurd that Morris has spent more time defending Doncic than either Leonard or George has in this series. What's the point of having two elite wing defenders if they aren't splitting time against an elite wing initiator?
To an extent, some of the onus should fall on them. The national audience has been treated to Oklahoma City Thunder rookie Luguentz Dort hounding James Harden all over the court, consistently fighting through the same type of inverted pick-and-rolls used to force unfavorable switches. If Dort can do it, why can't Leonard or George?
If anyone should get blame on that front, it's head coach Doc Rivers. Schematic decisions ultimately fall at his feet, as do decisions with the rotation.
Turning Up The Heat
The Clippers hadn't been willing to bring more pressure on Doncic in the early portions of the series. It's a questionable decision from a statistical standpoint: Doncic had been much less effective -- generating a smidge over 0.7 points per possession through the first four games, via the Second Spectrum source -- against traps and hedges.
Sending two to the ball is generally a death sentence against Doncic. With his combination of size, processing speed and passing ability, there's reason to fear Doncic threading the needle on passes like these with regularity: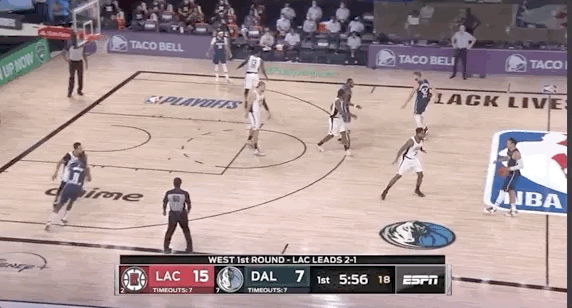 In Game 5, Rivers and the Clippers decided that getting the ball out of Doncic's hands was the way to go. It was evident early on that the Clippers were going to be more aggressive in pick-and-roll, playing their bigs higher and "showing" their smaller guards if Doncic tried to hunt them out. Below, Landry Shamet does a good job of stunting at Doncic, then getting a hand up to prevent Doncic from hitting Trey Burke coming off the flare screen. Peep the hard hedge from Zubac to prevent Doncic from turning the corner.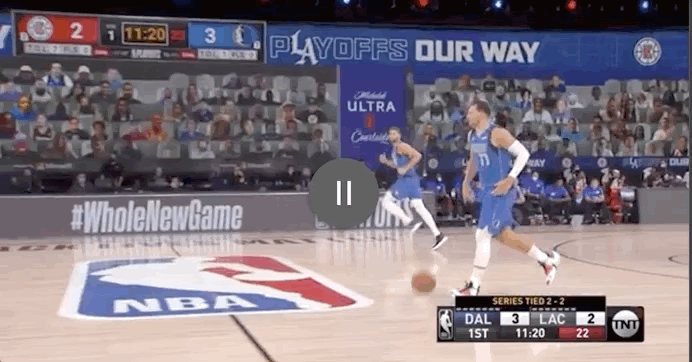 Dorian Finney-Smith makes that triple, but it's a sequence the Clippers were okay with. The bet was that Finney-Smith or any of "The Others" wouldn't burn them enough for it to matter.
Here, we just get a hardcore double team at half-court to disrupt Dallas' flow. Doncic tries to fit a pass in to Marjanovic, but the ball sails on him.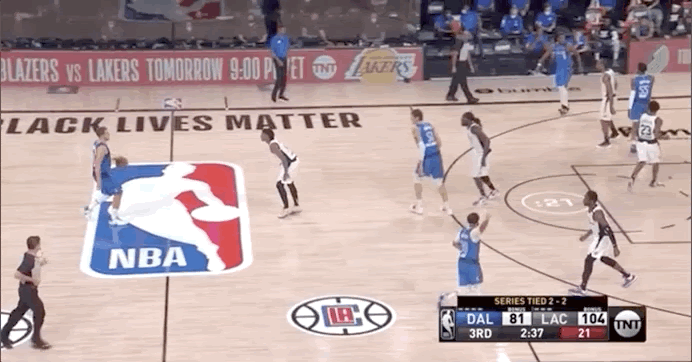 The strategy worked, though it may not seem like it on the surface. There were 17 instances of a "show" or "blitz" against a Doncic ball screen in Game 5 and the Mavericks scored 23 points in those situations, per the Second Spectrum source. Wildly efficient, right?
Of those 17 ball screens, Doncic passed out of 12 of them. Of the 23 total points generated, 17 of them came via a Doncic pass. It was the classic "anyone but Player X" strategy at play. "The Others" didn't come through, nor was Doncic able to pull more magic out of his hat -- or ankle.
Ultimately, the Clippers are presented with no good options against Doncic. Playing "drop" coverage allows Doncic to get downhill, or to feed his popping big men for threes. Switching keeps the ball in front, but it allows Doncic to manipulate matchups in a way that leaves the Clippers vulnerable all over the floor. Trapping has "worked" in the sense that Doncic hasn't specifically burned them, but it's still a concession of open shots elsewhere.
The mark of a true superstar is the ability to dictate the terms of engagement. Doncic has done just that, taking full control of this series despite last year's Finals MVP being on the other side.
And he's doing it one pick-and-roll at a time.