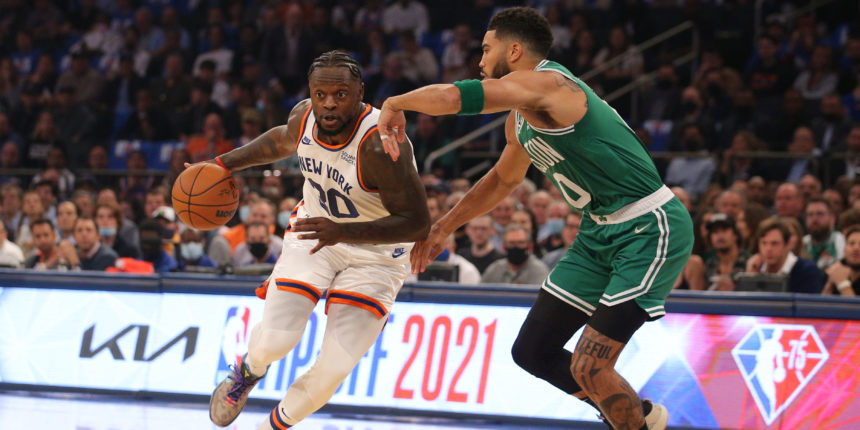 Knicks continue to make headlines for the right reasons — wins
Speaking with reporters after practice on Tuesday, Julius Randle, the New York Knicks' All-NBA forward, was asked what he and teammates were expecting in their season-opener at Madison Square Garden.
"Chaos," Randle replied. "We're expecting chaos. The city's excited to get basketball back."
Randle was referring to the much-anticipated chaotic atmosphere inside MSG, which welcomed back its full allotment of 19,000-plus fans for the first time since before the COVID pandemic shut down sports arenas across the globe.
What Randle, who has only been in New York for a relatively short spell, didn't realize is that Knicks fans had, unfortunately, grown far too accustomed to chaos — and not the kind that results from fans enthusiastically and passionately cheering on their hometown team. No, New Yorkers have been deluged with turmoil and chaos off the court for the better part of the past two decades. There was beef between former franchise greats and the team's owner, embarrassing trades, countless off-court controversies, tension between the owner and numerous fans, free-agency disappointment year after year, wasted draft picks and anything else you can think of.
Not to mention the losses. Many, many losses. Over the first 20 years of the 21st century, the Knicks lost 962 basketball games, more than any other team in the NBA. More often than not, New York was a league-wide laughing stock, trapped in the basement of the Atlantic Division.
However, a funny thing has happened over the past year-and-a-half since the Knicks hired former player-agent Leon Rose as team president, and Rose hired Tom Thibodeau as his head coach: the Knicks stopped making headlines for the wrong reason. They started winning basketball games.
Meanwhile, the drama and controversy that tormented the Knicks for so long seemed to wander across the bridge to Brooklyn and drive down the Jersey turnpike to Philly.
The Nets, while uber-talented and the odds-on favorites to capture the Larry O'Brien trophy this season, are playing without their superstar point guard. Players on the Knicks and Nets, who play their home games in New York City, are prohibited from entering their team's home arena unless they are vaccinated against COVID-19. All Knicks have been immunized, but Irving has refused to follow the advice of medical experts, and says he is unwilling to get his shot. While Irving is eligible to participate in the Nets' away games, Brooklyn general manager Sean Marks has declared that Irving will not be allowed to play or practice with the team at all until he is vaccinated.
"He has a choice to make, and he made his choice," Marks told reporters earlier this month.
Down in Philadelphia, the situation with the Sixers and Ben Simmons has devolved into a circus. The latest incident involves Simmons being booted from the team's training facility a day after he was filmed practicing in sweatpants. (Despite speculation about him practicing with a cell phone in his pocket, The Athletic's Shams Charania clarified that it was a crumpled up practice jersey.)
As far as the other teams in the Atlantic are concerned, the Raptors — who won a title in 2019 — had been remarkably successful and consistent, winning more than 50 games in five straight seasons... until they surprisingly finished 18 games below .500 last year. After losing franchise cornerstone Kyle Lowry via free agency over the summer, Toronto was blown out by the lowly Wizards in its season-opener Wednesday night. The Raps scored just 83 points, the least among all teams that have played over the first two days of the season.
Up in Boston, the Celtics failed to finish above .500 last season for just the second time in the past 15 years, and as a result parted ways with team architect Danny Ainge over the summer. Head coach Brad Stevens left the bench and went upstairs to the executive suite.
The Knicks, however, flew under the radar all offseason. After finishing 10 games above .500 in 2020-21, they had a solid draft and were praised by pundits for revamping and upgrading their backcourt in free agency, while also locking up Randle to a long-term contract extension on a team-friendly deak. The team didn't generate any headlines on Media Day, which used to be one of the few days a year the Knicks would land on the back page of the NYC tabloids.
It was the Celtics who were matched up with the Knickerbockers in their home-opener. As it turned out, Mr. Randle was proven prophetic. Chaos consumed Wednesday's contest.
New York fell behind early. but fought back to take what appeared to be an insurmountable lead in the closing seconds, only to inexplicably allow the Celtics to tie the game on a Marcus Smart three-pointer at the buzzer in regulation.
Yet, somehow, after two exhausting overtime sessions, the Knicks found a way to win. This was a game the "LOL same-old Knicks" surely would have fumbled away after that backbreaking dagger by Smart. Yet, these new Knicks, nearly all of them in great shape following a month in camp with Drill Sergeant Thibs, kept fighting. Eventually, they won.
"We didn't close out the game the way we should have," Thibodeau said afterward. "We'll learn from that. The good thing is we got the win. We know we have a lot of work to do."
And that's what the topic of conversation will be around the ball club this week. No needless drama, no controversy. Just discussions about how the team won a basketball game and what they can do to improve and win some more. Imagine that...
💥 35 points for @J30_RANDLE
💥 8 boards, 9 dimes, 3 blocks
Julius Randle GOES OFF in the @nyknicks 2OT win to open the 2021-22 season! #KiaTipOff21 pic.twitter.com/TILicyIhZB

— NBA (@NBA) October 21, 2021
Knicks notes:
What an effort from Randle, who is determined to prove his All-Star campaign last season wasn't a fluke. He finished with 35 points, 9 assists, 8 rebounds and 3 blocks. According to Basketball-Reference, the only other player in NBA history to tally at least 35 points, 9 dimes and 8 boards in his team's season opener is Oscar Roberston.
In the first half, RJ Barrett was invisible on the offensive end (it was the first time in his career he attempted at least three FG's and two FT's in the first half, yet failed to score a single point). However, Barrett certainly made his impression felt in the third quarter, pouring in a team-high 14 points to push the Knicks back in front. And while Jayson Tatum missed a handful of wide-open jumpers, Barrett certainly deserves credit for his defensive effort on Taum, who finished the game shooting an abysmal 7-of-30 from the floor.
Randle also deserves credit for helping reintegrate Barrett into the offense and sparking his teammate's third-quarter resurgence. Over one 2-minute stretch, Randle twice drew double teams and kicked the ball out to a wide-open Barrett, who knocked down a triple. Randle carried the Knicks offensively, but also passed up some good shots for great shots to get Barrett going.
Obi Toppin's contributions on Wednesday were critical. The second-year pro sparked the Knicks, scoring a career-high 14 points. Toppin's electric game energizes the Garden in a way few players can. "I thought he changed the pace of the game," Kemba Walker said of Obi. "He's a very special talent, and he can run. He can really run and get out in the open floor."
Some fans and pundits out there argued over the summer that Evan Fournier wasn't much of an upgrade over former shooting guard Reggie Bullock. Well, it's probably worth noting that Bullock has played 366 games in his career and never tallied more than 20 points and more than 5 rebounds in the same game. On Wednesday, Fournier had 32 points, 6 boards, 6 made treys, 4 steals and 3 assists in his first game as a Knick.
Some 10 minutes after the buzzer sounded in the second overtime, Knicks rookies Quentin Grimes and Miles "Deuce" McBride were on the Garden floor getting shots up, as MSG janitorial staff were cleaning the rest of the arena. This was something last season's neophytes, Toppin and Immanuel Quickley, would often do after games in which they didn't get much run. Yet another example of Thibs, his staff, and the players efforting to build a culture that can sustain success throughout the organization.
Knicks rookies McBride and Grimes getting up shots less than 10 mins after the marathon game is over pic.twitter.com/Ip1Ll8b0lA

— Tommy Beer (@TommyBeer) October 21, 2021