On Sunday, the fifth episode of HBO's "Winning Time" focused on Kareem Abdul-Jabbar — exploring his faith, his desire to affect change, his relationship with a rookie Magic Johnson and more.
Several hours before the episode premiered, Abdul-Jabbar shared his thoughts about the HBO series in an exclusive interview with BasketballNews.com.
"I don't think it's worth watching. That's all I have to say. It really depicts people that I know in a very negative light that is not accurate," Abdul-Jabbar told BasketballNews.com. "I wouldn't bother watching it if you're a fan of the Lakers."
Abdul-Jabbar was speaking from Crypto.com Arena, where the NBA unveiled the Kareem Abdul-Jabbar trophy that will be awarded annually to the recipient of the Social Justice Champion award.
Abdul-Jabbar isn't the only former Laker who has called out the show for being inaccurate and negative.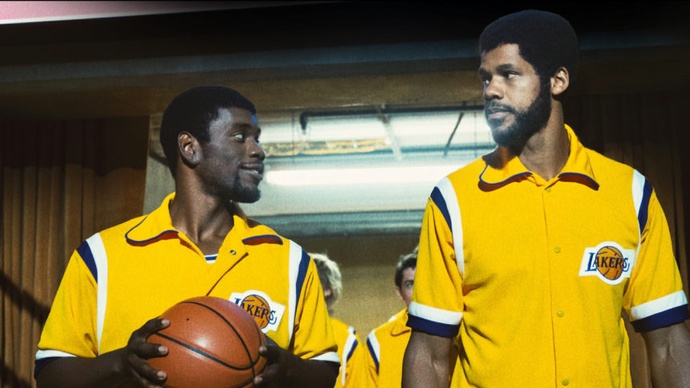 Mitch Kupchak, who played for the Lakers from 1981 to 1986 and later became the team's general manager, criticized the show's portrayal of Jerry West. In the series, West has anger issues, breaking a golf club over his leg and throwing his Finals MVP trophy through a window.
"The guy in the show playing Jerry and the Jerry I worked with for 14 years is not the same guy," Kupchak told The Athletic. "Jerry was passionate but never lost his temper and threw things. Never. I would know."
Longtime Lakers trainer Gary Vitti spent two days on the set of "Winning Time" as an actor and in-house expert, but ultimately decided not to participate in the series in large part due to the show's characterization of West.
"I said, 'I don't want to be a part of this,'" Vitti told The Athletic, adding that he walked away from approximately $15,000. "I've known the man for 38 years and never saw him lose it. If anything, he internalized everything."
Vitti also objected to a scene where Jerry Buss tells the staff that anyone who isn't committing to winning a championship could "get the f*ck out."
"Dr. Buss never talked to anybody that way," Vitti explained to The Athletic.