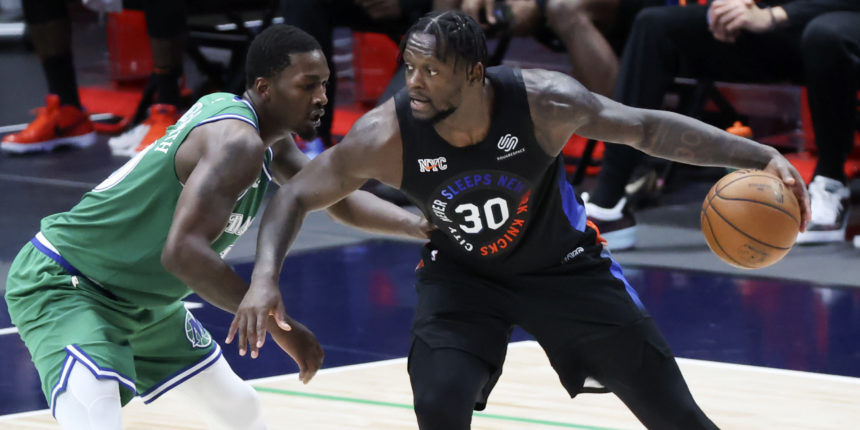 Julius Randle explains why he signed four-year extension with Knicks
This offseason, the New York Knicks' biggest move during free agency happened to involve a player who was already on their roster. The Knicks signed Julius Randle to a four-year extension worth $117 million, which seems like a potential bargain since Randle could've hit unrestricted free agency next summer and earned more than $200 million.
Following his breakout 2020-21 campaign, the 26-year-old wanted to make a long-term commitment to New York. Now, in an interview with Ian Begley of SNY, Randle explained why he ultimately decided to sign the extension.
Randle cited his trust in head coach Tom Thibodeau and executives Leon Rose, William Wesley and Scott Perry, and he stressed that his primary goal is to lead the Knicks to a championship before his new contract is up after the 2025-26 season.
"Obviously, it's a process. Everything is a process. We've been building this from the ground up," Randle said. "But for me, personally, [winning a title in New York] is the expectation. That's what I want to happen within that time frame. There's a lot of things, factors that go into that. So obviously, you've got to weigh that stuff in. But as far as myself, I know Thibs is thinking [that as well]; it's just win at all costs. For me personally, that's just how I prepare myself. I prepare myself to compete at the highest level of our game.
"Like I said, there's a lot of factors [that go into winning a title]. But I trust Leon, I trust Thibs, Wes, our coaches, Scott – all these guys, I trust. That was part of my process in thinking of signing the extension and that's my goal – that's our goal as a team... We want to be able to say that we won a championship here in New York. I don't think there's any better feeling than that."
The Knicks were projected to be one of the worst teams in the NBA entering last season, with an over/under of just 21.5 wins. Instead, New York managed to go 41-31. Behind one of the best defenses in the league (which allowed just 105.7 points per 100 possessions), they earned the fourth seed in the Eastern Conference. While they were eliminated in the first round by the Atlanta Hawks, the Knicks showed that they were ready to compete at a high level now.
Randle was a major reason for New York's turnaround, averaging career-highs in points (24.1), rebounds (10.2), assists (6.0), three-pointers (2.3), steals (0.9), three-point percentage (41.1%) and free throw percentage (81.1%). He earned the NBA's Most Improved Player Award, All-NBA Second Team honors and an All-Star selection.
While Randle is proud of last year's 41-season and the solid foundation that New York has built, he's focused on making sure that the team takes another step forward.
"We established the culture that we wanted and established who we were as a team," Randle said. "We have to continue to get better as individuals and that will translate to us as a team. The expectation, I can't really tell you yet. We haven't even had our first practice, so I can't really tell you. But I can tell you who we are as a team, and what we stand for, and what's expected of each individual: that's to work your ass off every day and to play defense.
"Obviously, Thibs is going to make sure that we're going to play defense. There's certain things as a team [that we know about] who we are and what we need to do night in, night out to give ourselves the best possible chance to win. We know what those things are. Everything else, we've just got to keep improving on and getting better."
Two players who could help the Knicks take another leap are R.J. Barrett and Mitchell Robinson. Randle praised both players' work ethic and how they've looked this offseason.
"RJ's going to be a really good player. What is he, 21? I don't know how old he is. He's young as hell," Randle said with a laugh. "He's a really good player, and I can relate as far as what he's done, and what I've seen from him so far in this offseason is he just keeps improving. That's really what it's about. You can tell the guys who really love the game and really dedicate themselves to their craft and he's one of them. He's going to keep improving. I think he's going to have another big year and make a jump. And I'm excited, not only for him as an individual but for what he's going to bring to our team. Because at the end of the day, that's what it's about. Our team success. And he's going to look great because of that.
"Mitch looks good, man. Mitch is brolic; he's big. You can tell that he took the weight room seriously. So Mitch looks good, and he's one of those pieces that people don't even really know that we had last year because he missed so much time. So he's going to be a huge factor for us coming into this year, for sure."
During the upcoming season, the Knicks will have 22 nationally televised games (after having just six last year), so all eyes will be on Randle and New York to see if they can build on last season's success.