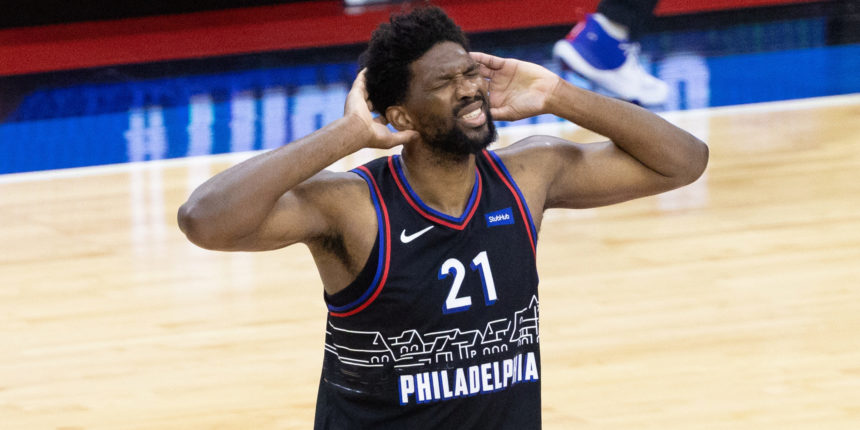 Joel Embiid's offensive showing for 76ers has been first-class all around
With increased pace and perimeter-centric offenses, we often hear that individual statistics are inflated, and that those players wouldn't put up those kinds of numbers against their predecessors. Well, even if that's the case for some guards and forwards, it sure as hell doesn't apply to Joel Embiid, whose game would thrive into the past, present or future.
The 7-foot, 280-pounder is coming off an MVP-caliber season -- an untimely hyperextended knee injury in mid-March forced him out for 10 games and allowed Nikola Jokic to capitalize on the missed time -- and he's finally healthy, which has allowed us to feast our eyes on the array of weapons in his arsenal.
Embiid is fit for any era of ball.
You want to muck up the game and go through the post? He's got you there… only not in the way most players his size go about it. Playing back to the basket with a physical and mental advantage, Embiid doesn't do his damage by settling for hook shots in the mid-post; one way or another, he'll use his footwork to get deep positioning for a point-blank look at the basket.
And somehow, that's not even his go-to choice on the block. Embiid has no problem sizing up his competition with a Carmelo Anthony-like jab step and firing a feathery 15-footer that's fallen 68.8% of the time for the Philadelphia 76ers in their playoff series vs. the Washington Wizards. Oftentimes, he'll fall back too, which makes the shot impossible to contest or block.
Maybe the scariest tool in Embiid's bag of tricks is how deceptive he is off the dribble. He can get you on your heels before you know it. Out on the perimeter, he can always settle for a three (and knock them down -- a 6-for-11 clip thus far and 37.7% on the season); however, it just looks like he has more fun when he puts it on the floor. Light pump fake, crossover, dribble between the legs, spin move, stepback, fadeaway -- they can all lead to points on the scoreboard… frequently, with emphasis.
JOEL EMBIID WITH AUTHORITY 🔨 pic.twitter.com/uO0qKpQCSe

— NBA TV (@NBATV) May 30, 2021
As said on Keepin' It 94, my podcast with Brian Fritz, the way Embiid can just stop on a dime full speed for a pull-up mid-ranger as if he's a 6-foot-4 guard is astounding. The best part about his isolation game is that it is aesthetically pleasing and feels as natural as it looks. It's not a clunky route to the bucket that's easy to pickpocket; it's calculated with long strides and great reads on who's defending him.
Joel Embiid has been a MONSTER this season. @SpinDavies and @BrianFritz discussed his dominance and more on this week's episode of "Keepin' it 94." Listen to the full episode!

Apple: https://t.co/Sz8GhlzCBm
Spotify: https://t.co/cxM0X8ocOC
Stitcher: https://t.co/1ryRArxRvp pic.twitter.com/9UCo8w5Jx3

— Alex Kennedy (@AlexKennedyNBA) February 11, 2021
He's only turned the ball over once on his 17 iso possessions in this series, per InStat, and he's 20-for-30 on shots made with 15-to-7 seconds left on the shot clock.
Embiid's also been able to scan the floor, look over the top and find his shooters. It doesn't happen quite often, but when doubles come around that mid-post area, it results in triples for Seth Curry and Danny Green. His favorite passing partner is Ben Simmons in the two-man game, whether he's on the receiving end or targeting the Aussie on a cut.
We all know how imposing of a presence he is defensively, staying grounded and rarely committing foolish fouls. He's got good timing as a rim protector, has the agility to recover against drivers, uses his towering arms to discourage teams from coming into the paint and always knows when to shade over and help if one of his teammates needs it.
But this offensive showing has been first-class all around. Players at his position do not create their own shots the way Embiid does, and in the rare case where somebody comes close to it, they aren't nearly as efficient.
In this series, Embiid is averaging 29.3 points on a 78.4% True Shooting percentage. His latest performance was a career night, with 36 points in 28 minutes -- the second-fewest minutes for that high of a scoring output in NBA playoff history in the shot-clock era.
Embiid is leading the league in postseason net rating (plus-39.6 points per 100 possessions) and commandeering a sizzling, top-seeded team that's poised for bigger things than a first-round series victory.
Sounding completely cliche, it's easy to see why the Sixers Trust(ed) The Process. Embiid is a one-man wrecking crew. Nobody has been able to slow this nimble monster down, and with Philly being one win away from advancing to round two, it's hard to think about who's going to be able to actually do it.