Exactly one month ago, sportsbooks viewed Denver Nuggets center Nikola Jokic as "a lock to win his third-straight MVP" (as we covered in this space). By March 5, Jokic's odds were -500.
Now, against all odds (literally), there's a new favorite in the NBA's Most Valuable Player race.
Philadelphia 76ers center Joel Embiid is now the front-runner to win this season's MVP award on numerous sportsbooks. SportsBetting.ag lists Embiid as a +110 favorite, while Jokic has moved to +150. Milwaukee Bucks star Giannis Antetokounmpo is the only other player on the board at +340 odds.
As of January 16, Embiid's MVP odds were +1800. At one point in November, they were +2000!
How has Embiid managed to surpass Jokic as the MVP favorite?
Since the NBA All-Star break, the 29-year-old is averaging 35.1 points, 10.2 rebounds, 4.2 assists, 2.5 blocks, 1.0 three and a steal, while shooting 55.9% from the field, 35.7% from three-point range and 85% from the free-throw line.
The 76ers are currently the hottest team in the NBA, winning six straight games (and 12 of their last 15 contests). Philadelphia has climbed to the No. 3 seed in the Eastern Conference, putting them just one game back from the second-seeded Boston Celtics and three games back from the top-seeded Bucks.
Embiid has had some monster performances that have certainly helped his MVP candidacy too.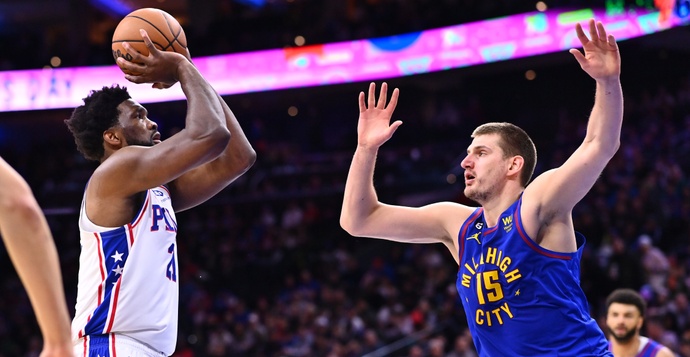 In late January's head-to-head match-up against Jokic, Embiid finished with a ridiculous 47 points, 18 rebounds, 5 assists, 3 steals, 2 blocks and 4 threes while leading the 76ers to a 126-119 victory. (Jokic had 24 points, 9 assists, 8 rebounds, 2 blocks, 2 threes and 7 turnovers).
Last night in a win over the Cleveland Cavaliers, Embiid had 36 points, 18 rebounds, 4 blocks, 3 assists and 2 threes. On March 4, in a win against Antetokounmpo and the Bucks, Embiid had an efficient 31 points, 10 assists, 6 rebounds and 3 threes. In the first game after the break, Embiid had a 27-point, 19-rebound, 6-assist, 6-block, 1-steal outing in a victory over the Memphis Grizzlies.
Jokic has won back-to-back MVP awards, so it's possible that voter fatigue could also play a factor and help Embiid. If Jokic wins the award, he'd become just the third player in NBA history to win three-straight MVP awards, joining Larry Bird (1984-1986), Wilt Chamberlain (1966-1968) and Bill Russell (1961-1963).
Embiid has never won the MVP award, but he finished as the runner-up in each of the last two seasons.